Annual Meeting
Bhabha found creativity in hard science
She's won the 2023 ASBMB Early-Career Leadership Award
As a high school student in India, Gira Bhabha was on a humanities track. It wasn't until she was an undergraduate studying psychology and English literature at the University of Chicago in the U.S. that she discovered her love of science while taking core science courses. She switched to premed so she could attend veterinary school, and at that point her genetics professor, Jocelyn Malamy, reached out to her.
"She asked me if I had ever considered working in a lab, and I hadn't because I don't think I knew that research was a career," Bhabha said.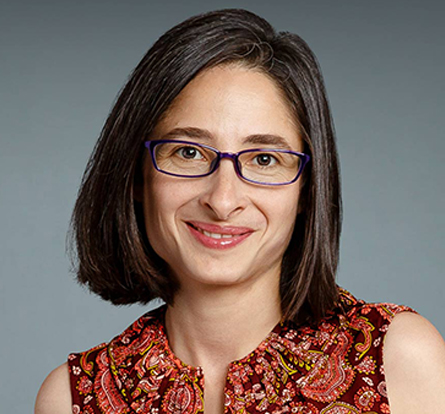 Gira Bhabha
Malamy helped her find Elizabeth McNally's lab, which studied the genetics of cardiovascular and neuromuscular disorders, and Bhabha "got sucked up into research," she said. "I don't think I realized how creative it was. Until you are immersed in it, you don't always associate the hard sciences with creativity and being able to explore."
Now an assistant professor at the New York University Grossman School of Medicine, Bhabha has won the 2023 ASBMB Early-Career Leadership Award, which recognizes a strong commitment to advancing the careers of women in biochemistry and molecular biology along with excellence in research and/or service.
Along with colleagues at NYU, Bhabha directs an outreach and mentoring program in partnership with Queensborough Community College faculty. Many students enter community college interested in STEM fields but lacking opportunities to pursue these careers. The program provides a weeklong science-immersion experience. Participants do lab research activities and attend career-development workshops on subjects such as different career paths in research, finding and asking for research opportunities, and transferring to a four-year college. To encourage long-term connections and mentoring, each participant partners with a grad student or postdoc for monthly meetups.
Bhabha said she's had many mentors and supportive co-workers but too few women role models in her field of structural biology. "I felt like, from the very beginning, I did have a lot of support, and it's probably the reason I continued," she said. "In the end, it really matters what environment you're in; it makes you confident or not." She further explained that it's important to have many role models who inspire and support you, including contemporaries and those senior and junior to you.
Two PIs and two big projects
"Running a lab is like running a small business," Gira Bhabha said. She wanted a business partner for her research, so she teamed up with Damian Ekiert, a fellow postdoc at the University of California, San Francisco, who is also her life partner.
The lab is focused on two major projects.
The first is aimed at understanding how the cell envelope is built and maintained and how molecules move between the two membranes of double-membrane bacteria, which is important in processes like tuberculosis infection.
The second project is focused on the unique proteins and cell biology of a fungallike microbe, microsporidia, which can infect any cell in any animal, from worms to humans. Human infection usually starts in the small intestine and is primarily a problem for immunocompromised patients. During the U.S. HIV/AIDS epidemic of the 1980s and '90s, it was a common threat, and the microbe continues to infect other immunocompromised individuals, such as organ transplant patients.
A long organellelike filament is wrapped up and packaged inside microsporidia. During infection, the filament is ejected in a couple hundred milliseconds, piercing the host cell. The entire microsporidia cell then is transported into the host cell.
A joint lab "gives you a built-in collaborator with complementary skills, perspectives, strengths and weaknesses, which is synergistic and encourages you to try more different and interesting things that you're curious about," Bhabha said. While it's not conventional, "it's incredibly fun," she said, and their discussions show trainees that she and Ekiert don't always agree.
"I think it's important to have scientific disagreements within a healthy environment. That's usually what moves things forward."
2023 ASBMB award winners
Squire J. Booker: ASBMB–Merck Award / Ruth Kirschstein Diversity in Science Award
Booker catalyzes progress in science and outreach
Itay Budin: Walter A. Shaw Young Investigator Award in Lipid Research
Budin dives into the details
Russell DeBose-Boyd: Avanti Award in Lipids
DeBose–Boyd has a recipe for success
Scott Dixon: Earl and Thressa Stadtman Young Scholar Award
Dixon uncovers a new type of cell death
Catherine Drennan: William C. Rose Award
Drennan makes science fun and accessible
Anne Kenworthy: Mildred Cohn Award in Biological Chemistry
Kenworthy links quantity to theory
Keith Matthews: Alice and C.C. Wang Award in Molecular Parasitology
Matthews' career-long search for truth
Eytan Ruppin: DeLano Award for Computational Biosciences
Ruppin synthesizes cross-field expertise to study synthetic lethality
Kerry-Anne Rye: ASBMB Mid-Career Leadership Award
Rye offers tools for success
Regina Stevens-Truss: ASBMB Award for Exemplary Contributions to Education
K-12 to undergrad, Stevens–Truss helps all students
Erica Ollmann Saphire: Bert & Natalie Vallee Award in Biomedical Science
Saphire is on the forefront of antibody therapeutics
Ajit Varki: Herbert Tabor Research Award
Varki seeks clues in chimps, grandmothers and sialic acid
Dyann Wirth: Alice and C.C. Wang Award in Molecular Parasitology
Wirth focuses on parasitology and policy
Enjoy reading ASBMB Today?
Become a member to receive the print edition monthly and the digital edition weekly.
Learn more
Get the latest from ASBMB Today
Enter your email address, and we'll send you a weekly email with recent articles, interviews and more.
Latest in People
People highlights or most popular articles