Annual Meeting
Saphire is on the forefront of antibody therapeutics
She's won the ASBMB's 2023 Bert and Natalie Vallee Award in Biomedical Science
Erica Ollmann Saphire's laboratory investigates the structure of deadly viruses such as Ebola and rabies to discover how they enter our cells and suppress our immune system — and what our antibodies do to stop them.
"I study the molecular interface where the human immune system sees a pathogen," Saphire said. "I take high-resolution images to understand what a successful immune response looks like or how the pathogens might negate that."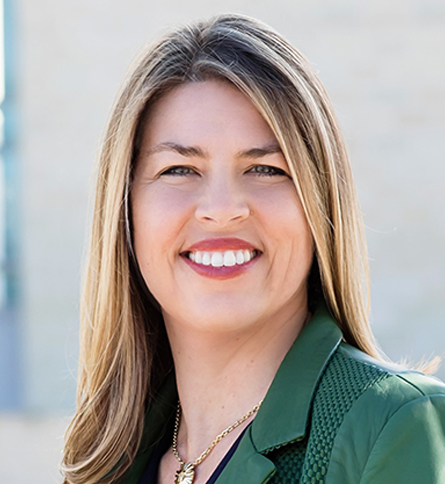 Erica Ollmann Saphire
Saphire is a professor and the president and chief executive officer of the La Jolla Institute for Immunology. Her lab builds 3D models of viral proteins and finds clues in their molecular structure that reveal their methods and potential weak spots for therapeutic targeting.
"The high-resolution photographs also help explain how the pathogen works," she said. "How it manifests disease and where it is vulnerable to vaccines or treatments."
These insights help to inform vaccine development to combat some of the deadliest viruses known to humankind.
At Discover BMB 2023, the American Society for Biochemistry and Molecular Biology will honor Saphire with the Bert & Natalie Vallee Award in Biomedical Science for her work in basic biomedical research. This marks the second ASBMB award for Saphire, who received the society's Young Investigator Award in 2015 for discoveries made during the first 10 years of her career.
Not content to work in isolation, Saphire has harnessed the findings of her research to drive a collaborative innovation consortium of 44 previously competing laboratories to advance antibody therapeutics and international vaccine efforts against deadly viruses. She now leads another large consortium toward SARS-CoV-2 antibody therapeutics for the Bill & Melinda Gates Foundation.
"Molecular biology is a tremendously exciting frontier," she said. "There are new techniques and new ways of looking at things that didn't exist a few years ago. The opportunities to understand the secrets of how life works and make meaningful improvement for human health are endless."
Exploring viral pathology inside the cell
Erica Ollmann Saphire's laboratory is running full speed ahead to the Discover BMB 2023 conference in Seattle. In her award talk, Saphire said she plans to present "some of the things my lab is most excited about now — which is developing structural biology beyond recombinant protein, beyond single particles, into studying the workings of the virus inside the cell that it infects."
Diving into how viruses take over our cells can greatly expand our knowledge of how deadly infection occurs, she explained. "Viruses aren't alive by themselves. They need to take over and hijack your cell and conduct the molecules of your cell like how a conductor conducts an orchestra."
Saphire's research efforts could yield more potential targets for therapeutic intervention and aid in the fight against viral hemorrhagic fevers like Ebola.
"Understanding the structures and functions inside the cell is a new frontier for structural biology," she said, "and it's some of the most exciting work we are doing."
2023 ASBMB award winners
Gira Bhabha: ASBMB Early-Career Leadership Award
Bhabha found creativity in hard science
Squire J. Booker: ASBMB–Merck Award / Ruth Kirschstein Diversity in Science Award
Booker catalyzes progress in science and outreach
Itay Budin: Walter A. Shaw Young Investigator Award in Lipid Research
Budin dives into the details
Russell DeBose-Boyd: Avanti Award in Lipids
DeBose–Boyd has a recipe for success
Scott Dixon: Earl and Thressa Stadtman Young Scholar Award
Dixon uncovers a new type of cell death
Catherine Drennan: William C. Rose Award
Drennan makes science fun and accessible
Anne Kenworthy: Mildred Cohn Award in Biological Chemistry
Kenworthy links quantity to theory
Keith Matthews: Alice and C.C. Wang Award in Molecular Parasitology
Matthews' career-long search for truth
Eytan Ruppin: DeLano Award for Computational Biosciences
Ruppin synthesizes cross-field expertise to study synthetic lethality
Kerry-Anne Rye: ASBMB Mid-Career Leadership Award
Rye offers tools for success
Regina Stevens-Truss: ASBMB Award for Exemplary Contributions to Education
K-12 to undergrad, Stevens–Truss helps all students
Ajit Varki: Herbert Tabor Research Award
Varki seeks clues in chimps, grandmothers and sialic acid
Dyann Wirth: Alice and C.C. Wang Award in Molecular Parasitology
Wirth focuses on parasitology and policy
Enjoy reading ASBMB Today?
Become a member to receive the print edition monthly and the digital edition weekly.
Learn more
Get the latest from ASBMB Today
Enter your email address, and we'll send you a weekly email with recent articles, interviews and more.
Latest in People
People highlights or most popular articles