Annual Meeting
Dixon uncovers a new type of cell death
He's won the ASBMB's 2023 Earl and Thressa Stadtman Young Scholar Award.
"Initially, no one believes you," Scott Dixon said. "The first time I gave a presentation about ferroptosis at a cell death conference and used that word, there were audible groans in the audience."
Yet scientists may one day induce ferroptosis in cancer, causing tumor cells to die, or put a stop to it in Lou Gehrig's disease, helping nerve cells to survive.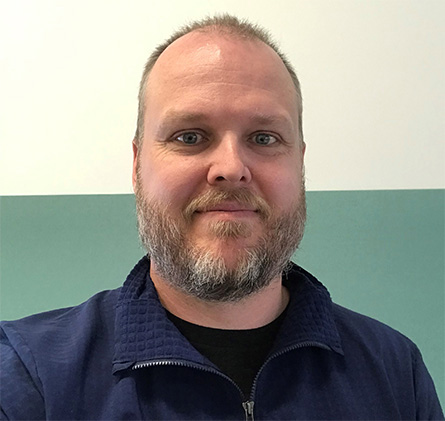 Scott Dixon
For spearheading the identification of an iron-dependent form of cell death and detailing its regulation ever since, Dixon has been awarded the American Society for Biochemistry and Molecular Biology's 2023 Earl and Thressa Stadtman Young Scholar Award.
In a nomination letter for Dixon, Brent Stockwell, a professor at Columbia University, wrote, "We learned more from his work on an erastin-driven cell death mechanism in two years than we cumulatively learned … over the preceding 11 years."
Dixon wasn't always decided on science.
"I won't pretend that I had the junior chemistry kit," he said. In fact, he didn't get excited about lab work until his third or fourth undergraduate year. Experiments in a lab course are "often a canned thing that people have been doing for decades, and it can feel a little bit unexciting," he said.
"But then you listen to a graduate teaching assistant tell you what they're doing … how they're building on some of this fundamental understanding to examine something really new … You can't help but get excited."
The words of graduate students grabbed him. "I realized I would like to experience research in that way and really ask a question that no one else has asked and see what kind of answers we can get."
Dixon has distributed tools that activate or inhibit ferroptosis so that other scientists can study it themselves. "Anyone can test this phenotype," he said. "Then they can see, 'Oh, wow. This actually turns up here, and it turns up here, and it turns up here.'"
Bulking and shredding
Ferroptosis comes from the words "ferro," meaning iron, and "ptosis," meaning dropping off (like leaves from a tree).
Before such a death, the inside of a cell swells. Eventually the membrane is "shredded," Dixon said. It's lethal lipid damage.
"If you'd asked people in the 1990s if it was possible for there to be a non-apoptotic form of cell death that is also regulated, the answer would generally have been no," Dixon said.
By the 2010s, hints existed in the literature, he said. Junying Yuan's work on necroptosis established the concept that there are nonapoptotic ways for cells to die that still require genetic and biochemical regulation.
"So, that cracked open the area quite widely for many others, including ourselves, to go on a few years later and propose additional mechanisms that weren't apoptosis, or (were) distinct from necroptosis, and say, well, this isn't such a crazy idea that there would be a novel mechanism."
Seeking examples of oxidation or the loss of certain metabolites associated with cell death, Dixon found older papers describing similar phenotypes.
His reaction? "Oh, that sounds a lot like ferroptosis," Dixon said. In some cases, the work was from decades ago, even before people realized that cell death is regulated.
"We just put the pieces together."
Sometimes, when cells fall apart, ideas come together.
For the most well-known type of cell death, apoptosis, "We've gone all the way from a fundamental, basic understanding to translating that knowledge into treatments for people," Dixon said; while for pathways discovered more recently, including ferroptosis, "We're in the middle of that process."
At Discover BMB 2023, Dixon will present an update on the field of cell death.
2023 ASBMB award winners
Gira Bhabha: ASBMB Early-Career Leadership Award
Bhabha found creativity in hard science
Squire J. Booker: ASBMB–Merck Award / Ruth Kirschstein Diversity in Science Award
Booker catalyzes progress in science and outreach
Itay Budin: Walter A. Shaw Young Investigator Award in Lipid Research
Budin dives into the details
Russell DeBose-Boyd: Avanti Award in Lipids
DeBose–Boyd has a recipe for success
Catherine Drennan: William C. Rose Award
Drennan makes science fun and accessible
Anne Kenworthy: Mildred Cohn Award in Biological Chemistry
Kenworthy links quantity to theory
Keith Matthews: Alice and C.C. Wang Award in Molecular Parasitology
Matthews' career-long search for truth
Eytan Ruppin: DeLano Award for Computational Biosciences
Ruppin synthesizes cross-field expertise to study synthetic lethality
Kerry-Anne Rye: ASBMB Mid-Career Leadership Award
Rye offers tools for success
Regina Stevens-Truss: ASBMB Award for Exemplary Contributions to Education
K-12 to undergrad, Stevens–Truss helps all students
Erica Ollmann Saphire: Bert & Natalie Vallee Award in Biomedical Science
Saphire is on the forefront of antibody therapeutics
Ajit Varki: Herbert Tabor Research Award
Varki seeks clues in chimps, grandmothers and sialic acid
Dyann Wirth: Alice and C.C. Wang Award in Molecular Parasitology
Wirth focuses on parasitology and policy
Enjoy reading ASBMB Today?
Become a member to receive the print edition monthly and the digital edition weekly.
Learn more
Get the latest from ASBMB Today
Enter your email address, and we'll send you a weekly email with recent articles, interviews and more.
Latest in People
People highlights or most popular articles