Annual Meeting
Drennan makes science fun and accessible
She's won the ASBMB's 2023 William C. Rose Award
In high school, Cathy Drennan didn't want to study chemistry. An inspiring chemistry professor at Vassar College changed her mind. Now, she is a professor of chemistry and biology at the Massachusetts Institute of Technology and a Howard Hughes Medical Institute professor and investigator.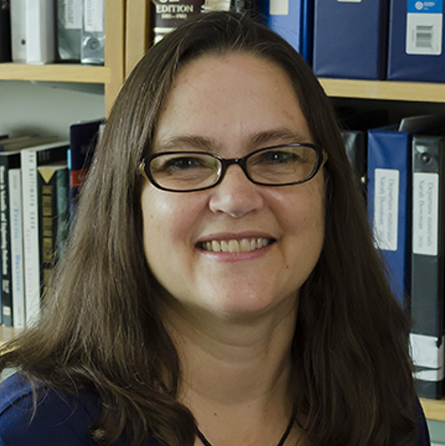 Cathy Drennan
Drennan will receive the American Society for Biochemistry and Molecular Biology's 2023 William C. Rose Award for her outstanding contributions to biochemical research and commitment to training younger scientists.
Fresh out of college, Drennan taught chemistry, biology, physics and drama at Scattergood Friends School, a high school in West Branch, Iowa. Her theatrical experience became useful in the science classroom, where she found that being enthusiastic and sometimes over the top helped students learn.
Defying the stereotype of a serious professor, she wears themed outfits inspired by each lecture topic.
"Science is fun," she said. "Why are we not making this clear to people?"
Many students struggle to find role models in textbooks. That's why Drennan likes to provide her students with examples of chemists from diverse backgrounds.
The profession needs to highlight more scientists with disabilities, she said. As someone who has dyslexia and was told she wouldn't graduate from high school, she has become a role model for others with disabilities. Many students with dyslexia and their parents and teachers have reached out to her for advice, worried that it will be too difficult to pursue a science career with a disability. Often, she said, "they're the ones doing the best work in a creative way because their brain is working differently."
For Drennan, having people who believed in her made a huge difference. Now, she is paying it forward. In a letter recommending her for the Rose award, her former graduate student Lindsey Backman wrote, "She sees people's highest potential, and then she reassures them of their capabilities and brings out the best in them."
Form equals function
When Cathy Drennan was being interviewed by graduate schools, it quickly became clear that she had a mind for structural biology. As she spoke with professors about their research, she said, she kept returning to the same question: "How can you understand something if you don't know what it looks like?
"Once I figured out that you could get the structural information, I was completely hooked."
This devotion has led Drennan to solve many long-awaited protein structures using X-ray crystallography and cryo-electron microscopy. Her research mainly focuses on metalloenzymes, enzymes that use metal cofactors to catalyze chemical reactions.
Early on, Drennan solved the first structure of a vitamin B­­12–dependent ribonucleotide reductase, a metalloenzyme that converts the building blocks of RNA into the building blocks of DNA. While she has solved structures of many other proteins, these vital enzymes have remained a long-standing theme of her research.
Recently, Drennan obtained the first snapshot of a ribonucleotide reductase in an active state, a groundbreaking feat that revealed how electrons move through the enzyme. Just as she's always recognized, she had to see the enzyme's form before she could understand its function.
2023 ASBMB award winners
Gira Bhabha: ASBMB Early-Career Leadership Award
Bhabha found creativity in hard science
Squire J. Booker: ASBMB–Merck Award / Ruth Kirschstein Diversity in Science Award
Booker catalyzes progress in science and outreach
Itay Budin: Walter A. Shaw Young Investigator Award in Lipid Research
Budin dives into the details
Russell DeBose-Boyd: Avanti Award in Lipids
DeBose–Boyd has a recipe for success
Scott Dixon: Earl and Thressa Stadtman Young Scholar Award
Dixon uncovers a new type of cell death
Anne Kenworthy: Mildred Cohn Award in Biological Chemistry
Kenworthy links quantity to theory
Keith Matthews: Alice and C.C. Wang Award in Molecular Parasitology
Matthews' career-long search for truth
Eytan Ruppin: DeLano Award for Computational Biosciences
Ruppin synthesizes cross-field expertise to study synthetic lethality
Kerry-Anne Rye: ASBMB Mid-Career Leadership Award
Rye offers tools for success
Regina Stevens-Truss: ASBMB Award for Exemplary Contributions to Education
K-12 to undergrad, Stevens–Truss helps all students
Erica Ollmann Saphire: Bert & Natalie Vallee Award in Biomedical Science
Saphire is on the forefront of antibody therapeutics
Ajit Varki: Herbert Tabor Research Award
Varki seeks clues in chimps, grandmothers and sialic acid
Dyann Wirth: Alice and C.C. Wang Award in Molecular Parasitology
Wirth focuses on parasitology and policy
Enjoy reading ASBMB Today?
Become a member to receive the print edition monthly and the digital edition weekly.
Learn more
Get the latest from ASBMB Today
Enter your email address, and we'll send you a weekly email with recent articles, interviews and more.
Latest in People
People highlights or most popular articles