Annual Meeting
Kenworthy links quantity to theory
Anne Kenworthy began doing lab science as an undergraduate at Kenyon College in Gambier, Ohio, but it was only after she moved on to graduate school and postdoctoral opportunities that she realized the breadth of research at R1 institutions.
Kenworthy began doing biophysical studies as a grad student in the cell biology department at Duke University. Her advisor, Tom McIntosh, was a physicist by training and was known for his work investigating the forces between bilayers in the cell membrane.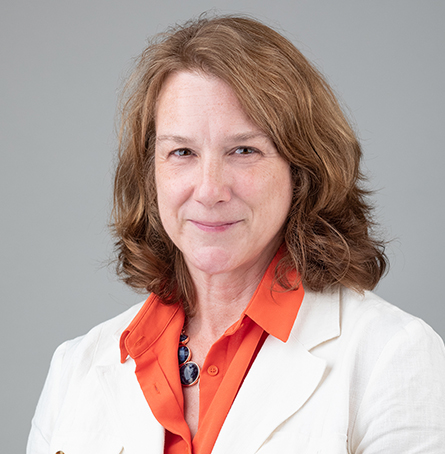 Anne Kenworthy
"I found that work appealing," Kenworthy said. "It was very quantitative, and I enjoyed being able to take measurements that you could then relate back to a physical theory."
Now a professor of cell biology and molecular physiology and biological physics at the University of Virginia School of Medicine, Kenworthy is the recipient of the American Society for Biochemistry and Molecular Biology's 2023 Mildred Cohn Award in Biological Chemistry. The award is named for the first female president of the ASBMB and honors scientists who have used innovative physical approaches to understand biological chemistry.
Kenworthy was nominated by Avril Somlyo, a UVA School of Medicine colleague WHO was previously Cohn's colleague at the University of Pennsylvania, for her contributions to the study of membrane structure and dynamics, including being one of the first researchers to apply fluorescence resonance energy transfer, or FRET, microscopy to the study of lipid rafts.
"Knowing Anne and having known Mildred as a colleague at the University of Pennsylvania, I believe it is an ideal match," Somlyo wrote.
"I honestly couldn't believe it," Kenworthy said of winning the award. "Sometimes you don't realize the impact that some of your discoveries have actually made."
In addition to her research, Kenworthy serves as an associate editor in the Cell Biophysics section of the Biophysical Journal and as faculty in the FLIM (fluorescence lifetime imaging microscopy) and FRET workshop at the Keck Center for Cellular Imaging at UVA. She considers it a natural part of her evolution as a researcher to contribute to the community by serving on editorial boards and study sections.
"You have an important role in helping to make sure that applicants get fair reviews," Kenworthy said. "You know that the best science can go on for funding agencies to make those final decisions."
Taking the measure of lipid rafts
Anne Kenworthy's lab in the Center for Membrane and Cell Physiology at the UVA School of Medicine studies cell membranes and the microdomains inside them, such as lipid rafts. Lipid raft microdomains contain certain concentrations of proteins in a small area that allow them to perform activities such as signaling and extracellular sensing. Caveolae, a special type of lipid raft, are dips in the plasma membrane that are built by caveolin proteins and that function in signaling and lipid homeostasis. Together with collaborators, the Kenworthy lab recently determined a high-resolution cryo-electron microscopy structure of the 3D form of a caveolin protein, a landmark achievement.
The lab also studies the structure and dynamics of lipid rafts themselves using techniques such as quantitative fluorescence microscopy, where the brightness level of fluorescence proteins is given a number compared to a control level of brightness and undergoes mathematical model analysis. Using florescence, the Kenworthy lab can measure on and off rates of transient protein binding events and measure the diffusion rate of lipids and proteins in the membrane.
2023 ASBMB award winners
Gira Bhabha: ASBMB Early-Career Leadership Award
Bhabha found creativity in hard science
Squire J. Booker: ASBMB–Merck Award / Ruth Kirschstein Diversity in Science Award
Booker catalyzes progress in science and outreach
Itay Budin: Walter A. Shaw Young Investigator Award in Lipid Research
Budin dives into the details
Russell DeBose-Boyd: Avanti Award in Lipids
DeBose–Boyd has a recipe for success
Scott Dixon: Earl and Thressa Stadtman Young Scholar Award
Dixon uncovers a new type of cell death
Catherine Drennan: William C. Rose Award
Drennan makes science fun and accessible
Keith Matthews: Alice and C.C. Wang Award in Molecular Parasitology
Matthews' career-long search for truth
Eytan Ruppin: DeLano Award for Computational Biosciences
Ruppin synthesizes cross-field expertise to study synthetic lethality
Kerry-Anne Rye: ASBMB Mid-Career Leadership Award
Rye offers tools for success
Regina Stevens-Truss: ASBMB Award for Exemplary Contributions to Education
K-12 to undergrad, Stevens–Truss helps all students
Erica Ollmann Saphire: Bert & Natalie Vallee Award in Biomedical Science
Saphire is on the forefront of antibody therapeutics
Ajit Varki: Herbert Tabor Research Award
Varki seeks clues in chimps, grandmothers and sialic acid
Dyann Wirth: Alice and C.C. Wang Award in Molecular Parasitology
Wirth focuses on parasitology and policy
Enjoy reading ASBMB Today?
Become a member to receive the print edition monthly and the digital edition weekly.
Learn more
Get the latest from ASBMB Today
Enter your email address, and we'll send you a weekly email with recent articles, interviews and more.
Latest in People
People highlights or most popular articles