Annual Meeting
K-12 to undergrad, Stevens–Truss helps all students
She won the 2023 ASBMB Award for Exemplary Contributions to Education
"Education is the great equalizer. If you have an education, people can't take anything away from you. That's part of who you are."
This core belief motivated Regina Stevens–Truss to pursue her Ph.D. and remains a reason for all she does as a professor.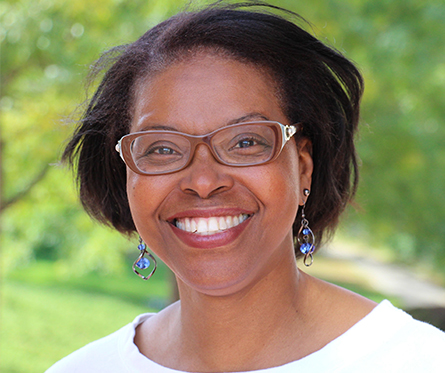 Regina Stevens-Truss
Growing up in Panama wasn't easy for Stevens–Truss; her unwed mother, who had immigrated from Colombia, died when she was 5. But she always loved science and math. After her father brought her to the United States, she continued her education.
With the encouragement of mentors over the years, Stevens–Truss earned a Ph.D. in medicinal chemistry from the University of Toledo. Now a professor in the department of chemistry and biochemistry at Kalamazoo College in Michigan, she will receive the 2023 ASBMB Award for Exemplary Contributions to Education in recognition of her commitment to students.
In addition to teaching and mentoring, Stevens–Truss has co-organized numerous ASBMB-sponsored workshops and meetings and co-chaired several interest groups, all focused on innovative teaching approaches.
A decade ago, when she was a member of the ASBMB's Minority Affairs (now Maximizing Access) Committee, Stevens–Truss said, the society had no programs to get high school students interested in science and ready for college. In 2012, she became a principal investigator of a National Science Foundation grant that funded a K-12 outreach initiative called the Hands-On Outreach to Promote Engagement in Science, or HOPES, project.
Also important to Stevens–Truss are social justice and inclusion. "I am always looking for the next way of impacting kids that look like me at all ages," she said.
Stevens–Truss organized the NSF-funded Science and Social Justice Think Tank conference in 2016, which helped people think about ways to teach science in a more socially just way. She teaches a class called Infection: Global Health and Social Justice, and she directs a Howard Hughes Medical Institute Inclusive Excellence grant that helps level the educational playing field for students from underrepresented backgrounds.
With creatively engaging teaching methods, Stevens–Truss brings science alive and sparks her students' continued interest in biochemistry. She's a compassionate role model as well as a pillar of support and guidance. And it's a two-way street.
"They inspire me, they keep me going, they really help me think hard about what I do," she said. "My students teach me, I think, just as much as they say I teach them."
Stories of helping, engaging and impact
At Discover BMB 2023 in Seattle, Regina Stevens–Truss will recount how she got to where she is now.
"I'm a doer," she said. "I'm always going to try to figure out how to solve the problem, how to help others, how to help people that want to do this thing."
She also will talk about her educational philosophy: "I truly believe in engaging all parts of a human being in the process of learning. … If you're distracted by some things, you can't, in the moment, learn."
Her projects have had an impact on how others see the way they teach or approach learning. In a letter nominating Stevens–Truss for the ASBMB award, her colleague Ellis Bell wrote, "Those who have attended a workshop or meeting led by Regina know the infectious enthusiasm and passion she brings to her topic. … We all learn something that is of use to us in our teaching and pedagogy when we listen to Regina."
2023 ASBMB award winners
Gira Bhabha: ASBMB Early-Career Leadership Award
Bhabha found creativity in hard science
Squire J. Booker: ASBMB–Merck Award / Ruth Kirschstein Diversity in Science Award
Booker catalyzes progress in science and outreach
Itay Budin: Walter A. Shaw Young Investigator Award in Lipid Research
Budin dives into the details
Russell DeBose-Boyd: Avanti Award in Lipids
DeBose–Boyd has a recipe for success
Scott Dixon: Earl and Thressa Stadtman Young Scholar Award
Dixon uncovers a new type of cell death
Catherine Drennan: William C. Rose Award
Drennan makes science fun and accessible
Anne Kenworthy: Mildred Cohn Award in Biological Chemistry
Kenworthy links quantity to theory
Keith Matthews: Alice and C.C. Wang Award in Molecular Parasitology
Matthews' career-long search for truth
Eytan Ruppin: DeLano Award for Computational Biosciences
Ruppin synthesizes cross-field expertise to study synthetic lethality
Kerry-Anne Rye: ASBMB Mid-Career Leadership Award
Rye offers tools for success
Erica Ollmann Saphire: Bert & Natalie Vallee Award in Biomedical Science
Saphire is on the forefront of antibody therapeutics
Ajit Varki: Herbert Tabor Research Award
Varki seeks clues in chimps, grandmothers and sialic acid
Dyann Wirth: Alice and C.C. Wang Award in Molecular Parasitology
Wirth focuses on parasitology and policy
Enjoy reading ASBMB Today?
Become a member to receive the print edition monthly and the digital edition weekly.
Learn more
Get the latest from ASBMB Today
Enter your email address, and we'll send you a weekly email with recent articles, interviews and more.
Latest in People
People highlights or most popular articles