Annual Meeting
Matthews' career-long search for truth
He's won the ASBMB's Alice and C.C. Wang Award in Molecular Parasitology
When he first heard about the African protozoa that cause sleeping sickness, Keith Matthews was hooked. "I heard a lecture as an undergrad on trypanosomes," he said, "and I thought it sounded really fascinating."
He wrote to potential grad school supervisors, eventually enrolling at the University of Glasgow to study how the parasite evades the host's immune response.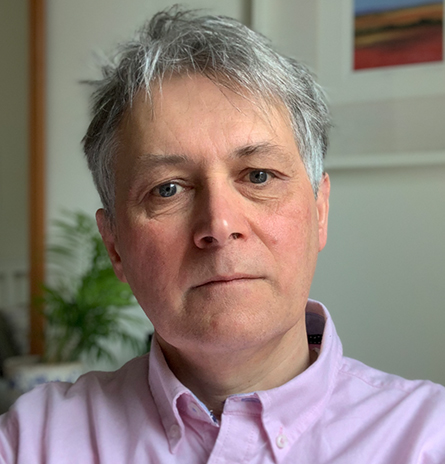 Keith Matthews
After earning his Ph.D., Matthews moved to Yale University on a NATO fellowship and then to the University of Manchester before moving his lab to the University of Edinburgh, studying the trypanosome's life cycle.
"Innovative and groundbreaking research is a trademark of Keith's research group," former mentor Christian Tschudi wrote in his letter supporting Matthews' nomination for the American Society for Biochemistry and Molecular Biology's Alice and C.C. Wang Award in Molecular Parasitology. Matthews will receive the award at Discover BMB 2023 in Seattle.
Such work doesn't come out of nowhere. Matthews has established a lab environment where members feel free to innovate and help each other. "It comes down to the people in the lab and their willingness to help each other," he said. "A lot of the breakthroughs have been a direct result of the Ph.D. students' work in the lab."
He also makes mentorship a priority. "No one is not trying their best," he said. "You need to be constructive and help keep their enthusiasm."
And he's still chasing answers about trypanosomes as he was as an undergrad. "There is research where I still have no idea what the results are telling us," he said.
While that can be frustrating, there's an upside: "We are fortunate in parasitology; there are so many interesting questions out there. Ultimately, we're looking for the truth. It's as simple as that."
How a trypanosome knows it's time to change
Transmitted by tsetse flies, trypanosomes infect mammals, including humans and livestock, causing trypanosomiasis, or sleeping sickness. Keith Matthews has studied how the protozoa's life cycle in mammals and flies is regulated and how the parasite controls its growth and infectivity.
Trypanosomes replicate in the host's bloodstream in what's known as their "slender form." But to transfer back to the tsetse fly successfully, they must be in their "stumpy form," in which they stop dividing. Matthews' lab works to explain how and why this change happens.
The team first used an RNAi screen to identify signaling in the trypanosome that tells it to transition to the stumpy form. Then they walked back up the pathway and searched for the external signal that sets off the cascade.
"In some ways we did things backwards," Matthews said.
They identified the parasites' mechanism of quorum sensing, or communicating that there are enough of them in the host's blood to be transmitted by the fly and it's time to ready themselves.
The lab discovered that peptidases released by trypanosomes cleave host proteins, releasing small oligopeptides. When a high enough concentration of parasites is in the bloodstream, these oligopeptides are at a correspondingly high level and are transported by a molecule on the parasite's surface, setting off the signaling cascade and transforming the slender forms into stumpy, ready for life in the tsetse fly.
2023 ASBMB award winners
Gira Bhabha: ASBMB Early-Career Leadership Award
Bhabha found creativity in hard science
Squire J. Booker: ASBMB–Merck Award / Ruth Kirschstein Diversity in Science Award
Booker catalyzes progress in science and outreach
Itay Budin: Walter A. Shaw Young Investigator Award in Lipid Research
Budin dives into the details
Russell DeBose-Boyd: Avanti Award in Lipids
DeBose–Boyd has a recipe for success
Scott Dixon: Earl and Thressa Stadtman Young Scholar Award
Dixon uncovers a new type of cell death
Catherine Drennan: William C. Rose Award
Drennan makes science fun and accessible
Anne Kenworthy: Mildred Cohn Award in Biological Chemistry
Kenworthy links quantity to theory
Eytan Ruppin: DeLano Award for Computational Biosciences
Ruppin synthesizes cross-field expertise to study synthetic lethality
Kerry-Anne Rye: ASBMB Mid-Career Leadership Award
Rye offers tools for success
Regina Stevens-Truss: ASBMB Award for Exemplary Contributions to Education
K-12 to undergrad, Stevens–Truss helps all students
Erica Ollmann Saphire: Bert & Natalie Vallee Award in Biomedical Science
Saphire is on the forefront of antibody therapeutics
Ajit Varki: Herbert Tabor Research Award
Varki seeks clues in chimps, grandmothers and sialic acid
Dyann Wirth: Alice and C.C. Wang Award in Molecular Parasitology
Wirth focuses on parasitology and policy
Enjoy reading ASBMB Today?
Become a member to receive the print edition monthly and the digital edition weekly.
Learn more
Get the latest from ASBMB Today
Enter your email address, and we'll send you a weekly email with recent articles, interviews and more.
Latest in People
People highlights or most popular articles