Annual Meeting
Varki seeks clues in chimps, grandmothers and sialic acid
He's won the ASBMB's JBC Herbert Tabor Research Award
"We published a major paper on cancer risks of red meat and went out to breakfast to celebrate," Ajit Varki said. "But the first author ordered bacon."
An unexpected connection to biochemistry has drawn Varki into, among other things, the human tendency to deny harsh realities.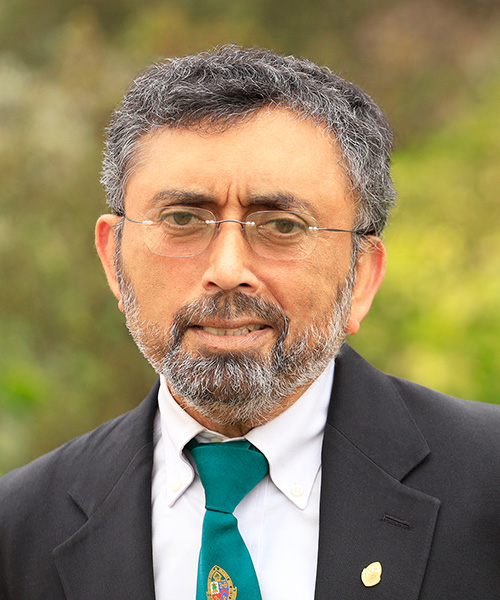 Ajit Varki
The major paper he referred to illuminates such a reality: red meat consumption significantly increases the risk of certain cancers. And Varki's group has found one culprit: a member of the sialic acid family of glycans that humans do not produce naturally and that can aggravate diseases such as cancer.
But Varki is no preacher. "It's hard to refuse Grandma's ham on Christmas Eve," he said. "Red meat is also part of many cultures and has important nutritive value."
For his work in the field of glycobiology, Varki will receive the American Society for Biochemistry and Molecular Biology's 2023 Journal of Biological Chemistry Herbert Tabor Research Award.
As a newly trained oncologist–hematologist wanting to study bone marrow transplantation, Varki realized that all cells in nature are covered in glycans, yet hardly anyone was studying this. He gained a postdoc spot in the lab of Stuart Kornfeld (the 2012 JBC Herbert Tabor awardee).
"I got so excited about studying glycans that I never went back to transplantation," Varki said.
His work led him to sialic acids. While seeing a patient with an immune reaction to horse serum (a previously administered antitoxin), Varki discovered that this reaction was linked to sialic acid. He was surprised; every vertebrate, including humans, has sialic acids.
Varki's group found that one kind of sialic acid with an added oxygen atom had been knocked out in humans probably about 2 million years ago. This was the first reported genetic difference between humans and our closest relatives, chimpanzees, of functional significance — and the first of many involving sialic acid biology unique to humans, which could explain several human-specific diseases.
To address questions surrounding human origins, Varki formed an informal think tank of experts from many backgrounds called the Center for Academic Research and Training in Anthropogeny. The group has blossomed into almost 500 experts worldwide.
When studying human origins, you're never sure what you're going to find, Varki stresses. "It's like a murder mystery."
Going against evolutionary dogma
Ajit Varki's group recently has explored the grandmother effect, asking why human females can live so long after menopause. "The idea is that infertile grandmothers are selected for protection of infants and are helping their own genes," he said.
To aid this, a human-specific change in a sialic acid–recognizing gene, CD33, is recruited to combat Alzheimer's disease. "That goes against the evolutionary dogma that there is no selection against aging," Varki said.
Varki also suggests that the reality denial that helps humans cope with unpleasant realities is related to a "psychological evolutionary barrier" that only our species broke through. The negative consequences are very much with us today as the realities of climate change loom. But according to Varki, reality denial also gives us optimism.
"I grew up in India, and my grandfather was a friend of Mahatma Gandhi," he said. "I used to think, 'what the heck was this man trying to do –– take on the British empire with nonviolence?' Totally ridiculous right? He paid the price, but a lot of good things came out of that optimism and sacrifice."
2023 ASBMB award winners
Gira Bhabha: ASBMB Early-Career Leadership Award
Bhabha found creativity in hard science
Squire J. Booker: ASBMB–Merck Award / Ruth Kirschstein Diversity in Science Award
Booker catalyzes progress in science and outreach
Itay Budin: Walter A. Shaw Young Investigator Award in Lipid Research
Budin dives into the details
Russell DeBose-Boyd: Avanti Award in Lipids
DeBose–Boyd has a recipe for success
Scott Dixon: Earl and Thressa Stadtman Young Scholar Award
Dixon uncovers a new type of cell death
Catherine Drennan: William C. Rose Award
Drennan makes science fun and accessible
Anne Kenworthy: Mildred Cohn Award in Biological Chemistry
Kenworthy links quantity to theory
Keith Matthews: Alice and C.C. Wang Award in Molecular Parasitology
Matthews' career-long search for truth
Eytan Ruppin: DeLano Award for Computational Biosciences
Ruppin synthesizes cross-field expertise to study synthetic lethality
Kerry-Anne Rye: ASBMB Mid-Career Leadership Award
Rye offers tools for success
Regina Stevens-Truss: ASBMB Award for Exemplary Contributions to Education
K-12 to undergrad, Stevens–Truss helps all students
Erica Ollmann Saphire: Bert & Natalie Vallee Award in Biomedical Science
Saphire is on the forefront of antibody therapeutics
Dyann Wirth: Alice and C.C. Wang Award in Molecular Parasitology
Wirth focuses on parasitology and policy
Enjoy reading ASBMB Today?
Become a member to receive the print edition monthly and the digital edition weekly.
Learn more
Get the latest from ASBMB Today
Enter your email address, and we'll send you a weekly email with recent articles, interviews and more.
Latest in People
People highlights or most popular articles