Annual Meeting
Budin dives into the details
As an undergraduate engineering major, Itay Budin discovered his love for biophysics and lipids during a summer research internship. His project focused on biochemically reconstituting membrane dynamics by adding purified proteins to lipid bilayers on a coverslip. While the lab was focused on the proteins' activity, Budin said he was struck by the dynamics of the lipids.
When he started graduate school at Harvard University, Budin discovered Jack Szostack's lab.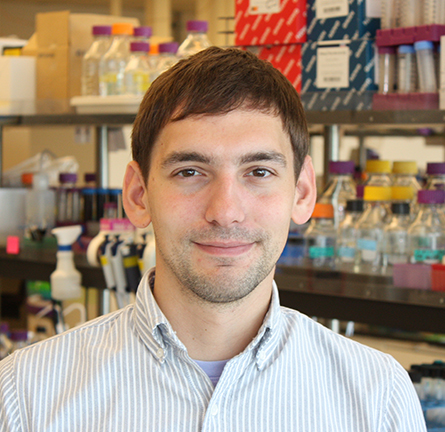 Itay Budin
"Jack's lab is very interested in the origin of life. They're not a membrane biophysics lab," Budin said, "But I felt like they were the only ones that were really thinking deeply about the physical effects happening at the scale of lipids and single lipid molecules."
In the Szostack lab, Budin explored the biophysical properties that influenced the evolution of the cell membrane.
Near the end of his Ph.D., Budin won the Miller Institute Junior fellowship, which provided scientific independence during his postdoc. He chose to join Jay Keasling's lab at the University of California, Berkeley. Combining his love of lipids with the synthetic biology expertise of the Keasling lab, Budin learned to manipulate lipid composition to alter biological function. In particular, he demonstrated how changes in lipid saturation, and therefore membrane fluidity, influence cellular respiration.
Now an assistant professor of chemistry and biochemistry and bioengineering at the University of California, San Diego, Budin runs his own lab, exploring lipid research related to evolution, metabolism and human health. He is the 2023 winner of the American Society for Biochemistry and Molecular Biology's Walter A. Shaw Young Investigator Award.
Although his lab encompasses numerous scientific fields, Budin still thinks of himself as a biophysicist.
"How my mind thinks is really at that level," he said. "Conformations­­ and movements of molecules."
From single lipids to symbiosis
Itay Budin's lab focuses on the impact of lipid composition across many levels of biological organization.
Within the cell, Budin continues his postdoctoral work on mitochondria. Recently, his lab worked to predict mitochondrial membrane shapes — ranging from flat sheets to thin tubules or curvy cristae — based on lipid saturation. Elsewhere in the cytoplasm, Budin's lab explores membrane trafficking. Ultimately, he hopes to better understand human health and aging-related diseases by studying changes in the lipidome.
At the organismal level, Budin remains fascinated by the effect of environmental pressures upon lipids. Partnering with collaborators at the Monterey Bay Aquarium Research Institute, he demonstrated how the lipid composition of deep sea animals adapts to changes in temperature and pressure.
His lab also studies an unusual relationship between yeast and fruit flies. Although certain lipids are required for central nervous system function, fruit flies cannot synthesize them. Instead, they consume yeast as a dietary source of lipids. In turn, the fruit flies help transport yeast.
Studying wild Drosophila in an apple orchard, Budin found the flies consume different yeast populations — with distinct lipid profiles — as the seasons change.
"There's this kind of communication between yeast and flies," Budin said. "We're trying to understand how flies can choose or forage for yeast that gives them the right type of lipids that they need to withstand cold."
2023 ASBMB award winners
Gira Bhabha: ASBMB Early-Career Leadership Award
Bhabha found creativity in hard science
Squire J. Booker: ASBMB–Merck Award / Ruth Kirschstein Diversity in Science Award
Booker catalyzes progress in science and outreach
Russell DeBose-Boyd: Avanti Award in Lipids
DeBose–Boyd has a recipe for success
Scott Dixon: Earl and Thressa Stadtman Young Scholar Award
Dixon uncovers a new type of cell death
Catherine Drennan: William C. Rose Award
Drennan makes science fun and accessible
Anne Kenworthy: Mildred Cohn Award in Biological Chemistry
Kenworthy links quantity to theory
Keith Matthews: Alice and C.C. Wang Award in Molecular Parasitology
Matthews' career-long search for truth
Eytan Ruppin: DeLano Award for Computational Biosciences
Ruppin synthesizes cross-field expertise to study synthetic lethality
Kerry-Anne Rye: ASBMB Mid-Career Leadership Award
Rye offers tools for success
Regina Stevens-Truss: ASBMB Award for Exemplary Contributions to Education
K-12 to undergrad, Stevens–Truss helps all students
Erica Ollmann Saphire: Bert & Natalie Vallee Award in Biomedical Science
Saphire is on the forefront of antibody therapeutics
Ajit Varki: Herbert Tabor Research Award
Varki seeks clues in chimps, grandmothers and sialic acid
Dyann Wirth: Alice and C.C. Wang Award in Molecular Parasitology
Wirth focuses on parasitology and policy
Enjoy reading ASBMB Today?
Become a member to receive the print edition monthly and the digital edition weekly.
Learn more
Get the latest from ASBMB Today
Enter your email address, and we'll send you a weekly email with recent articles, interviews and more.
Latest in People
People highlights or most popular articles