Award
Michel strives to be a better mentor
She has won the ASBMB Early-Career Leadership Award
Lea Michel's family is a priority. Born in Korea and raised in Rochester, New York, Michel has extended the traditional definition of family to include all her students at Rochester Institute of Technology. She grew up close to the campus and attended yearly ice-skating camps run by RIT. Her passion for science and learning, however, was developed off the ice.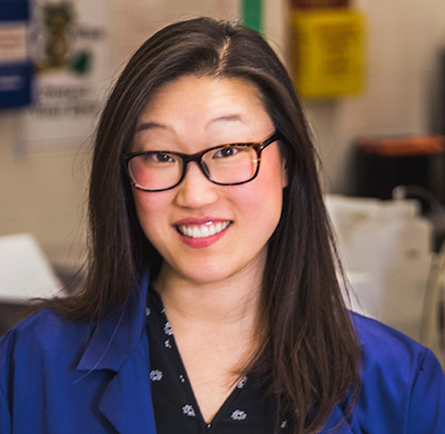 Lea Michel
Michel attended an all-girls high school where she thrived in math and science. Her physics teacher, Mr. Hendrick, constantly reminded his students of the many women doing incredible things in the field and in other branches of science.
"So many girls grow up doubting if they belong in science, especially physical science," Michel said. "I had no doubts."
That fearless approach propelled Michel into her own lab at RIT, and for her commitment to helping other women advance in biochemistry and molecular biology, she has won the 2022 ASBMB Early-Career Leadership Award.
Michel performed undergraduate research in the lab of the only female physics professor then at Colgate University, Beth Parks, whom she considers a role model. After studying abroad, Michel realized that she was missing something by doing physics alone. She wanted to pursue science that was applicable to life and human health, so she transitioned in graduate school to Kara Bren's lab at the University of Rochester, where she found the perfect combination in biophysics.
In Bren's lab, Michel learned the value of the teamwork and cooperation that she strives for in her own lab. Now an associate professor in the school of chemistry and materials science, she said landing a faculty position at RIT was like winning the lottery; more than a decade later, she works to retain historically disadvantaged students in science and has a lab of diverse students.
Michel tries not to get too comfortable with her methods, she said. Her advice to others: "Get outside of your comfort zone" and "be brave." Much work remains to bring and retain women, first-generation, and deaf and hard-of-hearing students (RIT's National Technical Institute for the Deaf is the first and largest technological college in the world for deaf students) in science and math, she said, and she strives to support her lab family at RIT in the same way that impactful mentors helped her.
Bacterial proteins in sepsis
Lea Michel's research lab has several ongoing projects, and one of the team's principal studies is attempting to identify biomarkers for diagnosing sepsis at earlier stages in development.
Bacterial sepsis is a leading cause of death in hospitals around the world. Gram-negative sepsis, or GNS, induces a hyperimmune response due in part to its lipopolysaccharide endotoxin and accounts for just under half of the total cases of bacterial sepsis. Michel's lab is using biophysical and biochemical methods to better understand the pathology of GNS and the release of peptidoglycan-associated lipoprotein, or Pal, from E. coli that contributes to the dramatic and deadly inflammatory response.
Other particles released from Gram-negative bacteria include outer membrane vesicles, which Michel and her lab also consider an attractive and distinguishing biomarker for use one day in the clinic.
Enjoy reading ASBMB Today?
Become a member to receive the print edition monthly and the digital edition weekly.
Learn more
Get the latest from ASBMB Today
Enter your email address, and we'll send you a weekly email with recent articles, interviews and more.
Latest in People
People highlights or most popular articles