Award
Boothroyd honored for Toxoplasma gondii research
He has won the Alice and C.C. Wang Award in Molecular Parasitology
In his lab's early years, John Boothroyd worked with both the protozoan that causes African sleeping sickness, Trypanosoma brucei, and the parasite that causes toxoplasmosis, Toxoplasma gondii. His team was one of the first to report mRNA trans-splicing and polycistronic transcription in eukaryotes from their trypanosome research. But about a decade later, Boothroyd started to feel that the trypanosome research field was becoming saturated; he wanted to go back to his early interest in intracellular biochemistry, so he focused his research on the less-explored Toxoplasma. Since then, his lab has made great strides in understanding host–parasite interactions.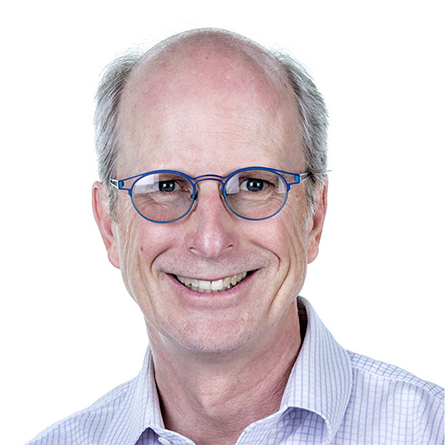 John Boothroyd
Boothroyd has won the American Society for Biochemistry and Molecular Biology's 2022 Alice and C.C. Wang Award for his seminal contributions to molecular parasitology both in the laboratory and in the greater community.
After earning his Ph.D. at the University of Edinburgh in 1979, Boothroyd was a scientist at the Wellcome Research Laboratories in the United Kingdom for three years before moving to Stanford University, where he's worked for almost four decades. He is now a professor of microbiology and immunology and associate vice-provost for graduate education and postdoctoral affairs.
On top of his research contributions, Boothroyd aims to better the lives of students and faculty by altering how we view mentorship in the sciences. "One of my passions is to change the academic culture to recognize that mentoring is a really important and really hard job, and that people can benefit from receiving explicit training," he said.
Elected to the National Academy of Sciences in 2016, Boothroyd continues his work to create a supportive, inclusive scientific community at a national level.
In his own lab, Boothroyd has a team-oriented approach, saying, "I strongly feel that awards like this are to the team, not me."
In this strain, virulence varies greatly
Toxoplasma gondii has a diverse range of hosts; it can infect nearly any warm-blooded animal, including humans. An estimated 40 million people in the United States are infected with the parasite. Though many cases are asymptomatic, severe toxoplasmosis can be fatal for pregnant individuals or those with weakened immune systems, so it is crucial to understand how these parasites work. John Boothroyd and his team at Stanford want to understand what makes some strains of Toxoplasma so virulent and how the host immune system and the parasite interact.
In their most recent publication, the team used single-cell transcriptomic analysis to examine how host cell gene expression changes upon infection by Toxoplasma gondii. They compared the transcription of Toxoplasma-infected cells with cells that were injected but not invaded by Toxoplasma. While previous studies only had assessed gene expression days after infection, Boothroyd's team measured transcription within one to three hours. They found that transcription of host immune and cellular stress response genes increases upon injection of rhoptry effector proteins. Exactly how these effectors are introduced into the host cell is one of the lab's current focuses.
Enjoy reading ASBMB Today?
Become a member to receive the print edition monthly and the digital edition weekly.
Learn more
Get the latest from ASBMB Today
Enter your email address, and we'll send you a weekly email with recent articles, interviews and more.
Latest in People
People highlights or most popular articles