Annual Meeting
Stillman charts the path of genome replication
He's the winner of the ASBMB's 2024 Earl and Thressa Stadtman Distinguished Scientist Award
Bruce Stillman's scientific journey began with an intense curiosity about the mysteries of DNA replication, especially in eukaryotes. "When I started my career," he said, "we actually knew almost nothing about how the eukaryotic genome is inherited from one cell to the next."
Stillman, winner of the American Society for Biochemistry and Molecular Biology's 2024 Earl and Thressa Stadtman Distinguished Scientists Award, has explored adenovirus DNA replication and has done pioneering work on the simian virus 40, or SV40, replication system. High-impact discoveries under his guidance include replication protein A, proliferating cell nuclear antigen and replication factor C, which are significant pillars in genome stability research. His investigation into yeast chromosomal replication led to the discovery of the origin recognition complex, a critical initiator of DNA replication in eukaryotic cells.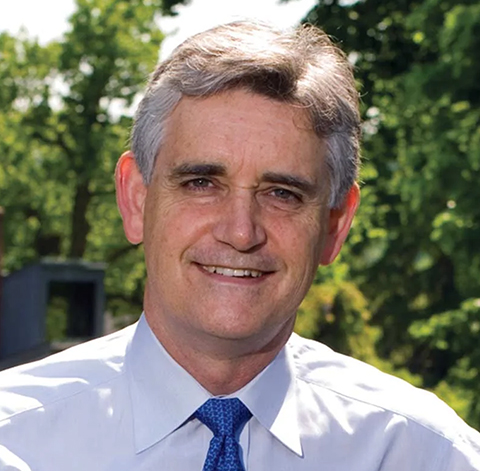 Bruce Stillman
Over the decades, Stillman's dedication to basic research hasn't wavered, despite challenges. "It's very difficult to initiate new projects, especially on new species or changing systems like when we moved from adenovirus to SV40 virus, then to yeast to human, and now to other yeasts," he said. "It's very difficult to do that with (National Institutes of Health) funding because you really have to have a lot of preliminary results to get NIH funding."
A key facilitator in navigating this challenging terrain was the Cold Spring Harbor Laboratory. Now, president and chief executive officer, Stillman arrived at the lab from Australia in 1979 for an independent postdoc in the U.S.
"Cold Spring Harbor … it's one of the greatest intellectual environments in science," he said. The lab's private funding offered a launch pad for Stillman's research ventures, he said, allowing him to delve into uncharted territories.
The future study of DNA replication presents captivating challenges and opportunities, Stillman said. The intricate chromatin regulatory systems governing replication timing invite exploration, as does the enigma of replication localization in species without sequence-specific origins. And Stillman has trained many others who continue the work.
In nominating Stillman for the Stadtman award, John Diffley of the Francis Crick Institute wrote, "Bruce was an early-career mentor of mine … He is an outstanding scientist and an outstanding mentor."
Diving deep into DNA replication
In his presentation at Discover BMB, the ASBMB's annual meeting in San Antonio in March, Bruce Stillman plans to delve into the process of DNA replication initiation, illuminating our understanding of cellular processes foundational to life.
"We've now gone from knowing virtually nothing to understanding the detailed biochemistry of the process and control of initiation of DNA replication," Stillman said.
Focusing on the evolution and regulation of DNA replication in the cell-division cycle, Stillman will share comparisons among species, particularly in their replication origins.
He will address fundamental questions, from the mechanisms that determine replication origins in various species to understanding how replication interacts with other cellular processes. Only a small number of eukaryotes, such as the yeast Saccharomyces cerevisiae, have sequence-specific origins. All other eukaryotes — including fungi, plants, animals and humans — lack sequence-specific origins.
"The question then is how our origins are determined," Stillman said. "So, we are now looking, performing evolutionary comparisons by comparing Saccharomyces to other yeasts and human cells. We include structural work, molecular biology and biochemistry to understand the subtle differences, principally to understand how the initiation of replication occurs in all eukaryotes."
2024 ASBMB award winners
Enjoy reading ASBMB Today?
Become a member to receive the print edition monthly and the digital edition weekly.
Learn more
Get the latest from ASBMB Today
Enter your email address, and we'll send you a weekly email with recent articles, interviews and more.
Latest in People
People highlights or most popular articles