Journal News
From the journals: MCP
A mid-life crisis in the eye. An alternate approach to finding alternative proteins. A better way to process LC mass spec. Read about papers on these topics recently published in the journal Molecular & Cellular Proteomics.
A mid-life crisis in the eye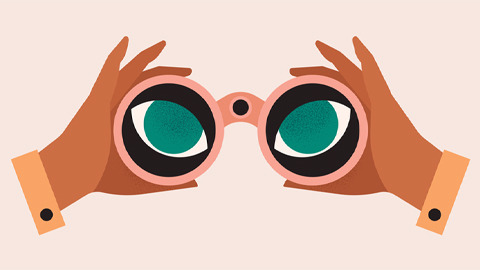 Much of what we see depends on a small, flexible, transparent tissue that focuses light onto our retinas to produce sharp images. This is the ocular lens, and its transparency is essential for clear vision. Experts believe a "microcirculation" system maintains this transparency as it shuttles antioxidants to the older lens center and carries away waste products. But as oxidative stress occurs over time on lens cells, it likely contributes to the formation of age-related nuclear cataracts. These cataracts are a major cause of blindness and can only be treated surgically.
In a paper in the journal Molecular & Cellular Proteomics, Lee S. Cantrell and a team from Vanderbilt University describe performing specialized mass spectrometry on lenses of 16 people aged 15–74 to elucidate proteomic differences by age. After measuring several thousand protein groups and tens of thousands of peptides with the data-independent acquisition method of mass spec, they found a distinct point at which shifts in the eye proteome can be distinguished — around 50 years of age.
Comparing hierarchical clusters of protein groups from the lens samples, the researchers showed for the first time that the clusters below and above 50 years are different. This time point is significant because at about this age, lenses lose the ability to change shape and people notice an inability to focus on near objects, a condition known as presbyopia. This is why many people around this age need reading glasses.
They hypothesize that a biological event occurs around this age that causes remodeling of the lens proteome.
Specific changes in the clusters include depletion of aquaporin-5, a water channel protein involved in microcirculation. This decreases the permeability of the lens fiber cells and the abundance of SLC24A2, a calcium transporter. The resulting overaccumulation of calcium ions further interferes with the lens microcirculation system and response to oxidative stress. Proteins may then be misfolded or may aggregate, leading to cataract formation.
Looking forward, the Vanderbilt team highlighted a proteomic comparison between human lenses with and without cataracts as an important next step.
An alternate approach to finding alternative proteins
In molecular biology, the open reading frame, or ORF, is the portion of DNA between the start and stop codons, and one reference ORF is typically associated with one mRNA. Translation of the mRNA leads to a reference protein. However, alternative open reading frames, or AltORFs, may be in what was formerly mislabeled as the "untranslated region" and can be initiated by codons other than AUG. Translation of these reading frames results in alternative proteins, or AltProts, which researchers have implicated in physiological processes and diseases, as well as embryonic development. While bioinformatics predicts the presence of thousands of AltProts, existing mass spectrometry-based techniques have identified an order of magnitude fewer.
Ying Yang, Hongwei Wang and a research team in China describe a more efficient method for identifying AltProts in a recent paper in the journal Molecular & Cellular Proteomics. Their approach starts with ribosomal profiling for AltProt prediction and mass spectrometry for detection. After a process of trial and error that included testing 10 AltProt enrichment techniques (size exclusion chromatography won out) and various optimizations, they settled on a workflow that allows for enrichment and fractionation from the proteome.
With this method, the scientists discovered 89 novel alternative proteins in embryonic and adult mouse livers. Many of these AltProts were involved in RNA processing, including splicing and regulating the cell cycle — biological pathways associated with development. The researchers noted that while their optimized workflow is more comprehensive than previously published ones, more sensitive mass spec instrumentation would improve future identification of alternative proteins.
A better way to process LC mass spec
Combining liquid chromatography with mass spectrometry, or LC-MS/MS, provides a powerful tool for profiling cellular proteomic data. This technique has been used to identify posttranslational modifications, or PTMs, across sample conditions, but analyzing the resulting data can be challenging. Standard statistical tests such as analysis of variance may not distinguish between the shifting abundances of a particular modification versus proteins in general, for instance. In a recent Molecular & Cellular Proteomics paper, Devon Kohler of Northeastern University and a U.S.-based team present a software package to address these issues.
They write that their analysis framework, MSstatsPTM, exposes statistical differences between individual posttranslational modifications and global protein abundances. This can provide information about processes that occur on a short timescale, such as signaling events. The software, available on Bioconductor as an open-source R package, models complex experimental designs by accounting for more sources of variability and efficiently using the given data.
The researchers tested MSstatsPTM against the common analysis tools ANOVA and Limma. They evaluated its performance on two computer-simulated data sets, one benchmark-controlled mixture and three biologically based experiments. Across all testing, they found MSstatsPTM to be more accurate and better able to parse out statistical differences than the standard workhorse packages. These experiments were done on data-dependent acquisitions of LC-MS/MS, but the authors noted that this program can also work on data-independent acquisitions, another mark of its versatility.
Enjoy reading ASBMB Today?
Become a member to receive the print edition monthly and the digital edition weekly.
Learn more
Get the latest from ASBMB Today
Enter your email address, and we'll send you a weekly email with recent articles, interviews and more.
Latest in Science
Science highlights or most popular articles