Journal News
From the journals: MCP
Can the peptidome in saliva classify oral cancer patients by disease status? Which proteins are targeted by a new oncology therapeutic? Where do a pathogen's effector proteins go after entering a host cell? We summarize recent papers in the journal Molecular & Cellular Proteomics on these topics.
Noninvasive tool provides oral cancer prognosis
Oral squamous cell carcinoma, which affects about 34,000 people in the U.S. each year, is found in the cells lining the lips and mouth. Metastasis to the lymph nodes is a sign of disease progression and may be accompanied by changes in proteolytic activity. During proteolysis, enzymes cut up proteins into short fragments called peptides. Recent work suggests that characterizing the sequence and abundance of these molecules — a method dubbed peptidomics — might provide new insight on cancer biology and in the clinic. In a recent paper in the journal Molecular & Cellular Proteomics, Leandro Xavier Neves of the Brazilian Biosciences National Laboratory and a team of Brazilian clinicians and scientists describe their analysis of oral squamous cell carcinoma patient saliva using peptidomics.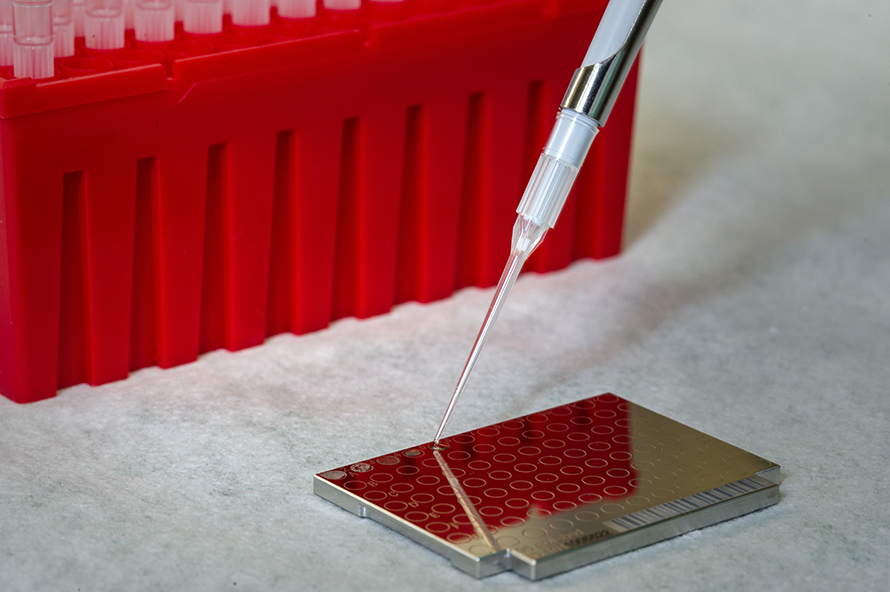 Peptidomics analyses of saliva samples from oral squamous cell carcinoma patients correlate with disease metastasis. The technique may be a useful noninvasive prognostic tool.
After extracting peptides from saliva samples, the research team analyzed and compared the peptide content in samples from patients with and without metastasis to the lymph nodes. They found more than 1,000 uniquely expressed peptides in each group and an additional 1,628 peptides expressed by both groups. A series of statistical analyses identified 77 peptides of particular interest; all of these peptides are overexpressed in samples from patients with lymph node metastasis, which supports the hypothesis that proteolytic activity increases in metastatic disease. Ten of these peptides also correlated with clinical features of metastatic tumors. The researchers used a panel measuring the abundance of five peptides to classify patients according to metastatic state.
To predict which enzymes generated this distinctive saliva peptidome, the team compared the sequences of peptides and full-length proteins to identify the most common cleavage sites. Many of the predicted enzymes are associated with the lysosome or vacuole, linked to immunity or present in the oral microbiome. They then examined the expression of these enzymes in publicly available oral squamous cell carcinoma tissue data. This analysis showed that enhanced expression of enzymes — but not the proteins they target — associates with metastasis and reduced survival, further bolstering the link between proteolytic activity and disease progression.
Together, these analyses of proteolysis in oral squamous cell carcinoma may be useful for patient prognosis.
Unraveling a cancer stem cell inhibitor
Much like healthy stem cells, cancer stem cells are capable of self-renewal, dormancy and generation of multiple tissue-specific cell types. Since they maintain malignant tumors instead of healthy tissue, they are an enticing but elusive therapeutic target. Recent studies identified a small molecule — napabucasin — that inhibits cancer stem cell activity. Researchers hypothesize that napabucasin targets the Stat3 signaling pathway, which regulates wound healing, tissue integrity and tumor proliferation. However, they have not yet characterized the drug's precise mechanism of action.
A new study in Molecular & Cellular Proteomics examines protein–drug interactions following napabucasin treatment in zebrafish. Led by Niels Leijten from Utrecht University and Petra Bakker from the Hubrecht Institute, the authors analyzed the whole organism using thermal proteome profiling. With this new technique, they identified binding events — for example, of a protein to a drug — through changes in the thermostability of folded protein structures. The researchers found that napabucasin activates aldehyde dehydrogenases, a class of enzymes responsible for metabolism of vital biomolecules including the morphogen retinoic acid, but does not change Stat3 signaling. They plan to explore further the relationship between napabucasin, aldehyde dehydrogenase activity and cancer stem cell viability in future experiments.
A pathogen's proteins target mitochondria
The tick-borne pathogen Coxiella burnetii causes Q fever, or query fever, a rare flulike disease that can spread to humans who inhale dust particles contaminated by infected farm or domestic animals. When C. burnetii infects a human macrophage, it transfers as many as 150 effector proteins into the host cell. Researchers know these proteins change the host's physiology to support the infection. However, they know little about the contributions of the individual effector proteins, partly due to their diversity and scarcity.
Laura Fielden and colleagues at the University of Melbourne hypothesized that C. burnetii effector proteins target the mitochondria — known as the powerhouse of the cell — because that organelle is crucial in cellular homeostasis. To test this, the team isolated mitochondria from human macrophages infected with C. burnetii and analyzed the proteins using high-sensitivity mass spectrometry.
The team's recent paper in the journal Molecular & Cellular Proteomics identified seven C. burnetii proteins associated with the mitochondria, including two not previously found in the organelle. They found that one of these effector proteins, MceC, moves to the inner mitochondrial membrane and interacts with mitochondrial proteins involved in quality control and metabolic function.
This study presents an adaptable method for characterizing the contributions of a pathogen's effector proteins.
Enjoy reading ASBMB Today?
Become a member to receive the print edition monthly and the digital edition weekly.
Learn more
Get the latest from ASBMB Today
Enter your email address, and we'll send you a weekly email with recent articles, interviews and more.
Latest in Science
Science highlights or most popular articles