News
There's something in the water, and it's killing America's national bird
In the winter of 1994, at DeGray Lake in Arkansas, 29 bald eagles died of unknown causes. Two years later, another 26 dead or dying eagles were found in the same area. Blood counts, chemical tests, and postmortem tissue examinations of the birds appeared normal, with no significant levels of toxic chemicals and no indication of bacterial or viral infections. Apart from being dead, the eagles appeared in good health.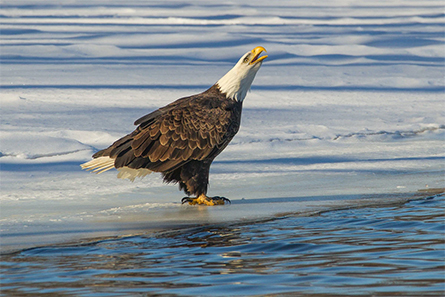 Dave Vichich on Unsplash
What caused so many eagles to die so suddenly? Light microscopy finally provided a clue – all examined eagles showed widespread lesions in the white matter, or myelin, of their brains and spinal cords. These lesions took on the appearance of empty cavities, leading the researchers to name this disease Avian Vacuolar Myelinopathy (AVM). The cause of AVM remained unknown.
For over twenty years, AVM spread across the southeastern United States, affecting birds from American coots to red-tailed hawks. None of the affected birds showed signs of compounds or pathogens known to cause myelinopathy. But, the cases all had a few things in common. The mysterious deaths occurred during the fall or winter, near bodies of water colonized by the non-native aquatic plant waterthyme, Hydrilla verticillata. Further study showed that the surfaces of H. verticillata leaves were covered by a previously undiscovered cyanobacterium, Aetokthonos hydrillicola.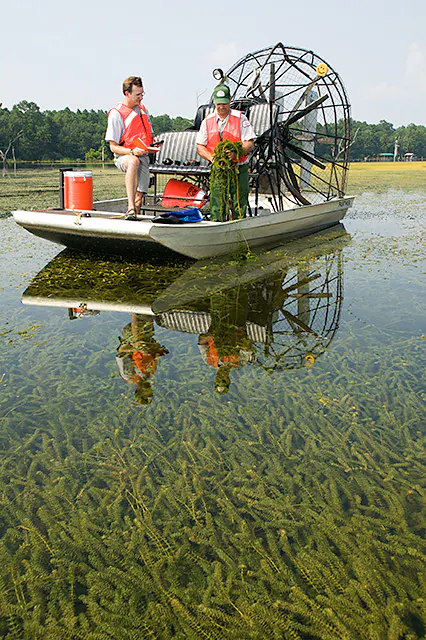 Army Corps of Engineers collect herbicide-resistant hydrilla from Lake Seminole
in northern Florida.
Did this plant or cyanobacterium somehow cause these deaths? Researchers at the University of Georgia and Martin Luther University of Halle-Wittenberg in Germany thought so, but they weren't sure how. They collected samples of the aquatic plant from affected reservoirs, cultivated it in the lab, and fed it to chickens.
The chickens did not develop AVM.
Thinking that maybe the plant and cyanobacterium somehow grew differently in lakes, they collected additional samples from lakes and visualized them using a mass spectrometry imaging technique to look at the distribution of small molecules. Using this method, the researchers found the presence of a novel metabolite only where the cyanobacterial colonies grew upon the plant's leaves.
The structure of this compound, aetokthonotoxin, provided a clue as to why only natural specimens produced this metabolite. The compound had five bromine atoms, but the standard cultivation medium used for H. verticillata and A. hydrillicola did not contain bromine, which is not typically added to media since it's only needed by most lifeforms in trace amounts. When the scientists supplemented the medium with a bromine compound, the metabolite formed. Furthermore, formation of aetokthonotoxin skyrocketed when the temperature dropped, like during fall and winter when bird deaths usually occurred.
With the potential toxin in hand, the researchers still had to establish that it caused the bird deaths. When they studied H. verticillata from lakes where AVM was not detected, they did not find any of the metabolite, but tissues from dead AVM birds contained this compound. Bromine concentrations on H. verticillata leaves from affected lakes were as much as 1000-fold higher than in the lake water. The scientists sequenced the entire genome of A. hydrillicola and looked for genes that might explain its ability to create this compound. They found a gene cluster not previously found in any other organism, and produced one of the enzymes encoded by a gene in this cluster. When they added this enzyme, they found that a brominated compound partially matching the structure of the potential toxin was produced. With enough evidence pointing to this metabolite, they named it aetokthonotoxin, or AETX, from the Greek for "poison that kills the eagle."
However, the researchers still needed to catch the murderer in action. They fed AETX isolated from assemblages of A. hydrillicola and H. verticillata to animals including water fleas, nematodes, zebrafish, and chickens. AETX killed them all. Chickens fed either this assemblage or purified AETX all developed cavities in the white matter of their brains just like wild birds with AVM. Control chickens fed only a solvent without AETX did not develop these cavities.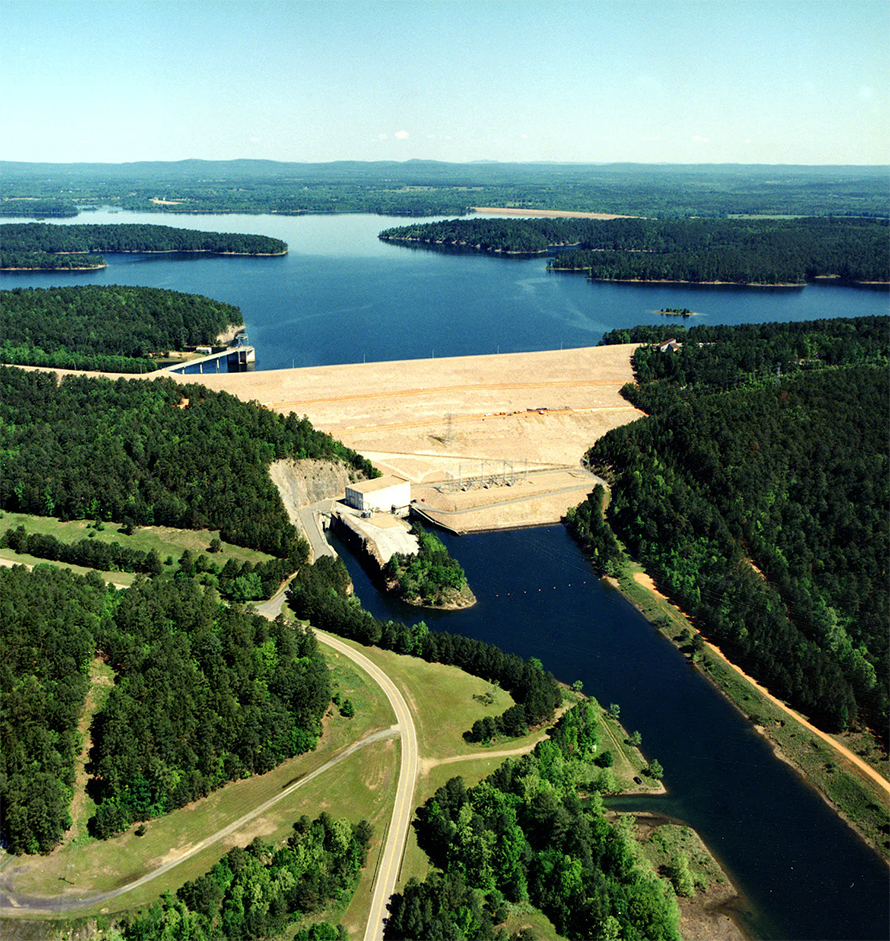 DeGray Dam and DeGray Lake (back) on the Caddo River in Hot Spring County, Arkansas.
This evidence was the smoking gun. The mass mortalities had been caused by a deadly combination of a non-native aquatic plant, H. verticillata, upon which the cyanobacterium A. hydrillicola lives. When bromine concentrations are low, this arrangement is relatively benign, but the duo turns deadly when bromine increases, possibly due to pollution from pesticides, power plants, or gasoline. H. verticillata accumulates bromine on its surfaces, and A. hydrillicola, in the presence of bromine, produces the toxin AETX. Birds and other animals feeding on this plant accumulate AETX in their bodies, and affected waterfowl may then be eaten by eagles and other birds of prey. After ingesting a lethal amount of AETX, these birds develop holes in their brain matter, and eventually die.
Native to India, H. verticillata was first sold as an aquarium plant, although it is now classified as a federally prohibited invasive and its sale is banned in the United States. However, it is already widespread in 33 states in the U.S. and across all continents except Antarctica. Currently, several methods of controlling its spread involve the use of bromine-containing herbicides, but this may pose a danger as bromine increases the production of AETX.
AETX is far from the first cyanobacterial toxin to be discovered. In fact, known cyanotoxins pose many health hazards if humans or pets ingest, inhale, or otherwise come into contact with them, and can cause gastrointestinal, liver, skin, and neural symptoms. Many affected water bodies, including DeGray Lake, are used by people for fishing, swimming, boating, and as sources of drinking water. AETX accumulates in lipids, may remain in the body for a period of time, transfers up the food chain, and has demonstrated lethality in a wide variety of animals. How does AETX affect humans? We don't yet know. More research is required to fully understand the effects of AETX upon entire ecosystems and its longer-term effects to both wildlife and human health.
This story originally appeared on Massive Science, an editorial partner site that publishes science stories by scientists. Subscribe to their newsletter to get even more science sent straight to you.
Enjoy reading ASBMB Today?
Become a member to receive the print edition monthly and the digital edition weekly.
Learn more
Get the latest from ASBMB Today
Enter your email address, and we'll send you a weekly email with recent articles, interviews and more.
Latest in Science
Science highlights or most popular articles