Journal News
Proteomic clues to oocyte development
In a female germ cell, also known as an oocyte, maturation is orchestrated by such biological processes as chromosome segregation, mRNA decay and metabolic changes. Defects in any one of these processes can lead to infertility, meiotic defects and/or embryonic arrest. Successful oocyte maturation requires interplay between translation and degradation of key proteins involved in germ cell division. To advance reproductive medicine, researchers need to understand the mechanisms from oocyte to mature egg.
To help unravel these mechanisms, a team of researchers led by Hongzheng Sun and Guanyi Sun of the Nanjing Medical University in China carried out proteomic profiling of mouse oocytes at three developmental stages, identifying functions of critical proteins and pathways for maturation. This study was published in the journal Molecular & Cellular Proteomics.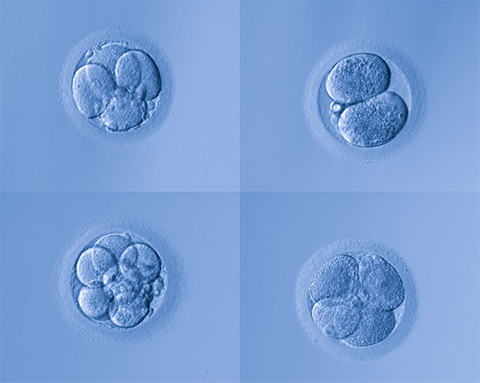 "Simply put, we interpreted the maturation process of mouse oocytes with proteomics and discovered signaling pathways and functional proteins that regulate oocyte maturation," Hongzheng Sun said. "Our data serves as an important resource on the dynamic biological processes occurring in oocyte proteome and provides knowledge to better understand the molecular mechanisms during female germ cell development."
Using eggs taken from artificially superovulated mice, the researchers analyzed the oocytes' maturation with optimized liquid chromatography with tandem mass spectrometry. They identified 4,694 proteins and found that 634 of them changed significantly across multiple developmental stages. The team also studied the functions of critical proteins and metabolic pathways for oocyte maturation. These include increased levels of proteins related to cell cycle regulation, a decline in histone acetylation accompanied by an increase in deacetylases, maternal mRNA decay with upregulation of exoribonucleases, and protein degradation with active ubiquitinoylation in mouse oocytes.
Although the study was conducted in maturing oocytes, it has limitations. "We have used siRNA interference to investigate the function of key proteins and can limit the knockdown efficiency, leading to incomplete elimination of the target protein," Sun said.
Also, the individual proteins they studied are upregulated mainly during maturation, while proteins with reduced expression important for oocyte development need further characterization.
The researchers are excited about their results and plan to pursue studies in two directions. "Firstly, we want to continue to mine proteins from the current proteomic profiling data set and continue to study their functions in oocyte maturation," Sun said. "Secondly, we want to collaborate with clinicians to screen for genetic mutations causing infertility in women."
With such proteomic data sets, researchers can establish screens to detect human oocyte abnormalities. For example, if an abnormally expressed protein blocks oocyte maturation, then researchers can study the defects to determine whether they are caused by specific gene mutations.
This study not only has helped to advance knowledge of oocyte development but also has affected the lead researcher's personal health goals.
"While studying reproduction biology we observed that obesity negatively impacts male and female reproduction systems," Sun said. "When I learned about this, I started running to maintain a healthy weight. My research made me realize the importance of good health."
Enjoy reading ASBMB Today?
Become a member to receive the print edition monthly and the digital edition weekly.
Learn more
Get the latest from ASBMB Today
Enter your email address, and we'll send you a weekly email with recent articles, interviews and more.
Latest in Science
Science highlights or most popular articles