Journal News
The 'phospho-dawn' of circadian clock proteomics
As a Ph.D. student at the University of Edinburgh, Johanna Krahmer was interested in researching circadian rhythms, which are key physiological changes that follow a 24-hour cycle. These natural processes respond primarily to light and dark and affect most living things, including animals, plants and microbes. She joined Andrew Millar's lab, which researched how circadian rhythms are developed and affect plant life from the cell to the ecosystem.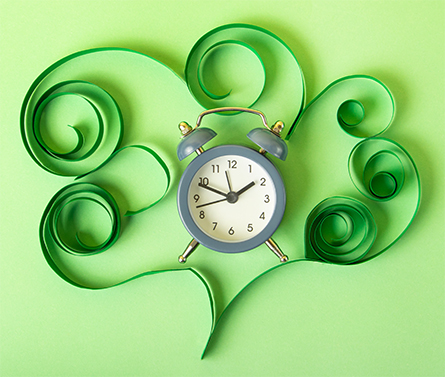 Most genetic studies in circadian biology research have focused on gene expression levels. However, protein abundance and post-translational modifications tell a larger story about circadian rhythms, making it essential to study these changes as well.
"Many transcription factor proteins that genetically control circadian rhythms also undergo post-translational modifications," Krahmer said. "One such modification —protein phosphorylation — is involved in the circadian clock mechanism not only in plants but also in fungi and eukaryotes."
Krahmer was interested in investigating circadian rhythms in protein abundance and phosphorylation PTM changes in a normally functioning circadian clock system. She used mass spectrometry to generate global proteomics and phosphoproteomics datasets on circadian time courses in the Arabidopsis thaliana plant.
"We found that about 0.4% of global proteins but a much larger percentage of the quantified phosphorylation sites were altered due to the circadian clock," Krahmer said. "Furthermore, approximately half of these rhythmic phosphosites were most phosphorylated at dawn, a pattern we termed the 'phospho-dawn.'"
Krahmer discovered that many phosphorylated proteins are those involved in circadian clock regulation, such as MAPK, CK2 and GSK. She also showed that the genetic clock circuit is required for most rhythmic protein phosphorylation.
Using an Arabidopsis thaliana plant line with a disabled clock gene circuit, Krahmer found that most of the most circadian protein phosphorylation was lacking. However, a few phosphorylation sites that fluctuated despite the disabled circadian clock still tended to peak in abundance close to subjective dawn.
"This may suggest that the canonical circadian mechanism is necessary for most but perhaps not all protein phosphorylation rhythms," Krahmer said.
To exemplify in an experimental approach how circadian phosphorylation of a protein can be linked to its function, she analyzed the effect of a mutation in the phosphorylation site on the activity of the metabolic enzyme F2KP (one of the identified proteins in her data sets). F2KP is one of the regulators of carbon partitioning into starch and sucrose. It is necessary to maintain normal growth in fluctuating light conditions. Krahmer showed that the phosphorylated serine of F2KP has functional relevance in plant metabolism. Her findings recently were published in the journal Molecular and Cellular Proteomics.
Following her Ph.D., Krahmer pursued postdoctoral research in Karen Halliday's lab at the University of Edinburgh and now works at Christian Fankhauser's lab at the University of Lausanne. Her research interests have expanded to the role of metabolism in photobiology.
"If there is one major takeaway message from my Ph.D. work," she said, "it's that that protein changes and PTMs should be an important part of circadian biology research."
Enjoy reading ASBMB Today?
Become a member to receive the print edition monthly and the digital edition weekly.
Learn more
Get the latest from ASBMB Today
Enter your email address, and we'll send you a weekly email with recent articles, interviews and more.
Latest in Science
Science highlights or most popular articles