Journal News
Vision health depends on critical fat intake
Our eyes are rich in fatty acids that help the retina receive, convert and send light signals to the brain. Healthy ocular fatty acid content relies on a diet rich in omega-3 long-chain polyunsaturated fatty acids, or LC-PUFAs, but guidelines for obtaining these dietary fats to maintain vision health remain controversial and incomplete.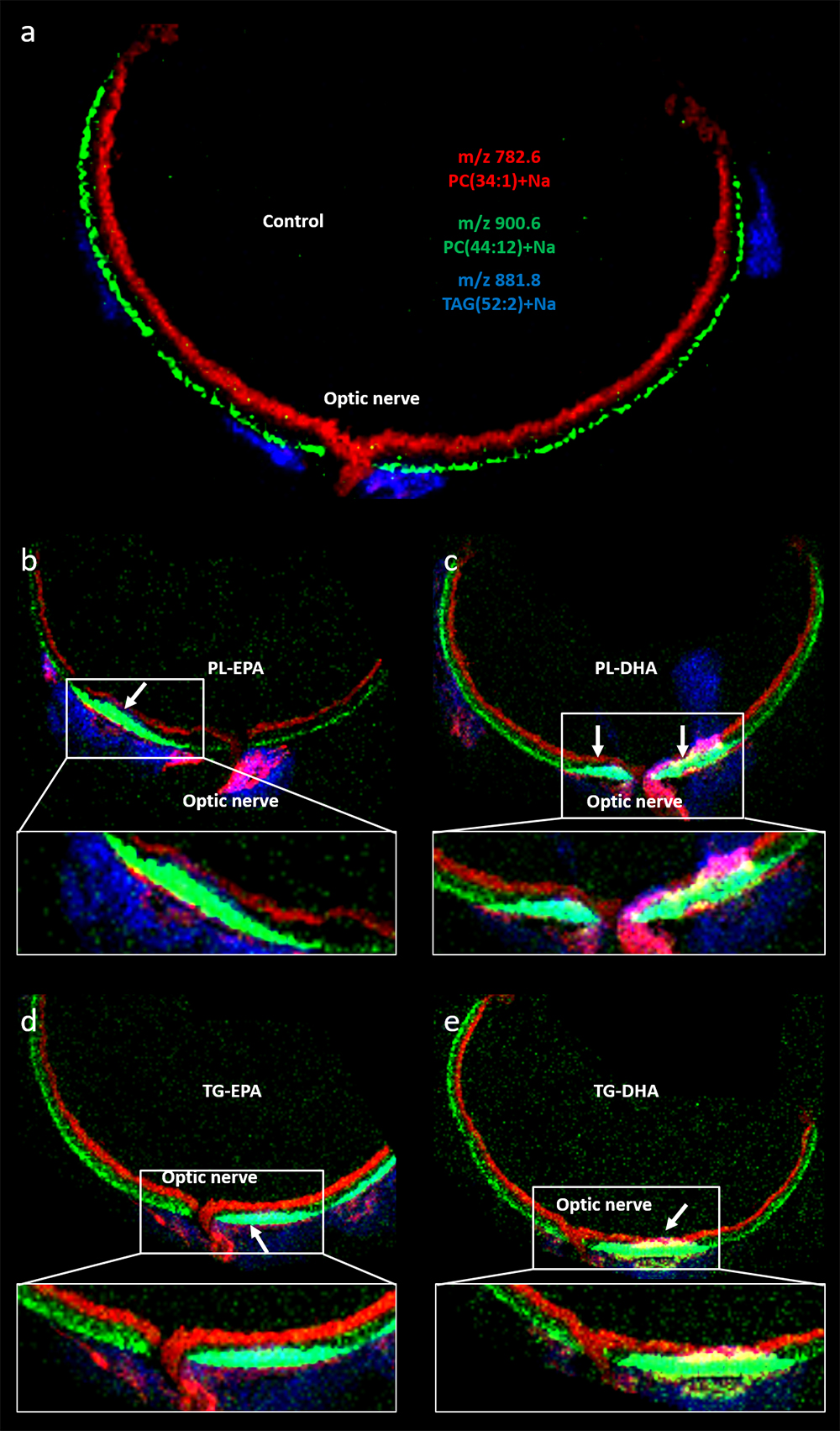 Elisa Vidal
Compared to a control diet, an omega-3 supplementary diet rich in phospholipids increases docosahexaenoic acid content (green) in the optic nerve.
To understand better how dietary omega-3 supplementation can modify the content of fatty acids in the retina, researchers at Louisiana State University and the Université Bourgogne Franche-Comté investigated how lipids and lipid metabolism intervene in the function and dysfunction of the retina. The results of their study are detailed in the Journal of Lipid Research.
The study began by looking at dietary guidelines in Western countries, which recommend consuming 500 mg of fatty acids per day to reduce the risk of developing age-related macular degeneration, or AMD, the most common cause of blindness in the elderly of developed countries. A diet rich in two key fatty acids — docosahexaenoic acid, or DHA, and eicosapentaenoic acid, or EPA — has been shown to be associated with a lower risk of AMD development, but the 500 mg per day recommendation does not take into account a number of key factors, according to the study's lead author, Elisa Vidal.
"This recommendation is not precise for the chemical forms or source of EPA and DHA in dietary supplements," Vidal said, "despite the fact that the chemical form —aka, phospholipids or triglycerides — can effectively influence bioavailability and distribution in retina."
The creative collaboration between the Neuroscience Center of Excellence at LSU and the Eye and Nutrition Research Group in Dijon, France, afforded researchers the chance to investigate LC-PUFA changes that followed different omega-3 rich diets. The human body cannot make alpha linolenic acid, the precursor of EPA and DHA, and is inefficient at making these fatty acids. To investigate the effects of supplements, the researchers created experimental diets of five lipid blends using varying concentrations of both fish and plant oils (such as sunflower, palm, rapeseed and herring roe). Fed to rats, these different mixtures of EPA and DHA were analyzed after eight weeks for their uptake in rodent plasma, red blood cells and the retina.
"Using mass spectrometry molecular imaging and other approaches, we showed, for the first time that the content of fatty acids in the photoreceptor layer can indeed be modified by an omega-3 food supply," Vidal said.
Holistically, this study unravels fundamental questions. In the rat, "EPA and DHA provided as dietary supplements can enhance DHA content in the retina and trigger changes in spatial organization of fatty acids in the outer retina," Vidal said. This can help provide guidance on what sources of dietary fatty acids might be beneficial for preventing irreversible visual impairments.
The researchers next want to understand better the mechanisms regulating how fatty acids containing phospholipids or triglycerides travel — from oral uptake, through the digestive tract, and to the retina and retinal pigment epithelial cells. Molecular changes in the eyes are one thing, but functional consequences in the retina are crucial to prevent the effects of aging.
Enjoy reading ASBMB Today?
Become a member to receive the print edition monthly and the digital edition weekly.
Learn more
Get the latest from ASBMB Today
Enter your email address, and we'll send you a weekly email with recent articles, interviews and more.
Latest in Science
Science highlights or most popular articles