Annual Meeting
Unraveling regulation of lipid partitioning
Good mentoring along his academic and professional journey helped shape Brandon Davies' career as a research scientist right from the start.
"I had a really good AP Biology teacher in high school who turned me on to science," Davies said.
His older brother Sean, a professor and researcher at Vanderbilt University, was Davies' first career mentor. Watching his brother go through the process of attending graduate school, doing a postdoc and then getting a job showed Davies what it takes to establish a career in science and guided him along his own path.
The Journal of Lipid Research junior associate editors will present their work at the 2021 annual meeting, 2:15–3:30 p.m., Thursday, April 29.
Find out about registering for the annual meeting here.
"I was blessed with excellent mentors during my Ph.D. and postdoc," he said. Though they each had different styles of mentoring and leadership, Davies said, they always wanted him to succeed and genuinely supported his desire to be a career scientist.
After majoring in biology and English as an undergraduate at the University of Utah, Davies earned a Ph.D. from the University of California, Berkeley, where he studied the role of two transcription factors in ergosterol synthesis. As a postdoc in the lab of Stephen Young at the University of California, Los Angeles, he simultaneously worked on two projects: the role of nuclear lamins in health and disease and the function of a protein called GPIHBP1 in the metabolism of triglyceride-rich proteins.
"Brandon was a joy to have in the group," Young said. "He was calm, diligent, organized, honest and creative."
Now an associate professor of biochemistry at the University of Iowa studying the regulation of lipid partitioning within the body, Davies advises budding researchers not to get discouraged with failure but to learn from their mistakes. "Look for a mentor who looks out for you," he said.
When not in the lab, Davies enjoys mountain biking and spending time with his three children.
A protein that regulates lipid partitioning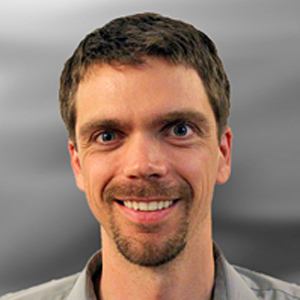 Brandon DaviesLipids in the foods we eat are packaged into chylomicrons for circulation in the blood; from there, they are taken up by many tissues including the heart, skeletal muscle, adipose tissue, and the liver. Improper partitioning of lipids to tissues is associated with conditions such as diabetes, atherosclerosis and obesity.
A protein called lipoprotein lipase, or LPL, is a key determinant of lipid partitioning in the human body; the greater the LPL activity in a particular tissue, the greater the uptake of triglycerides by the same. Davies' lab seeks to understand how a group of proteins called angiopoietinlike proteins, or ANGPTL, regulate LPL activity. One such protein, ANGPTL4, inhibits LPL activity in the adipose tissue and shifts the delivery of fat away from adipose tissue to the heart and muscles, contributing to conditions such as atherosclerosis and muscle insulin resistance.
Davies and his colleagues study the tissue-specific activity of ANGPTL4. They have discovered that knocking out ANGPTL4 in the liver or adipose tissue of mice causes an age-dependent shift in fat partitioning. This is relevant because, with age, chances of developing metabolic disorders such as diabetes increase. This finding, when extrapolated to humans, could help explain the biology behind such metabolic disorders..
Enjoy reading ASBMB Today?
Become a member to receive the print edition monthly and the digital edition weekly.
Learn more
Get the latest from ASBMB Today
Enter your email address, and we'll send you a weekly email with recent articles, interviews and more.
Latest in People
People highlights or most popular articles