Annual Meeting
Blending clinical, research perspectives to define early lipid disease
Rotonya Carr had little research experience before she began her medical residency fellowship at the University of Pennsylvania 11 years ago. After four years in med school and another four as a primary care physician, Carr joined the university's gastroenterology specialization program, which includes emphasis on the liver.
Carr was interested in metabolism and endocrinology, so she elected to work in the lab of Rexford Ahima, who since has moved to Johns Hopkins University. Ahima was starting to focus on diseases related to fatty livers, and Carr dove right in.
"It was the best decision I made in my career," Carr said. "I learned how to do bench science and learned about fatty liver disease from a clinical perspective and from a basic biology perspective too."
The Journal of Lipid Research junior associate editors will present their work at the 2021 annual meeting, 2:15–3:30 p.m., Thursday, April 29.
Find out about registering for the annual meeting here.
Now an assistant professor in the UPenn department of medicine's division of gastroenterology, Carr has made fatty liver disease her career. As a testament to her contributions to the field of lipid biology, she recently was selected as a junior editor for the Journal of Lipid Research.
Fatty liver disease, or FLD, is defined by the presence of fat in more than 5% of liver cells. Carr researches the early stages of FLD and wants to understand how dysregulation of lipid metabolism in the liver promotes disease. As a practicing clinician, she works with patients who have the disease she studies.
"My patients have so many questions related to the biology of their disease," she said. "I can explain what's going on in their bodies, and once they understand this connection between biology and disease, we see better results with their treatment plans."
Mentorship at the bench is important to Carr; she takes pride in supporting trainees who, like her, may have started with limited lab experience. Her top two pieces of advice are useful for researchers and clinicians alike.
"Have passion about your area of work and surround yourself with supportive colleagues," she said. "Your success will depend on you and your drive."
Understanding lipid crosstalk in fatty liver disease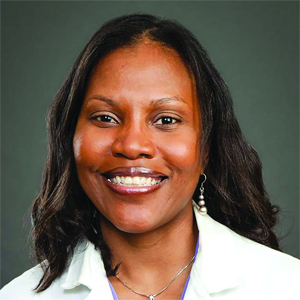 Rotonya CarrFatty liver disease, or FLD, is the most common liver disease in the U.S. and is estimated to affect more than 30% of the population. The liver, the body's largest internal organ, has myriad important roles, including converting food to fuel and processing fat. FLD can have alcohol-related and non-alcohol-related origins.
While the disease often is hard to diagnose in the early stages, this is exactly where Rotonya Carr has focused her research. Carr and colleagues have found that crosstalk between lipid droplets, which are lipid-rich cellular organelles, and lipid metabolism in the liver may relate to the development of FLD. She has identified a specific lipid droplet protein called perilipin 2 as a potential therapeutic target in alcoholic FLD and has related it to sphingolipid metabolism. Her lab is one of the only ones to identify ceramides, a specific family of lipid molecules, in lipid droplets.
Carr's talk at the American Society for Biochemistry and Molecular Biology annual meeting will focus on the crosstalk among sphingolipid metabolism, lipid droplets and cellular components and how it relates to FLD.
Enjoy reading ASBMB Today?
Become a member to receive the print edition monthly and the digital edition weekly.
Learn more
Get the latest from ASBMB Today
Enter your email address, and we'll send you a weekly email with recent articles, interviews and more.
Latest in People
People highlights or most popular articles