Journal News
How a fish pathogen outwits antibiotic stress
Antibiotic resistance occurs when medications for prevention and treatment of bacterial infections in humans and other animals no longer work. Xiangmin Lin's research group at the Fujian Agriculture and Forestry University in China has worked on bacterial antibiotic resistance for many years, and their recent paper on the discovery of this novel mechanism was published in the journal Molecular & Cellular Proteomics.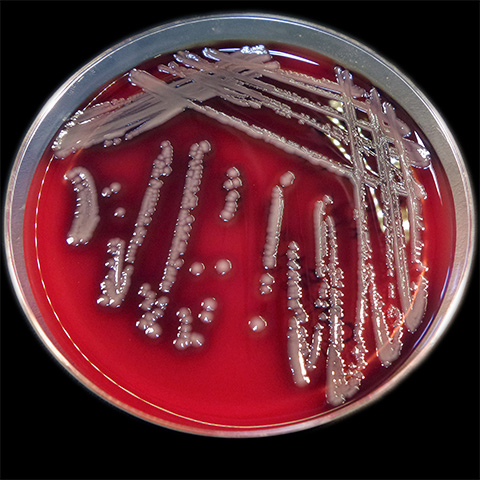 Aeromonas hydrophila colonies growing on the blood agar. Colonies shown with reflected light.
More than 2.8 million antibiotic-resistant infections result in over 35,000 deaths each year in the U.S. alone, according to a Centers for Disease Control and Prevention report, and these numbers are much higher globally. If nothing changes, 10 million people will die from drug-resistant infections every year worldwide, surpassing deaths from cancer and diabetes, by 2050.
Lishan Zhang, a Ph.D. student in Lin's lab and first author of the MCP paper, said antibiotic resistance is a serious public health problem, and drug-resistant bacteria are found in settings ranging from hospitals to livestock breeding centers and aquaculture.
Fisheries around the world suffer enormous losses due to antibiotic-resistant bacterial pathogens such as A. hydrophila, which is fatal to freshwater fish.
Resistant bacteria use mechanisms such as changing an antibiotic's target, destroying or modifying the drug, preventing its entry, or even pumping it out of the cell. Several of these mechanisms are well documented, Zhang said, but very few researchers have studied the role of protein lysine acetylation, or Kac, in antibiotic resistance.
Posttranslational modifications, or PTMs, are reversible enzymatic changes made in a protein after its synthesis. Kac modifications are a common type of PTM where an acetyl group can be reversibly added to or removed from lysine residues in a protein. In bacteria, quorum sensing, chemotaxis, metabolism and virulence pathways are known to use Kac modifications, but little was known about their role in antibiotic resistance before this study.
"We discovered a new and complex mechanism of bacterial drug resistance," Zhang said. "The most exciting aspect is that (Kac modifications) are reversible and dynamic, and bacteria can easily switch their 'on' or 'off' state to adapt to antibiotic stress instantaneously."
Using quantitative proteomics, Lin's group found that A. hydrophila that is resistant to the antibiotic oxytetracycline has less Aha1 — an outer membrane protein that belongs to the Gram-negative porin family. Three lysine residues located at the extracellular pore vestibule and their acetylation status regulate antibiotic uptake by changing Aha1's pore size. The Kac status and consequent pore size of Aha1 affects multidrug resistance to the tetracycline and beta-lactam classes of antibiotics.
Most studies of antibiotic resistance focus on identifying the gene or the protein, Zhang said, but posttranslational modifications add another layer of complexity. The Lin group will continue their research to better understand how the acetylation state of Aha1 is regulated and use what they call "special Kac-sites" on Aha1 to develop better diagnostic and therapeutic tools in future.
"Great attention should be paid to the effect of posttranslational modification on antibiotic resistance," Zhang said. "These modifications may be a new target for the development of drugs."
Enjoy reading ASBMB Today?
Become a member to receive the print edition monthly and the digital edition weekly.
Learn more
Get the latest from ASBMB Today
Enter your email address, and we'll send you a weekly email with recent articles, interviews and more.
Latest in Science
Science highlights or most popular articles