Journal News
What's growing in your mouth might change with your health
A tech-enabled deep dive into dental plaques
The small molecules, sugars and proteins produced by the microorganisms living in your mouth provide information about your health — and not just your oral health.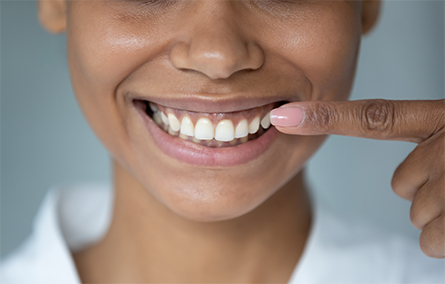 An interdisciplinary team of researchers at the University of Wisconsin–Madison, the Morgridge Institute for Research and the Marshfield Clinic Research Institute report that the dental plaques of diabetic patients are measurably different from those of healthy volunteers.
Using state-of-the-art sample processing techniques, Katherine Overmyer and colleagues performed in-depth multiomics analysis on samples from Marshfield Clinic dental patients. The results confirm several trends previously reported in the oral microbiome field but also break new ground.
The goal was to understand "how you can use the mouth and things in the mouth to look at systemic disease," Overmyer said. To that end, they collaborated with Marshfield Clinic researchers to collect samples from patients with periodontal disease, patients with diabetes and patients that had both conditions.
"Part of the work was to look for significantly changing microbes, or microbial proteins associated with periodontal disease and diabetes," she said. "And we found some that were consistent with what is in the literature."
The multiomics analyses — 16S rDNA sequencing, metabolomics, lipidomics and proteomics — provided the researchers with unparalleled insight into tiny clinical samples.
Overmyer said that expert sample analysis is key to success: "You get a tiny little spec of a (sample) — how can you get the most out of that?"
The study, published in the journal Molecular & Cellular Proteomics, represents the first application of multipronged analytical methods to the oral microbiome.
Joshua Coon, one of the study's corresponding authors, noted that the applications for multiomics analysis are already exciting, but work toward wider adoption is important.
"Moving forward, we are working on technology that would allow us to have one mass spectrometer, one chromatography setup, and out would come all three compound classes in one data set," Coon said. "That is going to be key in making a multiomic setup more accessible. You won't have to have three mass spectrometers to be able to look at these things."
And once every lab can collect multiomics data? The next horizon is clinical or at-home devices.
"We don't live in a world right now where these technologies are available" outside the lab, Coon said, "but the take-home is that we can tell a lot about someone by looking at something like a (dental) plaque." Collecting molecular data during daily rituals such as tooth-brushing could provide early warning of oral and even systemic disease.
While the at-home use of mass spectrometry and other such analytical techniques is likely decades away, enabling other research labs to perform such detailed analysis is the first step toward that future. Overmyer is on the task. "We are working to make (multiomics) data more accessible," she said, "so if you have a mass spectrometer you can collect those data."
Enjoy reading ASBMB Today?
Become a member to receive the print edition monthly and the digital edition weekly.
Learn more
Get the latest from ASBMB Today
Enter your email address, and we'll send you a weekly email with recent articles, interviews and more.
Latest in Science
Science highlights or most popular articles