Journal News
From the journals: JLR
New lipid markers of liver disease. Leptin landmarks and obesity genetics. How fatty acid versatility extends to Type 2 diabetes. Read about papers on these topics recently published in the Journal of Lipid Research.

New lipid markers of liver disease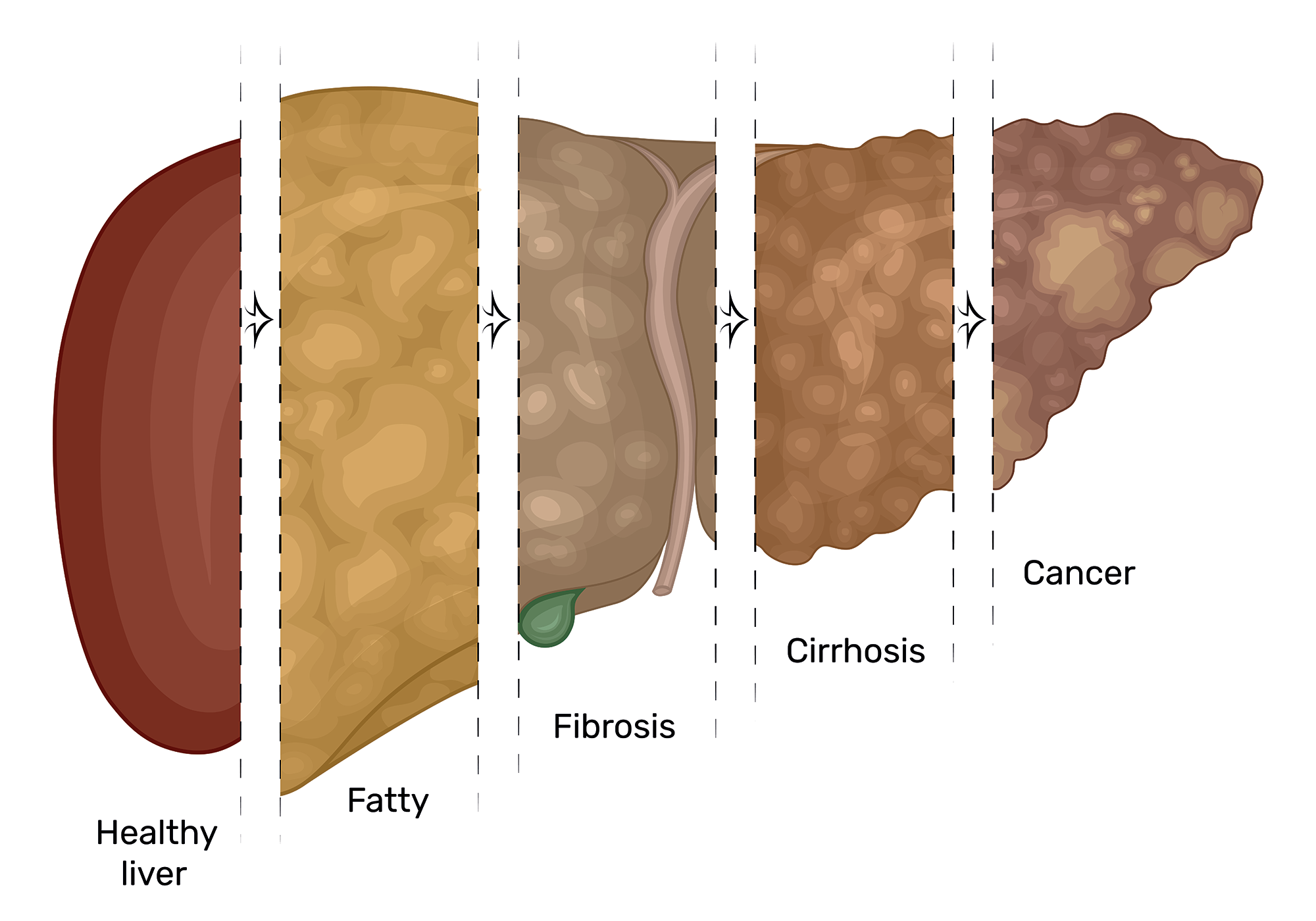 The stages of liver damage from a healthy liver to cancerous. Left untreated, nonalcoholic fatty liver disease can progress from a fatty liver to one of these health outcomes.
Nonalcoholic fatty liver disease, or NAFLD, also known as hepatic steatosis, affects up to 30% of adults worldwide and, left untreated, can lead to cirrhosis or liver cancer. Despite its prevalence, researchers do not yet understand the mechanisms behind its progression. As the name suggests, in this form of liver disease, fat accumulates in the liver without any associated alcohol intake. NAFLD itself can be separated into two subcategories: nonalcoholic fatty liver, or NAFL, characterized by fat accumulation without inflammation, and the more severe nonalcoholic steatohepatitis, or NASH. NAFL can develop into NASH, resulting in inflammation and fibrosis of the liver.
Olga Vvedenskaya, Tim Daniel Rose and a team of researchers from Austria and Germany investigated several hundred lipids to find markers of the NAFL-to-NASH progression and published their results in the Journal of Lipid Research.
The scientists analyzed histology data from 365 Caucasian patients, drawing out 316 lipids from 22 major classes of membrane and energy storage lipids. Based on liver fat content and inflammation, the patient profiles were divided into four main groups: normal control, healthy obese, NAFL and NASH.
The researchers performed bicluster analysis on these 316 lipid species using molar quantities of lipid types in each of the four patient groups measured with high-resolution mass spectrometry. This showed that the quantity of neutral lipids steadily increased from normal to NAFL and NASH patients, while most membrane lipids remained almost unchanged. Additionally, they found two sphingomyelins that were tied closely to disease progression and might distinguish patient groups with only slightly less specificity than when considering all the lipids together.
Finally, the team created an open library of liver lipids and identified several that indicate early and late-stage NAFL, potentially aiding in the early identification, understanding of pathogenesis mechanisms, and prevention of this disease.
Leptin landmarks and obesity genetics
Since the discovery of leptin, a hormone that regulates appetite, fat storage and glucose levels, researchers have studied its associated Lepr gene to learn about the varied mechanisms behind obesity. Leprencodes for a leptin receptor protein and mutations such as the Leprdb/db, a diabetes mutation that models obesity. Claudia Berger and an international team recently published a paper in the Journal of Lipid Research describing a novel Leprmutation that led to even more extreme body weight and impaired glucose metabolism outcomes than the established db/dbmodel.
Through genetic crossing of specific mouse breeds and quantitative trait locus analyses, the researchers identified a spontaneous base pair deletion that results in premature protein truncation. They called this mutationLeprL536Hfs*6and found that the affected mice were more obese than db/dbmice, had worse glucose metabolism and experienced higher cholesterol levels. The modelalso can be used to study fatty liver disease and other metabolic conditions.
To study effects of a heterozygous Leprmutation, the collaborators crossed their mouse strains (LeprL536Hfs*6/wt and Leprdb/wt) for LeprL536Hfs*6/dbmice. Heterozygosity led to a higher level of obesity and impaired glucose metabolism than expected given the parental models, although the researchers need to do more studies to explain the mechanisms behind this result. Altogether, this research could be used to analyze obesity risk factors in humans.
Fatty acid versatility extends to Type 2 diabetes
Fatty acids, a lipid type found throughout our cells, may be more versatile than previously thought. Pratik Aryal of Beth Israel Deaconess Medical Center and Harvard Medical School and a team of researchers investigated a score of lipids that fall under the umbrella of fatty acid esters of hydroxy fatty acids, or FAHFAs. Publishing their findings in the Journal of Lipid Research, the team showed that FAHFAs' biological properties are important for Type 2 diabetes.
Some FAHFAs are known to have anti-diabetic and anti-inflammatory effects, making them a clinically relevant subject of study. But with several hundred variations (isomers) of these lipids across multiple FAHFA families, plenty have not been tested yet.
The researchers found that, in addition to several known anti-diabetic isomers, some others increased insulin secretion in a pancreatic cell line. Robust insulin secretion is critical for normal blood sugar control. Several FAHFAs also increased insulin-stimulated glucose uptake in adipocytes (fat-storage cells) – that is, these FAHFAs improved insulin sensitivity. Reduced sensitivity, or insulin resistance, increases Type 2 diabetes risk and risk for cardiovascular disease, Alzheimer's disease and cancer. This work could lead to use of FAHFAs as treatment for metabolic diseases such as Type 2 diabetes.
Enjoy reading ASBMB Today?
Become a member to receive the print edition monthly and the digital edition weekly.
Learn more
Get the latest from ASBMB Today
Enter your email address, and we'll send you a weekly email with recent articles, interviews and more.
Latest in Science
Science highlights or most popular articles