Journal News
Not all fat cells are created equal
Obesity can have adverse effects on physical and mental health and increases the risk of conditions such as heart disease, stroke, Type 2 diabetes and certain cancers. Since 1975, a combination of genetic, biological, environmental and socio-economic factors has tripled worldwide obesity rates.
But fat is not always bad. Adipose tissues formed from fat cells make up 20% to 25% of body weight in healthy adults. These tissues store energy, help maintain body temperature, cushion vital organs and participate in a variety of biological processes.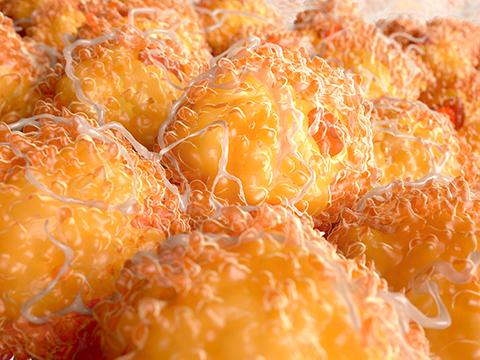 Søren Madsen is a postdoctoral research associate in David James' research group at the University of Sydney, Australia. "I've been interested in fat tissue since my Ph.D. work," Madsen said, "and I would argue that it is the most adaptable tissue in the body."
In mammals, when caloric intake exceeds the body's energy requirements, white adipose tissues can expand to make up 70% of total body mass. Our ancestors needed this expandability to survive.
When humans weren't able to eat at regular intervals, they consumed large amounts of food when it was available and the excess calories were stored as fat. When food was scarce, the stored fat provided energy for survival.
The body stores most excess energy as white adipose tissue, which accumulates mainly in two places or depots: Subcutaneous fat is under the skin, and visceral fat surrounds the internal organs in the abdominal cavity. Madsen and his team set out to understand the molecular basis for the health risks associated with the latter.
"It is an established dogma that the abdominal fat is bad fat," he said. "Our aim with this project was to systematically compare fat cells from the two fat depots and understand the difference between them during obesity."
In a study recently reported in the journal Molecular & Cellular Proteomics, Madsen and colleagues switched mice from what they described as a "lean control diet" to an "obesogenic Western diet," and the mice gained weight over nine months. The researchers then compared subcutaneous and visceral fat samples from the lean and obese states.
Fat cells are "quite brittle," Madsen said, and require meticulous collection. The team used proteomics to analyze the samples.
"Proteomics is a very powerful way to get a holistic view of a biological sample, and proteins can tell the story of what is happening," Madsen said. "We uncovered that the fat cells from different depots adapt quite differently to the obesogenic cue."
In the lean mice, subcutaneous and visceral fat cells were similar, and only 3% of the proteomes were different. Proteins in visceral fat made the cells bigger and favored fat storage, while subcutaneous fat cells were smaller and showed signs of higher metabolism.
Fat cells from obese mice differed widely, however, depending on what depot they came from. The researchers found that visceral fat cells had increased signatures for stress during obesity, explaining why abdominal fat can be more detrimental to health. They think these differences may result from the microenvironment surrounding these two fat depots.
"It will be interesting to understand why certain people store fat predominantly as abdominal fat or subcutaneous fat, and we want to follow this up," Madsen said.
The research group hopes this work will contribute to public health education efforts and highlight the role of fat cells from different depots in overall health.
Enjoy reading ASBMB Today?
Become a member to receive the print edition monthly and the digital edition weekly.
Learn more
Get the latest from ASBMB Today
Enter your email address, and we'll send you a weekly email with recent articles, interviews and more.
Latest in Science
Science highlights or most popular articles