Journal News
From the journals: JLR
A combined therapy for bile duct disease. Learning about eye disease with lipidomics. Single-cell lipidomics shows how cells differ. Read about papers on these topics recently published in the Journal of Lipid Research.
A combined therapy for bile duct disease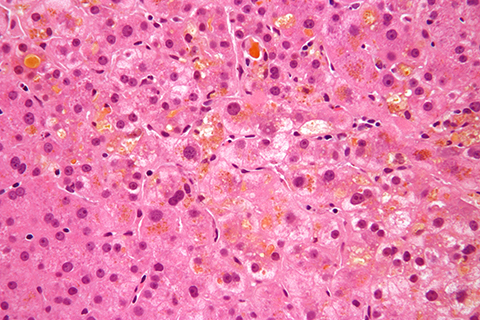 Nephron/Wikimedia Commons
This high-magnification micrograph shows liver cholestasis.
Bile acids, molecules that both attract and repel water, play a regulatory role in cholesterol metabolism and lipid absorption. The extent to which bile acids repel water depends on the number and position of hydroxyl groups in their structures. Accumulation of hydrophobic bile acids and their increased serum level are the prime cause of many gastrointestinal diseases including cholestasis, the slowing of bile flow from the liver to the duodenum.
Hepatic cytochromes P450 play a pivotal role in synthesizing bile acid metabolites, and CYP 2 subfamily c polypeptide 70 catalyzes the formation of rodent-specific muricholic acids, or MCAs, from chenodeoxycholic acid, or CDCA. CYP2C70 causes differences between humans and mice in hepatic synthesis of MCA.
In a recently published Journal of Lipid Research article, Mohammad Nazmul Hasan and a team at the University of Oklahoma Health Sciences Center describe how a combined therapy of an apical sodium-dependent bile acid transporter inhibitor and fibroblast growth factor-15, or FGF15, overexpression was more effective for cholestasis than common bile acid-based monotherapies. Using male and female mice that were genetically altered to lack the CYP2C70 gene, they compared how effectively the combined treatment reversed portal inflammation, ductular reaction and fibrosis compared to either agent alone.
The researchers found that the effects of the combined treatment were similar to those of an engineered nontumorigenic FGF19 analog that was used in a recent clinical trial for effectiveness in treating nonalcoholic steatohepatitis (FGF19, an endocrine hormone, is the human ortholog of mouse FGF15). In mice that had severe cholangiopathy and portal fibrosis, the combined therapy was more effective in females than in males and overall more effective in reducing the amount of bile acids that cause the disease than either agent alone. The team detected about 30% enrichment of hydrophilic tauroursodeoxycholic acid in the gallbladder bile acid pool of the female mice.
The authors are considering a more in-depth analysis of the sex-dependent reduction of the hydrophobic bile acid pool to find any limits of this combined therapy and determine whether it can be used to treat humans.
Learning about eye disease with lipidomics
The eye disease age-related macular degeneration, or AMD, can cause severe loss of central vision and generally affects people over the age of 50. According to a study at Cleveland Clinic, almost 20 million U.S. adults have AMD, and a predicted 288 million will be affected by 2040.
A recent article in the Journal of Lipid Research by Glenda Vasku of Université de Bourgogne Franche–Comté and a team of researchers in France describes creating a comprehensive lipidomic profile to identify the lipid classes responsible for AMD progression. The team used complementary reversed-phase chromatography, or RPC, and hydrophilic interaction liquid chromatography, or HILIC, to evaluate the lipid profile of retina and retinal pigment epithelium/choroid tissues and erythrocytes in plasma obtained postmortem from 10 healthy human donors with a median age of 87.5 years. They found that RPC is more sensitive in water-repelling lipid separation, whereas HILIC effectively separates polar lipids such as phospholipids.
Using these complementary analytic tools, the researchers identified and quantified about 15 lipid classes and 500 lipid species with profiles ranging from highly polar to hydrophobic. They also found more hexosylceramides, which are found in sphingolipids, in one of the donors compared with the other healthy donors, which increased their interest in studying dysregulated sphingolipid metabolism as a potential target in retinal degeneration.
Single-cell lipidomics shows how cells differ
Multicellular organisms arise from a single cell, and cell-to-cell differences are the basis for varying levels of cellular expression and complex signaling networks. Single-cell analysis allows researchers to understand subtle cellular differences; however, characterizing the lipidome of a single cell is challenging; the structure is complex and the amount of lipid is limited.
In a recent Journal of Lipid Research article, Sarah E. Hancock of the Victor Chang Cardiac Research Institute and a group of researchers in Australia describe how they developed a fluorescence-assisted cell sorting, or FACS, technique and coupled it with automated chip-based nanoelectrospray ionization and shotgun lipidomics (a mass spectrometry-based tool for quantitative analysis of complex lipid networks) to study lipidome variability in a single cell. Using FACS, they were able to identify and quantify 56 distinct phosphatidylcholine and sphingomyelin species from C2C12 and HepG2 single cells.
To make the work more clinically relevant, the team used the same method to study single-cell lipidomics profiles in four prostate cancer cell lines with discrete PC composition. They identified subtle variations in lipidome within individual cancer cell lines. The authors hope to use this tool in combination with technologies such as a liquid biopsy to study differences in lipids among cancer patients to help guide treatment.
Enjoy reading ASBMB Today?
Become a member to receive the print edition monthly and the digital edition weekly.
Learn more
Get the latest from ASBMB Today
Enter your email address, and we'll send you a weekly email with recent articles, interviews and more.
Latest in Science
Science highlights or most popular articles