Journal News
Common blood protein isoforms show promise for Alzheimer's testing
Apolipoproteins are amphipathic proteins, meaning they both absorb and repel water. Therefore, they can transport lipids and fat-soluble vitamins through the body's water-based circulatory system. While apolipoproteins have been well studied in the blood, researchers focus less on them in the cerebrospinal fluid, or CSF, despite their role in transporting lipids to regulate lipid metabolism in the brain. Dysfunctional lipid metabolism in the brain is implicated in neurodegenerative conditions such as Alzheimer's disease.
Dobrin Nedelkov, president and founder of Isoformix, works with Yueming Hu to develop next-generation mass spectrometry clinical tests to differentiate isoforms of proteins that may have clinical significance in human disease. Standard clinical assays cannot detect these differences. In a recent paper in the Journal of Lipid Research, Nedelkov, Hu and collaborators compared truncated and glycosylated isoforms of three apolipoproteins in plasma and CSF samples.
Nedelkov and Hussein Yassine, a researcher at the University of Southern California, have a long-standing collaboration studying lipoproteins and a friendship born from years of shared research. "We are both determined and curious, and we are not afraid to try new things together," Nedelkov said. "It's easier to find reasons why not to do it than to do it."
Previously, they have studied lipoproteins in plasma from patients with diabetes and cardiovascular disease. In this study, Nedelkov was excited to expand their collaboration to another area of Yassine's research: Alzheimer's disease, for which no diagnostic test exists. "We always wanted to work with Alzheimer's disease, but there was no easy access for us to get samples," Nedelkov said.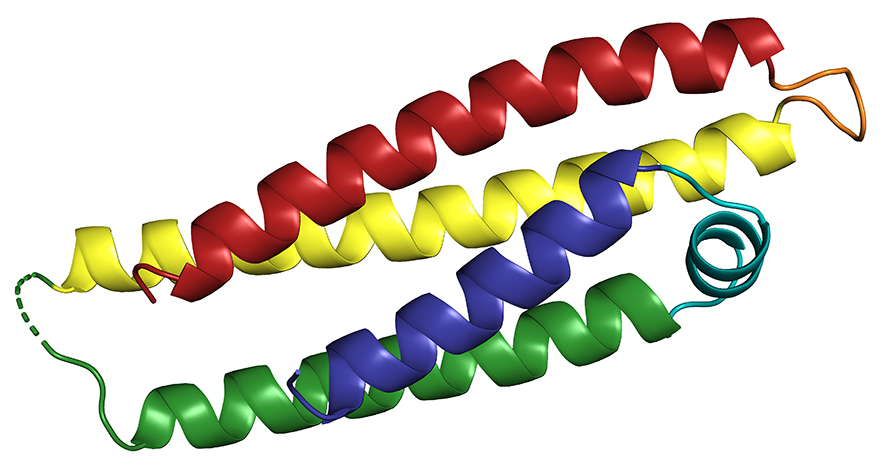 Ajpolino/Wikimedia Commons
A structural model of the 22k fragment of apolipoprotein E4.
A set of matched plasma and CSF samples from 61 healthy patients without clinical Alzheimer's disease from the USC Alzheimer Disease Research Center presented a rare opportunity to study how protein isoforms correlate between the blood and brain. CSF samples are harder to obtain, as patients must undergo a lumbar puncture, which is more invasive and time-consuming than blood sampling.
Few researchers have studied apolipoproteins in the CSF. "When we started looking, we didn't even know what we were going to find out," Nedelkov said.
The team found a significantly higher percentage of the truncated protein isoforms of two apolipoproteins, apoC-I and apoC-II, in the CSF compared to blood, as well as a higher percentage of the glycosylated forms of a third, apoC-III. In each of these findings, the changes in CSF protein isoforms correlated with measured changes in the plasma samples, suggesting plasma sampling could help researchers better understand processes in the brain.
The researchers also compared the apoE ε4 allele status of the donors with those increased apolipoprotein isoforms. This allele is one of the strongest available genetic predictors of Alzheimer's, and they found differences in the isoform profiles in individuals carrying the allele, suggesting an association between Alzheimer's and apoC processing and function in the brain, which might someday be used to predict disease risk.
Nedelkov hopes the results of the team's work in Alzheimer's will help overcome challenges to adopting mass spectrometry protein tests in clinical labs due to cost and complexity. The ability to distinguish protein isoforms and the relationship between these biomarkers in plasma versus CSF could open the door to minimally invasive clinical tests. Nedelkov and Yassine plan to apply their findings in a study of samples from a larger cohort of 200 to 300 patients with varying stages of Alzheimer's.
Enjoy reading ASBMB Today?
Become a member to receive the print edition monthly and the digital edition weekly.
Learn more
Get the latest from ASBMB Today
Enter your email address, and we'll send you a weekly email with recent articles, interviews and more.
Latest in Science
Science highlights or most popular articles