Journal News
Which eight escaped the Scientific 16?
JBC Methods Madness: Round 1 recap
The Journal of Biological Chemistry's Methods Madness tournament started off with a bang as last year's finalist, #TeamMassSpec, faced off against the tournament newcomer #TeamFRET. #TeamFRET fought valiantly, but their supporters' energy just didn't transfer into votes. Meanwhile, #TeamMassSpec supporters turned up in SPECTRAcular numbers, pushing their team to the next round.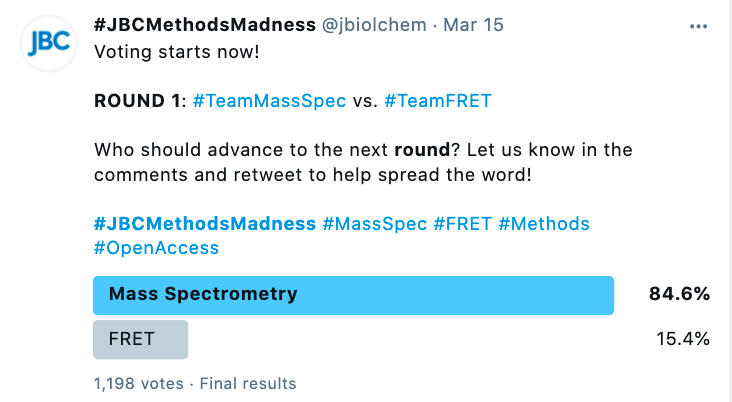 X-ray crystallographers around the world are rejoicing after #TeamXRC's victory over #TeamImmuno. Votes proved to be too nonspecific for #TeamImmuno, whose supporters were unable to band together to provide support for their team. #TeamXRC advances to the next round while #TeamImmuno fades into the background.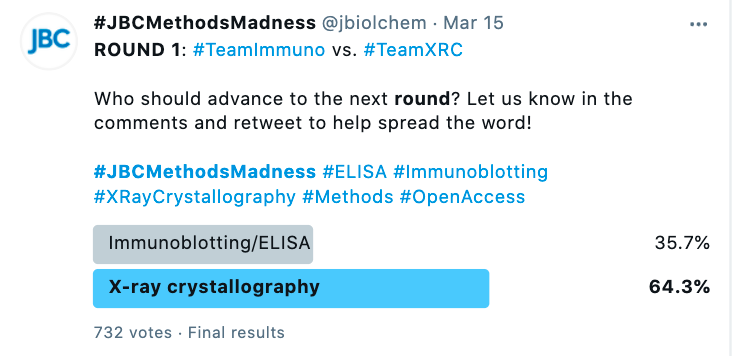 #TeamCryo iced their competition, leaving #TeamMachine frozen in their tracks. Despite strategic support from #TeamMassSpec, it seems too many #TeamMachine supporters had their heads in the cloud, because they couldn't find the algorithm needed to execute a win against the defending champion. #TeamCryo will move on to the Energetic Eight, where they will have a tough matchup against #TeamCRISPR.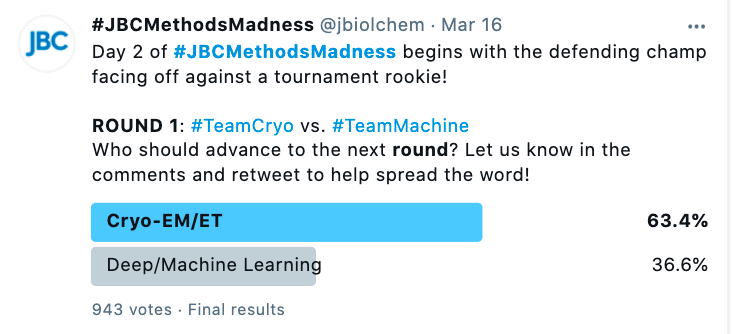 In this cellular showdown, #TeamiPSC lacked the factors necessary to differentiate from the other losers of the week. In contrast, #TeamLiveCell was unphased by the pressure, shining bright in the win they captured. #TeamLiveCell has #TeamOmics in their frame as they focus on the next round.

#TeamPCR copied last year's success to defeat #TeamChroma and advance to the next round. Supporters of #TeamChroma couldn't match the flow rate of #TeamPCR voters, leaving #TeamChroma stuck in a stationary phase while their opponent mobilized. #TeamPCR will look to amplify their success with a win over #TeamMassSpec in the next round.

Resonating with their supporters, #TeamNMR put forth a dynamic performance to secure their second #JBCMethodsMadness win in as many years. Living up to their name, #TeamCloning replicated last year's performance where they also lost against #TeamNMR in the first round. Perhaps they'll find the winning recombination next year!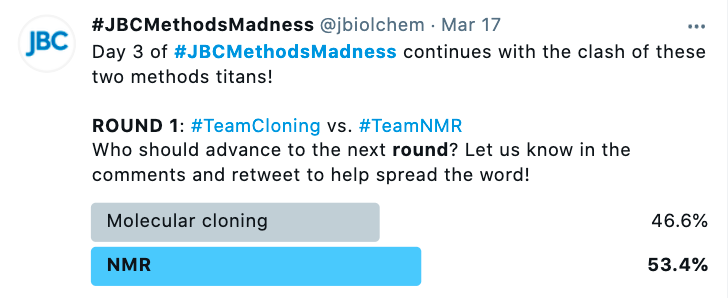 #TeamCRISPR excised #TeamSuperRes in the first round of the tournament and will move on to the next round. Despite their resolution to make it further this year, the win that #TeamSuperRes pictured was never fully deconvolved. #TeamCRISPR has their work cut out for them, facing off against the defending champion #TeamCryo.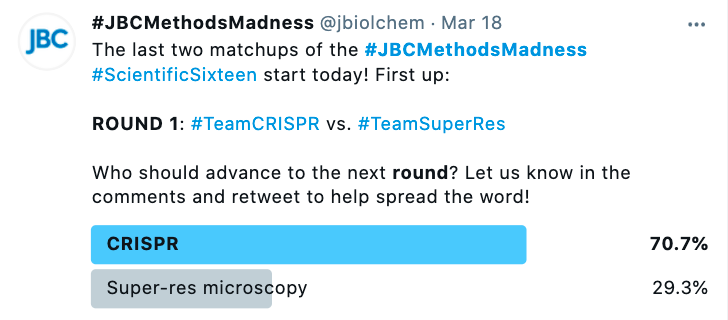 Seq-ing a win in their tournament debut, #TeamOmics analyzed their competition and came out victorious. Seemingly unable to shed light on a winning formula, #TeamOpto failed to excite their supporters, resulting in their second tournament loss in as many years. Next, #TeamOmics will match up against #TeamLiveCell in the Energetic Eight round.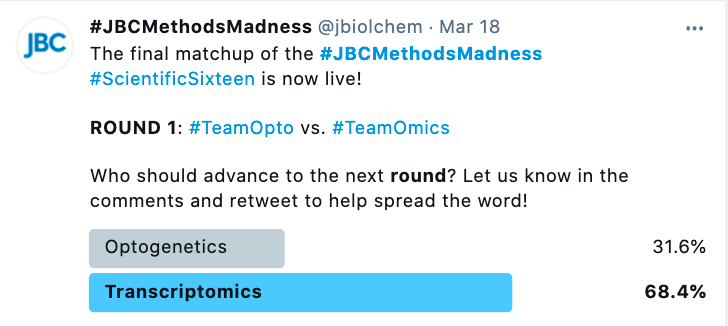 Round 2: The Energetic Eight
Monday, March 22
12 p.m. Eastern – #TeamNMR vs. #TeamXRC
Tuesday, March 23
12 p.m. Eastern – #TeamPCR vs. #TeamMassSpec
Wednesday, March 24
12 p.m. – #TeamLiveCell vs. #TeamOmics
Thursday, March 25
12 p.m. – #TeamCryo vs. #TeamCRISPR
Enjoy reading ASBMB Today?
Become a member to receive the print edition monthly and the digital edition weekly.
Learn more
Get the latest from ASBMB Today
Enter your email address, and we'll send you a weekly email with recent articles, interviews and more.
Latest in Science
Science highlights or most popular articles