Journal News
Researchers make sense of scents
Almost all organisms, from single-cell bacteria to complex species, can detect chemicals through the pairing of chemical ligands and their receptors. Humans and other vertebrates mostly detect chemicals through our senses of smell and taste. Chemicals that we can sense by smell, called odorants, are ligands that bind to odorant receptors in the body, primarily in the nose.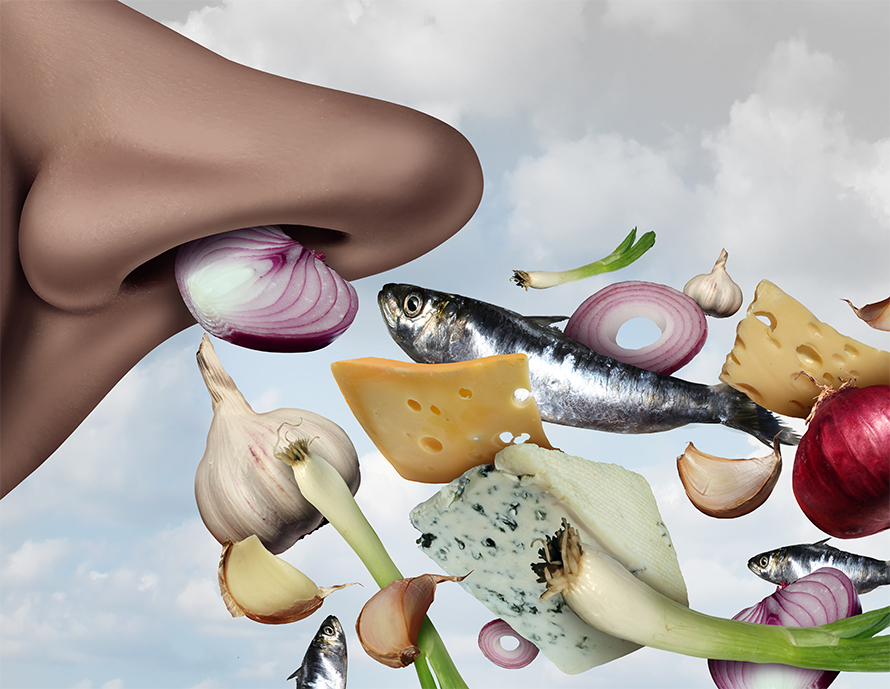 Gaurav Ahuja's lab at the Indraprastha Institute of Information Technology, Delhi, studies this chemodetection — how it influences complex behavioral outputs and the genetics behind these processes. The lab recently released an artificial intelligence–driven prediction tool for olfactory decoding and authored a paper in the Journal of Biological Chemistry detailing the construction of the tool and data behind it.
The researchers named their tool OdoriFy; it is open-source, accessible to other researchers and highly interpretable. An interdisciplinary team of authors spanning computational biology and computer science and several institutes helped on the project. Co-first authors Ria Gupta, a fourth-year undergraduate student who worked on the deep learning behind the model and interpretability, and Aayushi Mittal, a second-year doctoral student who spearheaded data collection and design, share enthusiasm for the tool's potential uses.
OdoriFy's four modules or prediction engines — Odorant Predictor, Odor Finder, Odorant Receptor Finder, and Odorant–Odorant Receptor Pair Analysis — are available through a user-friendly website. Ahuja and team believe the use of cutting-edge neural network architecture, a series of algorithms that make up the artificial intelligence approach, helps distinguish their tool.
The data set behind OdoriFy is one of the largest curated data resources to date. The team manually checked and cross-checked olfactory information of more than 5,000 odorants, 800 nonodorants and 6,000 interaction pairs (between odorant and receptor) — a massive effort to read the scientific literature and document their findings. Mittal said the team "had so many sleepless nights, holding meetings asking ourselves, how can we approach this problem? How can we solve this?"
"There's a concept in machine learning called garbage in–garbage out — good data in, good data out," Ahuja said. Without highly accurate input data, their precisely designed computer model wouldn't be as strong as a predictive tool. As a result, OdoriFy consistently outperforms other models in the olfaction field and scores high across a number of validated metrics for measuring accuracy in prediction.
Scientists understand that humans' ability to distinguish odors is combinatorial. "Nature has developed ways to deal with the fact that we're exposed to billions of chemicals, but we have only a limited genome and therefore a limited number of odorant receptors," Ahuja said. "One receptor can recognize more than one odorant, and one odorant can be recognized by more than one receptor." So, while humans have only about 400 functional genes for odorant receptors, the combinatorial effect gives us the ability to detect many more than 400 odorants.
A tool such as OdoriFy that can predict both odorants and odorant-receptor pairing can help open doors for researchers working across this field of chemodetection and novel applications. Ahuja and team already have been contacted by companies and researchers who have used the tool and are interested in further collaboration. One of the most interesting avenues of pursuit is the application to cancer, as human tumor cells are known to express certain odorant receptors.
"Working on this project made us all realize how important olfaction is and how important our tool is for the public," Gupta said.
Enjoy reading ASBMB Today?
Become a member to receive the print edition monthly and the digital edition weekly.
Learn more
Get the latest from ASBMB Today
Enter your email address, and we'll send you a weekly email with recent articles, interviews and more.
Latest in Science
Science highlights or most popular articles