Journal News
A hormone's guide to healthy living
Research in the 20th century showed us the ill effects of our lifestyle choices. Countless studies demonstrated that smoking and drinking were gateways to cancer and other diseases. Scientists now are finding that the modern-day way of life — a sedentary lifestyle and a high-calorie diet — can have equally disastrous health impacts. The constant obsession with screen time has affected our metabolism in a way that makes us more susceptible to developing insulin resistance, thereby leading to Type 2 diabetes.
On the other hand, the human body can synthesize molecules that keep our metabolism in check and prevent it from going awry. These molecules, called adipokines, are hormones secreted by fat cells (and other metabolic organs in the body) and serve as the body's defense mechanism against metabolic anomalies.
A team of researchers in Philipp Scherer and Wen-hong Li's labs at the University of Texas Southwestern Medical Center takes a special interest in the physiological effects of adipokines. Toshiharu Onodera, a postdoctoral fellow, said, "We have had a longstanding interest in pancreatic islets with respect to the relationship between adiponectin and the health and functionality of insulin-producing cells because there is a substantial presence of adiponectin receptors in pancreatic beta cells."
In a study published recently in the Journal of Lipid Research, Onodera, Ebrahim Zadeh and their team evaluated the effects of a modified version of an adipokine, adiponectin, on glucose and lipid metabolism.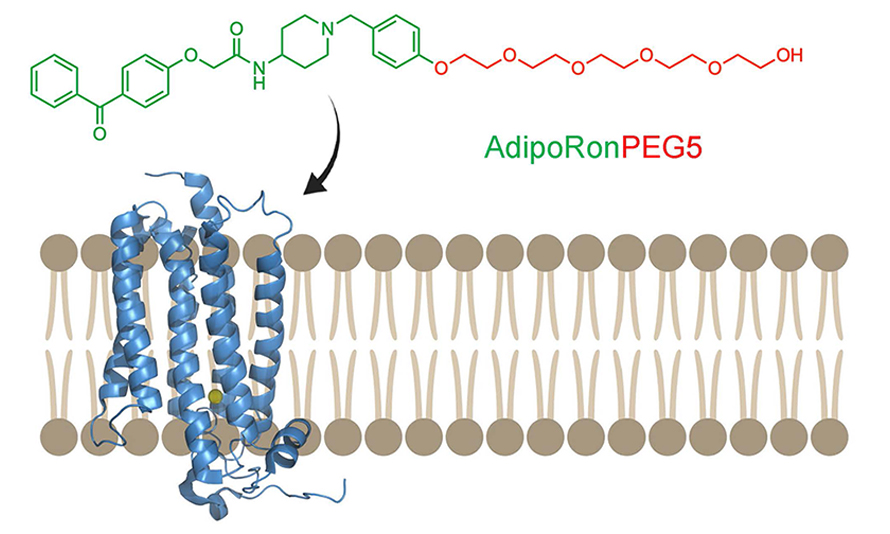 Wen-hong Li
PEG linker enhances bioavailability and improves receptor binding.
"Adiponectin is a multifaceted protein with beneficial effects on many organs, such as the liver, pancreas, muscles, heart and kidneys," Onodera said. "These effects are mediated by adiponectin receptors."
While different ligands (also called adipokine agonists) can activate adiponectin receptors, none of them are clinically useful. One such agonist, AdipoRon, is limited further by its poor solubility and bioavailability.
"In our study," Onodera said, "we expand on the protective effects of AdipoRon by generating a series of AdipoRon analogs containing amphiphilic ethylene glycol chains."
In studies of mice that were genetically altered to have low insulin and fed a high-fat diet, the researchers found that their bodies absorbed one of these analogs, AdipoRonPEG5, better than the others, and it effectively reduced toxic lipid species in organs, resulting in dramatically improved therapeutic effect on diabetes and fatty liver disease. After administration of AdipoRonPEG5, the mice had improved blood glucose levels, decreased lipotoxicity in the pancreas, reduced fibrosis in adipose tissue and reduced gluconeogenesis in the liver.
"We believe that we made substantial progress towards the improvement of an existing molecule of importance for diabetes and fatty liver disease," Onodera said.
Although AdipoRonPEG5 has longer half-life in circulation than its un-PEGylated form, the team was concerned about its frequent dosage, so they administered the agonist to mice twice a day for five days to observe a protective effect. "The next step is to generate longer-acting versions of these adiponectin receptor agonists," Onodera said.
These findings could present a novel mechanism for the design of diabetes-combating drugs.
Enjoy reading ASBMB Today?
Become a member to receive the print edition monthly and the digital edition weekly.
Learn more
Get the latest from ASBMB Today
Enter your email address, and we'll send you a weekly email with recent articles, interviews and more.
Latest in Science
Science highlights or most popular articles