Journal News
From the journals: MCP
Immune signaling in early-stage COVID-19, regulating translation on the ER membrane and reversing asparagine hydroxylation. Read about papers on these topics recently published in the journal Molecular & Cellular Proteomics.
Immune signaling in early-stage COVID-19
The highly contagious and deadly disease COVID-19 caused by the novel coronavirus SARS-CoV-2 has been spreading across the globe for almost a year, threatening millions of human lives. Symptoms of COVID-19 are related closely to those of influenza, including fever, fatigue, dry cough, diarrhea and pneumonia. Flu vaccines have been approved for human use since 1945, but to date, neither an approved vaccine nor a cure exists for COVID-19.
Many scientists are working to understand better the pathogenesis of this novel disease, and researchers hope that profiling proteins in serum samples from infected patients may lead to the development and design of an effective therapeutic regimen. However, until recently, no one had focused on protein expression changes in serum in the early stages of COVID-19.
Xin Hou and Xiaomei Zhang of Peking Union Medical College and the National Center for Protein Sciences–Beijing, known as the Phoenix Center, and a research team in China have published a new report in the journal Molecular & Cellular Proteomics specifically profiling the serum proteome of early-stage COVID-19 and influenza patients. Twenty-eight patients were recruited for this study based on influenzalike symptoms, and 15 tested positive for COVID-19. Using a high-density antibody microarray, the researchers profiled expression levels of over 500 serological proteins and compared differentially expressed proteins between the two groups of patients, those with and those without COVID-19.
After a comprehensive analysis, the researchers determined that activation of viral infection pathways MAPK, ERK1/ERK2, JAK-STAT and PI3K and pro-inflammation occur in early-stage COVID-19 infection. They also identified a number of serological proteins found in COVID-19 patients but not influenza patients, indicating potential biomarkers that could be used in the future diagnosis and treatment of early-stage COVID-19.
As the world continues to grapple with this deadly disease, more such scientific studies are needed to overcome the gaps in knowledge and create therapies to save lives.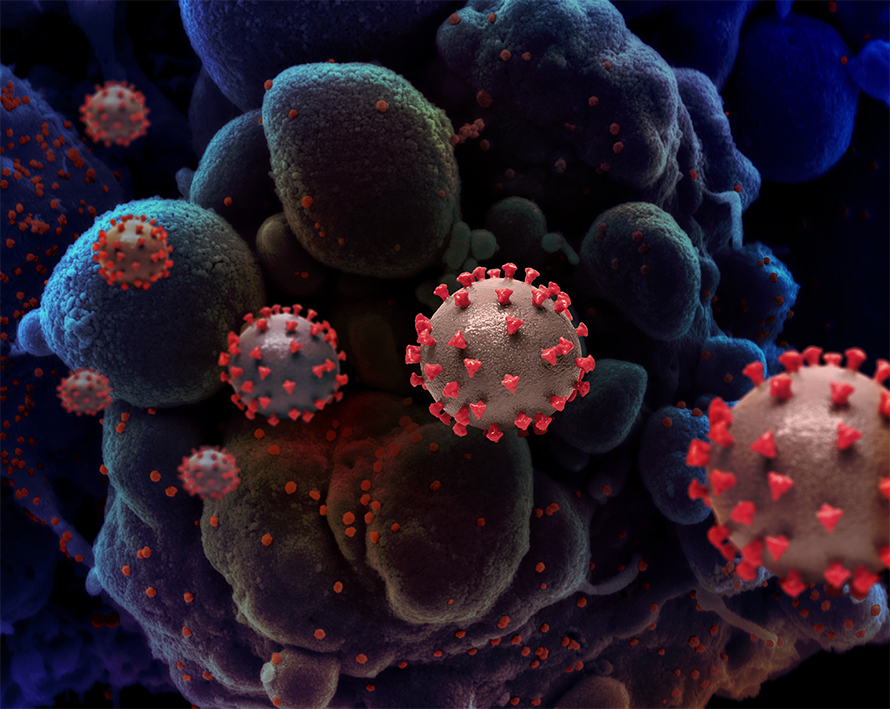 National Institute of Allergy and Infectious Diseases, National Institutes of Health
Researchers in China have profiled the serum proteome of patients with early-stage COVID-19, the disease caused by the SARS-COV-2 virus, shown here in an artist's rendition.
Regulating translation on the ER membrane
Proteins are synthesized by cells through a process known as translation. Studying how proteins are translated by mRNA on the endoplasmic reticulum, ER, is of particular interest to scientists, as new insights can teach us how cells make repairs, create hormones, maintain structures and pass on genetic information. While researchers know that a number of cellular components and regulating mechanisms coordinate mRNA translation on the ER, little is known about the spatial organization of ER-localized translation.
In a paper published in the journal Molecular & Cellular Proteomics, Molly Hannigan and colleagues at Duke University write that they found that the membrane of the ER is organized into discrete protein interaction domains. Using a BioID proximity-labeling approach, the researchers identified distinct labeling patterns of four selected ribosome-interacting proteins, or interactomes. In doing so, they found a previously unappreciated role of the protein-coding gene LRRC59 in mRNA translation regulation. They found that this interactome is highly enriched in the SRP pathway, placing LRRC59 in a functional nexus for secretory and membrane protein synthesis. By silencing LRRC59 with siRNA knockdown techniques, the researchers substantially reduced protein synthesis in both the cytosol and the ER. The team has suggested six possible mechanisms for these interactions, which opens doors toward future studies.
Asparagine hydroxylation is reversible
According to current dogma, amino acid hydroxylation is an irreversible post-translational modification, or PTM. PTMs are important chemical alterations of amino acids or proteins, as they allow the proteome to increase its complexity and permit the cell to modify protein functions dynamically. Hydroxylation is a common PTM that makes molecules more water-soluble through the addition of a hydroxyl group, -OH. In recent years, some researchers have postulated the hydroxylation process might be reversible, which could explain the observed rapid cell responses to acute hypoxia and reoxygenation, yet no direct evidence of such reversibility has been produced.
Using quantitative mass spectrometry, a group of researchers in Scotland and Australia set out to examine whether hydroxylation could indeed be a reversible process. Javier Rodriguez of the University of Edinburgh and colleagues found evidence in cells that FIH-mediated asparagine hydroxylation is reversible on intact proteins. Though they did not identify the particular enzymes responsible for such a reaction in this study, future work characterizing dehydroxylation enzymes has important implications in the treatment of cancer. The results of this study were published in the journal Molecular & Cellular Proteomics.
Enjoy reading ASBMB Today?
Become a member to receive the print edition monthly and the digital edition weekly.
Learn more
Get the latest from ASBMB Today
Enter your email address, and we'll send you a weekly email with recent articles, interviews and more.
Latest in Science
Science highlights or most popular articles