Journal News
From the journals: MCP
DNase therapy for COVID-19 recovery. A new protein biomarker for acute spinal cord injury. How environmental exposures affects male reproductive functions. Read about papers on these topics recently published in the journal Molecular & Cellular Proteomics.
DNase therapy for COVID-19 recovery
COVID-19 can cause symptoms such as pneumonia and acute respiratory distress syndrome, or ARDS. In patients that develop ARDS, the disease usually is characterized by hypoxemia, a below-normal blood oxygen level; neutrophilia, an elevated count of neutrophils (a type of white blood cells); and thick mucus buildup in the air passages of lungs. When these symptoms occur, patients' breathing becomes labored, and they may require oxygen therapy using mechanical ventilators or extracorporeal membrane oxygenation, commonly known as life support. These methods have harmful side effects, however, and ventilators have been in limited supply during the pandemic.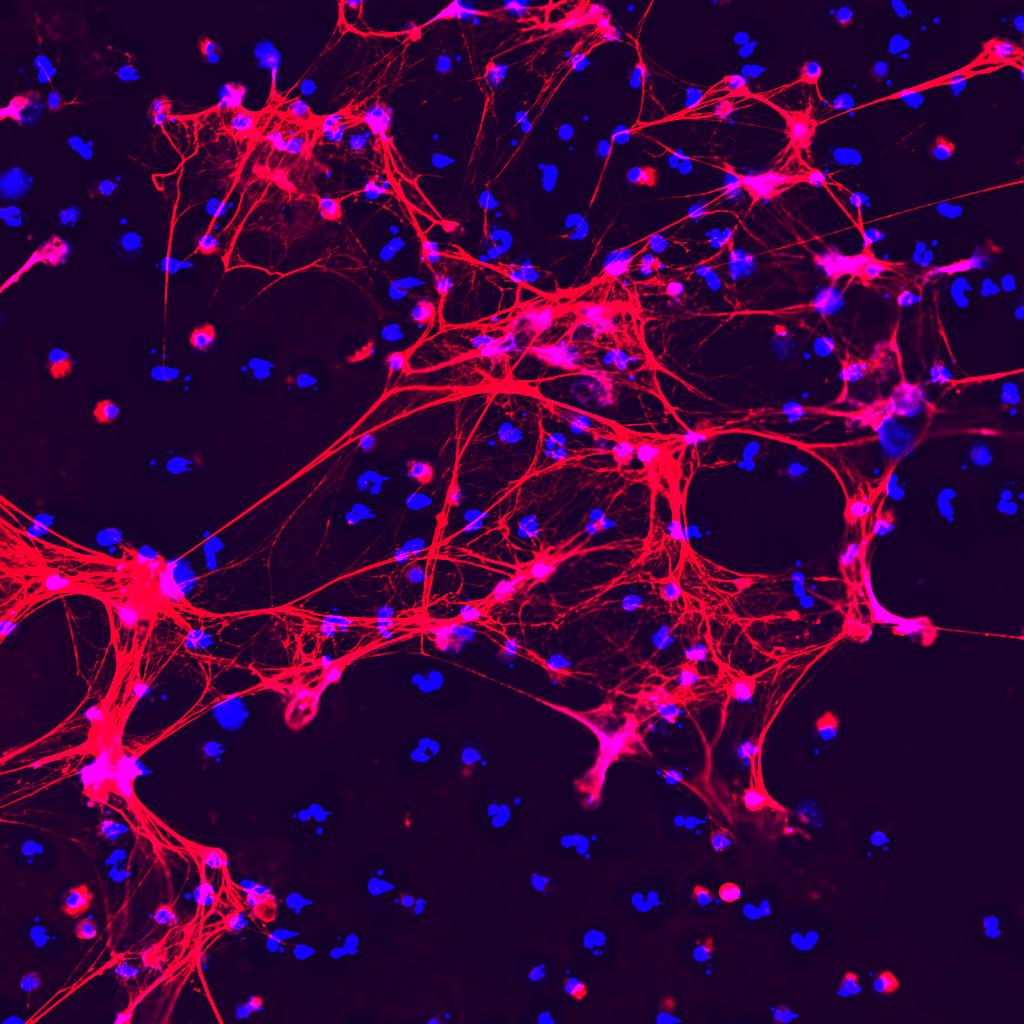 NIAMS Systemic Autoimmunity Branch/NIH
DNase therapy can be used to target neutrophil extracellular traps, such as the ones pictured here, to treat patients with severe COVID-19 infections.
In ARDS, excessive buildup of gelatinous and viscous sputum in the lungs can obstruct the airways. Based on knowledge of similar symptoms in patients with ARDS and cystic fibrosis, or CF, researchers have hypothesized that the viscous sputum production in COVID-19 is due to neutrophils. In ARDS and CF, neutrophils produce extracellular DNA bound to granular proteins known as neutrophil extracellular traps, or NETs, which are released in response to bacterial or viral infection, causing the sputum to become viscous. In previous studies, blood plasma of COVID-19 patients showed molecular signatures of NETs. Researchers did not yet know the molecular composition of sputum in COVID-19 patients.
In a recent study published in the journal Molecular & Cellular Proteomics, Jane Fisher and colleagues at Lund University in Sweden confirmed the presence of NETs in sputum and plasma samples from COVID-19 patients using techniques such as data-independent acquisition mass spectrometry, or DIA-MS, and immunofluorescence. Using a strategy previously tested in patients with CF, they treated a small group of patients with severe COVID-19 symptoms with enzyme recombinant human deoxyribonuclease I, or rhDNase, which degrades extracellular DNA in the sputum. They analyzed the sputum and blood plasma after treatment and found both a marked reduction of NETs and reduced dependency on external high-flow oxygen therapy in these patients. Thus, targeting NETs using rhDNase may have potential therapeutic advantages in treating severe COVID-19 patients.
A protein biomarker for acute spinal cord injury
According to the World Health Organization, as many as half a million individuals worldwide experience spinal cord injury, or SCI, each year. In recent years, researchers have identified numerous treatments for SCI that have been successful in preclinical studies. However, most of these treatments fail in clinical trials, because preclinical trials are conducted on lab animals and researchers cannot predict accurately their relevance to humans.
To gain a deeper understanding of SCI, Michael Skinnider and colleagues from the University of British Columbia in Canada performed a targeted proteomic analysis on the cerebrospinal fluid and blood serum samples from 111 SCI patients. They also compared evolutionarily conserved changes in pigs and humans with SCI to identify biomarkers that define baseline after injury and neurological recovery six months after injury. In their recent study published in the journal Molecular & Cellular Proteomics, the researchers describe using these studies to identify glial fibrillary acidic protein, or GFAP, as a biomarker that acts as a cross-species outcome measure. The results of this study demonstrate a new opportunity to investigate the biology of acute SCI.
How environmental exposures affect male reproductive functions
Seminal vesicles are an important part of the male reproductive accessory system and are involved in the secretion of seminal plasma, a viscous fluid containing several bioactive molecules that support male reproductive function after ejaculation. The components of seminal plasma are critical to regulating conception and fetal health. Thus, researchers think environmental insults that affect male reproductive function also may affect the seminal vesicles and thereby have an impact on the composition of its secretions.
In a recent study published in the journal Molecular & Cellular Proteomics, David A. Skerrett–Byrne and colleagues at the University of Newcastle, Australia, completed the first proteomic assessment of mouse seminal vesicles and assessed the impact of the reproductive toxicant acrylamide on this tissue.They identified a total of 5,013 proteins in the seminal vesicle proteome and found that 311 of these proteins were altered due to acrylamide exposure. They showed that acrylamide caused oxidative stress in the seminal vesicles and surrounding smooth muscles, leading to a dysregulation in the proteins involved in cell proliferation, survival and death. In addition, acrylamide exposure led to a decrease in the protein content and the quantity of seminal vesicle secretion. In summary, this study confirms that exposure to reproductive toxins affects male accessory gland functions and underscores the importance of studying the response of all male reproductive tissues when assessing the impact of environmental stressors on reproductive functions.
Enjoy reading ASBMB Today?
Become a member to receive the print edition monthly and the digital edition weekly.
Learn more
Get the latest from ASBMB Today
Enter your email address, and we'll send you a weekly email with recent articles, interviews and more.
Latest in Science
Science highlights or most popular articles