Journal News
A target to prevent kidney injury by chemotherapy
Cis-diamminedichloroplatinum II, commonly known as cisplatin, is a chemotherapeutic agent used to treat various cancers. However, cisplatin-induced acute kidney injury, or AKI, can result from the uptake, metabolism and accumulation of cisplatin by proximal tubular epithelial cells in the kidney. The accumulation leads to apoptosis, vascular damage, necrosis, oxidative and endoplasmic reticulum stress, and inflammation.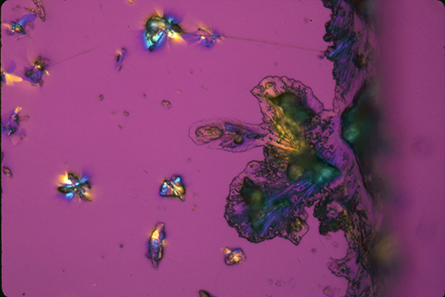 Larry Ostby/Wikimedia Commons
Cisplatin, a platinum compound used as a chemotherapy drug, can have severe
side effects.
Leah Siskind at the University of Louisville has been researching mechanisms to protect the kidney from off-target harmful effects of chemotherapeutics such as cisplatin. Her long-term research goal is to extend the life span of patients while preserving their quality of life.
"Many people don't realize that the side effects of chemotherapy are not limited to hair loss, diarrhea and nausea," Siskind said. "Kidney injury is one of the significant dose-limiting side effects of cisplatin. Therefore, we cannot use cisplatin at the dose we should use it at because it is so bad for the kidney. And even when we use cisplatin at the safe levels, 30% of all patients develop nephrotoxicity."
Ceramide, sphingosine and sphingosine 1-phosphate, or S1P, are bioactive sphingolipids responsible for various forms of cell death and destruction. Ceramidases, or CDases, are enzymes that maintain the dynamic balance in concentrations of ceramide and sphingosine in the cell. Ceramidases cleave the fatty acid from ceramide to produce sphingosine, which eventually is metabolized to S1P or salvaged to form ceramide again.
CDases fall into three broad categories — acidic, neutral and alkaline — based on the optimal pH for catalytic activity. Neutral ceramidases, or nCDases, function at a neutral pH, convert ceramide to sphingosine, and regulate the delicate balance between cell death and autophagy.
In a recent article in the Journal of Lipid Research, Siskind and a team of researchers reported that genetically altering mice to remove nCDase protected against cisplatin-induced AKI by reducing the recruitment of inflammatory cells, apoptosis, endoplasmic reticulum stress and increase in autophagy.
Nephrotoxic injury from acute tubular necrosis causes AKI. When the nCDase−/− mice were treated with cisplatin, mRNA levels in several inflammatory cytokines were reduced and the kidney tissue showed less damage from tubular necrosis, less loss of brush border and less tubular cast formation than in unaltered mice.
In AKI, loss of renal function is associated with increased blood urea nitrogen and serum creatinine. The levels of these chemicals were reduced significantly in cisplatin-treated nCDase−/− mice compared to cisplatin-treated mice with normal nCDase levels.
Using TUNEL staining, the authors showed that cisplatin-treated nCDase−/− mice were protected from apoptosis and cellular proliferation compared to mice with normal nCDase levels.
"Neutral ceramidase is a great target because it seems to be very protective for kidneys when inhibited or knocked out," Siskind said.

Previous studies from collaborator Yusuf Hannun's lab, which elucidated the crystal structure for neutral ceramidase, showed that inhibiting nCDase can slow or stop progression of certain cancers, she added.
"The next step is to find a good inhibitor, but it's been elusive."
Siskind and her collaborators will continue their work to identify mechanisms that protect the kidneys from chemotherapeutics and to find promising inhibitors of nCDase.
Enjoy reading ASBMB Today?
Become a member to receive the print edition monthly and the digital edition weekly.
Learn more
Get the latest from ASBMB Today
Enter your email address, and we'll send you a weekly email with recent articles, interviews and more.
Latest in Science
Science highlights or most popular articles