Journal News
Cholesterol lessons from bears
When hibernating, they have twice the cholesterol of a healthy human, and they barely exercise. So why don't bears get heart disease?
In humans, high cholesterol leads to clogging of arteries and is an underlying cause of heart attacks and cardiovascular disease, which causes one out of three adult deaths worldwide. On the other hand, hibernating bears have elevated cholesterol and triglyceride levels, but their arteries do not become clogged. Why?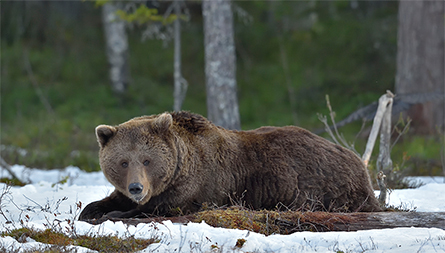 To answer this question, researchers recently investigated lipoprotein composition and functions in free-ranging Swedish brown bears during winter hibernation, when the bears are fasting and sleeping, and in summer, when they are eating and physically active.
The team, led by Matteo Pedrelli of the Karolinska Institutet and Eva Hurt–Camejo of AstraZeneca and the Karolinska Institutet, collaborated with Ole Frobert of the Scandinavian Brown Bear Research Project to unravel the furry secrets that might help prevent heart disease in humans. Their study was published in the Journal of Lipid Research.
"Hibernating bears, despite high levels of plasma triglycerides and cholesterol, do not show any sign of atherosclerosis," Hurt–Camejo said, "whereas in humans, elevated plasma cholesterol is the main factor associated with atherosclerosis and cardiovascular disease. This bear physiology provided us with a unique opportunity to investigate this apparent paradox, as it enabled us to study an individual bear for the impact of extreme seasonal environmental changes on plasma lipid levels and lipoprotein composition."
While conducting experiments in brown bears, the team overcame the lack of bear-specific antibodies by applying basic biochemistry techniques to measure lipoprotein size, charge and lipid–protein composition. Thus, using conventional biochemistry approaches in an innovative way, they were able to obtain data for comparing human and bear lipoproteins.
The researchers found that lipoproteins in the two species have structural and functional differences. Atherosclerosis is not caused only by high levels of plasma total lipids but also by the specific biochemical structure of the lipoproteins carrying plasma total lipids, which in turn affects their functions. The brown bears' plasma cholesterol levels during winter are twice as high as human levels, but their low-density lipoproteins are larger in size and have less ability to bind to arterial extracellular proteoglycans; this binding capacity is what causes cholesterol to accumulate on artery walls in humans and other mammals.
Comparing their findings to human studies, the team found that the major factor controlling the deposition of cholesterol in arteries, the initial step in atherogenesis, appears to be the presence of a specific apoprotein B-100 amino acid sequence that binds to proteoglycans in the arterial wall. This sequence contains more positively charged lysine and arginine residues in humans than in bears, allowing more binding to those negatively charged proteoglycans.
"Histological analysis of the arteries of bears who died due to natural reasons like aging showed no atherosclerosis or even fatty streak," Pedrelli, the study's first author, said. "Our investigation of the bear plasma samples established that independent of the lipoprotein lipid composition change, which was elevated during winter and decreased in the summer, the apoB-containing lipoproteins showed significantly lower affinity toward arterial extracellular matrix proteoglycans compared to healthy humans."
To further evaluate their results, the research team plans to study the structure and composition of the arterial wall, comparing the extracellular matrix proteoglycan composition of bears and humans.
And Pedrelli and Hurt–Camejo have one piece of advice for readers: "Keep your cholesterol and triglycerides low — we are not brown bears."
Enjoy reading ASBMB Today?
Become a member to receive the print edition monthly and the digital edition weekly.
Learn more
Get the latest from ASBMB Today
Enter your email address, and we'll send you a weekly email with recent articles, interviews and more.
Latest in Science
Science highlights or most popular articles