Journal News
Omics study unveils molecular mechanisms of a parasitic infection
Paramphistomes, also known as rumen or stomach fluke, are flatworm parasites that infect sheep and cattle in temperate and tropical regions. In recent years, the incidence and severity of rumen fluke infections (specifically the paramphistome Calicophoron daubneyi) have increased sharply in Western Europe. Heavy infections of immature rumen fluke in the small intestine can lead to hemorrhaging and even death, so early detection and correct diagnosis are imperative. However, researchers still know little about the biology of C. daubneyi and its effects on host animals.
Mark Robinson's lab at Queen's University Belfast focuses on parasitic worms and how they interact with their hosts at the molecular level. He has studied liver fluke for over 20 years. With the recent emergence of the less-studied rumen fluke in Europe (particularly in Northern Ireland, where his lab is based), his latest work shifted to understanding this unusual parasite and its host interactions. His findings, published in the journal Molecular & Cellular Proteomics, show how C. daubneyiregulates expression and secretion of certain molecules to establish infection, feed on host tissue and fight off the host immune response in ruminant livestock.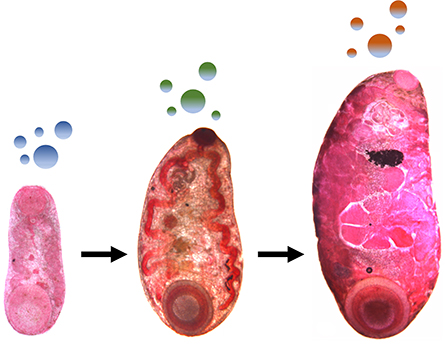 Robinson lab / Queen's University Belfast
This illustration shows the development of the rumen fluke Calicophoron daubneyi. In a recent study, secretome profiling revealed distinct families of virulence factors and immunomodulators associated with acute and chronic infection.
To begin to investigate the molecular biology of rumen fluke, Robinson's group teamed up with other researchers from the United Kingdom. Together, they performed transcriptome analysis of four rumen fluke life-cycle stages and integrated these results with proteomic analysis of secretions from two of these stages. They picked the juvenile flukes and mature adult stages for the proteomics studies, as these are the key stages responsible for acute and chronic disease, respectively.
Juvenile flukes emerge in the small intestine and eventually migrate along the digestive tract to the rumen, where they mature into adults. During each stage, the parasite must adapt to drastic changes in the host microenvironment and counter inevitable attacks by the host immune system. According to Robinson's findings, they do so easily.
"The rumen fluid is like a soup of bacteria and protozoans which the flukes must live amongst and survive," Robinson said.
Rumen flukes appear to secrete certain molecules that help them establish and maintain infection within this challenging host environment. Robinson likens the protective properties of these secreted molecules to those of the garments worn by astronauts: "Imagine stepping onto the surface of the moon without a space suit — you wouldn't last very long. Same goes for flukes within their host environments without their shield of secreted molecules."
Robinson believes the host–parasite interface can be adjusted to fight off infection. "If we can devise ways of blocking the secreted molecules, which are so important for the parasite, we may be able to come up with new treatment options," he said.
The lab has developed the first enzyme-linked immunosorbent assay for C. daubneyi, which they hope can be used by veterinarians, animal producers and farmers for disease surveillance and diagnosis. Next, Robinson wants to perform functional studies to validate certain molecules as targets for fluke control. As with all the work done in his lab, these efforts center on improving animal health and welfare, which he says is of benefit to everyone.
Enjoy reading ASBMB Today?
Become a member to receive the print edition monthly and the digital edition weekly.
Learn more
Get the latest from ASBMB Today
Enter your email address, and we'll send you a weekly email with recent articles, interviews and more.
Latest in Science
Science highlights or most popular articles