Journal News
From the journals: JLR
We offer a selection of papers recently published in the Journal of Lipid Research. Topics include understanding the biology of bacterial membranes to discover new drugs, investigating the domain architecture of the plasma membrane and identifying genetic factors responsible for reducing cholesterol levels in a corneal disease.
Metabolic labeling of bacterial membranes
Continuous use of antimicrobial drugs in medicine, agriculture and aquaculture to treat or prevent infections has led to the emergence of multidrug resistance, or MDR, in both humans and farmed animals. Pathogenic bacterial species that have acquired MDR cause infections that are effectively untreatable and present a serious threat to public health.
Gram-negative bacteria are intrinsically resistant to many antibiotics because of their unique membrane architecture. Phospholipids, or PLs, constitute the inner layer of the outer membrane, or OM, while the outer layer is composed of lipopolysaccharides. The OM's strict asymmetry functions as a permeability barrier, protecting the cells from the immune system as well as blocking many toxic compounds. This barrier affects drug screening–related research and generally results in a low hit rate when screening compound libraries. Consequently, identifying effective new antibiotics or small-molecule inhibitors against Gram-negative bacteria has been a major challenge. Existing assays to identify a compromised OM by detecting bacterial PLs are indirect, low-throughput and labor-intensive.
Inga Nilsson and an international team of researchers from the Novartis Institutes for BioMedical Research have used metabolic labeling to detect a compromised OM in intact bacteria. Naturally occurring Escherichia coli lipids are difficult to label, so the researchers explored phosphatidylcholine, or PC, labeling by fluorescent click reagents, because PC is present in most pathogenic bacteria. Their recent study published in the Journal of Lipid Research showed successful metabolic labeling of cellular PC with 1-azidoethyl-choline to visualize phospholipids in intact E. coli cells with a biorthogonal fluorescent method.
In the future, this assay could be used to identify compounds that interfere with OM lipid asymmetry, thus facilitating the discovery of new antimicrobial compounds. The authors suggest that it can be scaled up to a medium- to high-throughput whole-cell screening assay for OM asymmetry, phospholipid externalization and OM permeability defects.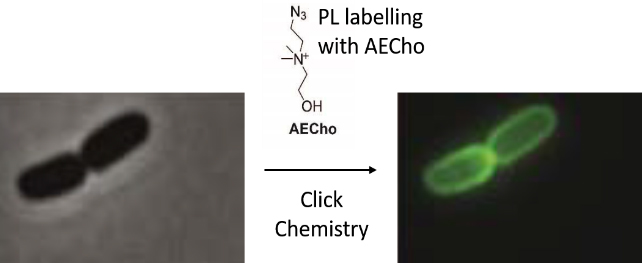 Escherichia coli cells are grown with 1-azidoethyl-choline and treated with Alexa488-sDIBO to allow fluorescent detection
Lipid swaps alter membrane nanodomains
The plasma membrane has a highly asymmetric distribution of lipids and contains dynamic nanodomains surrounded by a different liquid microenvironment. These nanodomains play a role in the vital functions of cells and organisms. However, researchers do not yet understand how these liquid-ordered lipid domains, or rafts, in the plasma membrane are formed, which limits study of their biological functions.
A research team led by Guangtao Li at Stony Brook University write in their latest study in the Journal of Lipid Research that the propensity of plasma membranes to form ordered domains can be modulated by membrane lipid substitutions. To understand the properties of plasma membrane lipids and proteins, the researchers generated giant plasma membrane vesicles, or GPMVs, in mammalian cells, which represent a natural membrane system. GPMVs are easier to investigate for domain-forming properties than intact cells. This study improves understanding of the inherent ability of plasma membrane lipids to form ordered nanodomains and implies that lipid substitutions in nanodomains can be used to alter biological processes. With further research, insights from this research could be applied to enhance the utility of lipid exchange as a method to probe the functions of membrane domains in living organisms.
Reducing cholesterol in a corneal disease
Schnyder crystalline corneal dystrophy, or SCD, is a rare disease characterized by deposits of cholesterol and phospholipid in the cornea. Most cases of SCD lack an obvious systemic disorder, but high cholesterol levels are common. As SCD progresses, an opaque disc of corneal crystals or other lipids forms, resulting in impaired vision and ultimately in the need for a corneal graft.
SCD is caused by mutations in the gene encoding UbiA prenyltransferase domain-containing protein-1, or UBIAD1. The disease is characterized by inhibition of the SCD-associated UBIAD1 degradation via the endoplasmic reticulum–associated degradation pathway. This significantly contributes to the dysregulation of cholesterol synthesis. A new study published in the Journal of Lipid Research sheds light on the SCD etiology and its importance in improving the efficacy of cholesterol-lowering statin therapy, for which the major limitation is the UBIAD1-mediated dysregulation of cholesterol synthesis. A multidepartment team at the University of Texas Southwestern Medical Center led by Dong-Jae Jun postulates that accumulation of SCD-associated UBIAD1 via sequestration in the ER results in a buildup of cholesterol. Identification of agents that accelerate the degradation of SCD-associated UBIAD1 may help to prevent cholesterol accumulation and the corneal opacity associated with SCD.
Join the ASBMB Today mailing list
Sign up to get updates on articles, interviews and events.
Latest in Science
Science highlights or most popular articles