Journal News
From the journals: JBC
A translation priority "bar code." Novel protein cleavage in a cerebral disease. A key molecule in lipid droplet catabolism. Read about papers on these topics recently published in the Journal of Biological Chemistry.
A translation priority 'bar code'
To conserve resources and energy during periods of environmental stress, cells generally halt most mRNA translation activity and invoke mechanisms to control which mRNAs are translated into proteins. These mechanisms include upstream open reading frames, or uORFs, which can serve as regulatory elements by which ribosomes delineate mRNAs for heightened translation during stress. However, researchers know less about other elements of translational control.
In a recent article in the Journal of Biological Chemistry, Parth Amin and colleagues at Indiana University used polysome analyses and reporter assays to investigate the mechanisms regulating the previously reported preferential translation of one mRNA, encoding IBTK-alpha, in stress conditions. The authors found that the 5'-mRNA sequence of ITBKα contains a conserved stable stem-loop structure near a uORF site, uORF2, which effectively decreases translation re-initiation at the primary AUG start site. They also saw that during stress conditions, this stem-loop could be bypassed via a mechanism involving more modest translation at uORF1, a uORF further upstream.
These results show the importance of RNA secondary structures in regulating mRNA translation, particularly during the integrated stress response. Furthermore, the authors posit that these secondary structures can serve in conjunction with uORFs in what they call a "bar code" that ribosomes can scan to determine which mRNAs to translate preferentially during stress conditions.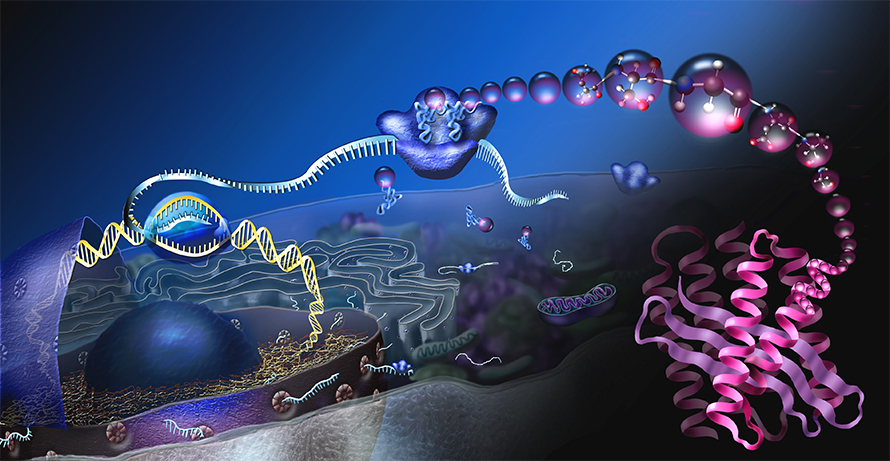 Nicolle Rager/National Science Foundation
DNA is transcribed to RNA (left), which is translated to amino acids (center) that are folded into functional proteins (right).
Novel protein cleavage in a cerebral disease
Cerebral autosomal dominant arteriopathy with subcortical infarcts and leukoencephalopathy, or CADASIL, is the most common inherited cerebral small-vessel disease; it is characterized by defects in blood flow in small vessels, such as those in the brain, leading to stroke. This disease is caused by mutations in NOTCH3, a gene encoding a membrane receptor protein that also has been linked to cancer and aging.
In a recent study published in the Journal of Biological Chemistry, Soo Jung Lee, Xiaojie Zhang and colleagues at the University of Michigan identified a novel cleavage site in NOTCH3 protein in CADASIL patient samples. Using proteomic analysis, they demonstrated not only that this cleavage at Asp964 was dependent on the adjacent proline residue but also that the cleavage product was highly enriched in patient brain tissue at degenerating arteries. Using large-scale microarrays and the protein interaction algorithm STRING, the authors predicted that several of the proteins would display increased binding to this cleavage product compared to the uncleaved protein, including transcriptional activators and metabolic enzymes. This suggests the local protein interactome could be altered in patients.
These findings are consistent with previous results indicating that NOTCH3 cleavage is more prevalent in CADASIL patients and suggest that the interactome of cleaved NOTCH3 proteins could have a significant effect on artery degeneration. Future studies are needed to elucidate the downstream effects of these interactions.
A key molecule in lipid droplet catabolism
Lipid droplets, or LDs, are small, transient, lipid-rich cellular organelles that serve as reservoirs or storage depots for lipid molecules such as cholesterol and triacylglycerides. Researchers recently found that proteins that connect LDs to the endoplasmic reticulum, or ER, may play a role in LD metabolism; however, scientists do not yet understand the mechanisms that regulate the growth and degradation of LDs.
Victoria Ismail and colleagues at the Washington University School of Medicine in St. Louis, Missouri, describe in their recent publication in the Journal of Biological Chemistry how they found that double FYVE domain-containing protein, or DFCP1, an autophagy-related protein at the interface of LDs and the ER, contains a previously unrecognized NTPase domain. Using spectroscopy and mutation analysis, the researchers showed that DFCP1 can hydrolyze both adenosine triphosphate and guanosine triphosphate. They also observed that when hydrolytic or dimerization activity was lost, DFCP1 accumulation at LDs and co-localization of LDs with autophagosomes decreased, while LD size and density increased.
These findings suggest DFCP1 is an NTPase that modulates LD metabolism in cells. DFCP1 could be the linchpin to liberate free fatty acids from lipids stored in LDs, which then could be efficiently cleared via the autophagy lysosomal pathway.
Enjoy reading ASBMB Today?
Become a member to receive the print edition monthly and the digital edition weekly.
Learn more
Get the latest from ASBMB Today
Enter your email address, and we'll send you a weekly email with recent articles, interviews and more.
Latest in Science
Science highlights or most popular articles