Annual Meeting
Lighting the way to undergraduate research
Nine students from the Streu lab at Albion College will present their work on cancer drugs at #DiscoverBMB
The thrill of discovery is a big draw to working in a research lab — the opportunity to uncover something new in the world around us. For undergraduates, stepping into the lab for the first time also can be a little intimidating. Craig Streu's lab at Albion College is a great place for these young scientists to start.
"If a student asks to join the lab, I talk with them less about the particulars of the research and more about what it means to be part of a research group," Streu wrote in an email. "They're not 'doing research' so much as they are 'joining a research group.' If the culture is good, then recruiting, motivation for results, safety, teamwork all follow."
Albion is a small liberal arts college in southern Michigan. The campus prides itself on being a close-knit community, and the Streu lab in the chemistry and biochemistry department is no exception. The college has only undergraduate students, providing a unique training atmosphere in the lab. Student researchers train one another on new equipment and help each other troubleshoot problems.
Diane Kernan, a junior biochemistry major, believes addressing problems is a big part of learning how to work in research.
"It's a natural part of being in the lab and learning," she said. "A lot of people are so used to just doing one thing and getting it right … but you know, failure is more likely to happen than success. And when you have those little successes, you celebrate them so much more because you realize how much work you put into this."
There is a strong sense of synergy in the Streu lab, and the students' enthusiasm for their science is clear.
"We're like one family or team. … I can ask people for help or they can ask me for help," said Paul Volenksy, a junior biochemistry major. "We use each other to become better in the lab."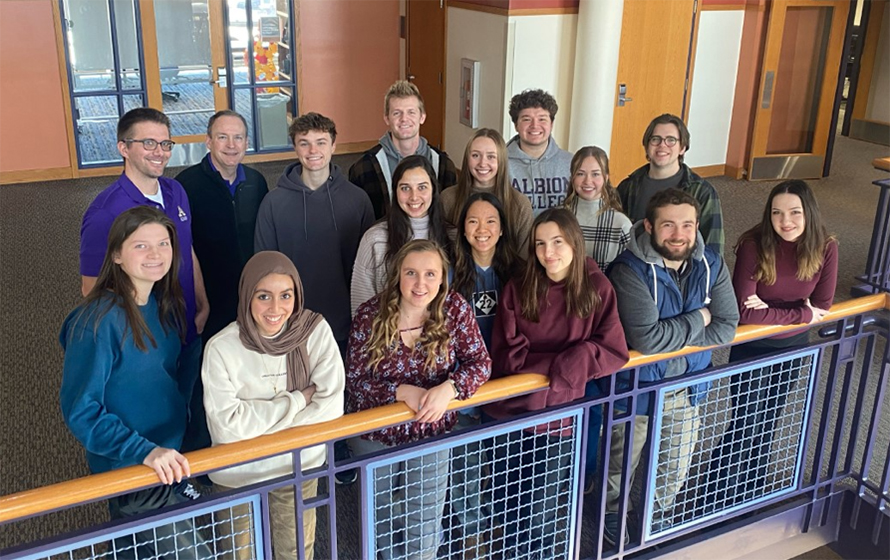 Craig Streu
All the researchers in Craig Streu's lab at Albion College are undergraduates. Front row: Kaitlyn Piontkowsky, Fadwa Kamari, Samantha Dye, Diana Kernen, Paul Volesky and Noelle Robert; center: Jade Patel and Lexi Moss; back row: Craig Streu, Chris Rohlman, Ryan Beyers, Theodore Hirschfield, Mariah Brenz. Noah Rollison, Madeline Budd and Peter Filbrandt.
Much of the research in the lab focuses on improving cancer therapeutics. Many chemotherapies on the market work by inhibiting essential cellular processes. While these drugs halt the growth of cancer cells, they also can cause severe side effects in patients due to the damage to healthy cells.
The researchers in Streu's lab are working to circumvent this problem by adding specificity to cancer drugs. They use azo groups to modify these chemicals. An azo group — two nitrogen atoms connected with a double bond — appears simple, but certain wavelengths of light can induce a conformational change in the nitrogen bond. As a result, it is possible to trigger the activation of a drug at a certain time and place — such as the site of a tumor.
Although the lab is centered on creating azologue compounds, students work on unique projects and focus on modifying a variety of drugs. For example, several researchers are working to incorporate azo groups into mitotic checkpoint inhibitors, while others are focused on modifying tyrosine kinase inhibitors.
Junior biochemistry major Madeline Budd appreciates the independence Streu encourages. "Something that surprises me is how much freedom we have in the lab — the choice to choose my own synthetic route, a choice to choose a different procedure, use different chemicals," she said. "It's up to me and I really like that."
In all, nine students in the Streu lab are scheduled to present six posters on azologues at Discover BMB, the American Society for Biochemistry and Molecular Biology annual meeting in Seattle in the coming days.
Typically, students start in the lab by refining their organic chemistry skills, working to add the azo group to their drug of interest. As they progress in the lab, they start expanding their experimental toolbox — for example, learning new biochemical assays to test the activity of the molecules they have synthesized.
Critical to this progress is Streu's balanced mentorship. Although he supports his students, he still allows them to maintain autonomy in the lab.
"I encourage them to take ownership of the lab, so I try not to hover, but I'm never far," Streu wrote. "As students become ready for more responsibility, it happens organically."
Many students initially were drawn to the lab because they wanted to study medicine. They say working with Streu has shaped their view of science.
Mariah Brenz is a junior majoring in biochemistry and biology. "I never really knew what research entailed at all, but having all that hands-on experience has really influenced me," she said. "It's opened a lot of doors for me."
Samantha Dye, a senior biochemistry major, shared similar sentiments. "Working in this lab made me realize how interested I am in drug design and discovery," she said.
Dye now plans to earn her Ph.D. in chemistry and work in industry.
As the students prepared to attend their first ASBMB conference, their excitement was building. For some, this was a brand-new opportunity to present their work off Albion's campus and meet other researchers. Others had attended an American Chemical Society meeting in the past but never a molecular biology-focused conference.
Theodore Hirschfield, a junior majoring in biochemistry, hoped to gain some useful knowledge. "I'm excited to see what other people are doing," he said. "Our group has run into a couple of roadblocks along the way. … Maybe we can apply something that we learn to our own group."
Enjoy reading ASBMB Today?
Become a member to receive the print edition monthly and the digital edition weekly.
Learn more
Get the latest from ASBMB Today
Enter your email address, and we'll send you a weekly email with recent articles, interviews and more.
Latest in Science
Science highlights or most popular articles