Journal News
From the journals: MCP
A destructive disease can lurk in a citrus plant's vascular system. Misfolded proteins offer a key to inflammation in liver disease. Proteomic studies provide clues about signaling linked to neurological disorders. We summarize papers on these topics recently published in the journal Molecular & Cellular Proteomics.
Vascular proteomics in citrus disease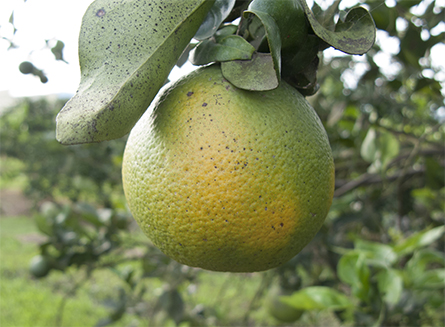 Huanglongbing disease in an orange.
Huanglongbing, or HLB, is a devastating citrus plant disease that causes huge economic losses to the citrus industry worldwide. The causal bacterium, Candidatus Liberibacter asiaticus, or CLas, is spread by Diaphorina citri, a sap-sucking citrus plant bug, and ends up in the plant's vascular system. Fruits affected by the disease are greener, smaller than normal, and overall bitter in taste. Once a tree is infected with HLB, it eventually dies. Previous studies have looked at host responses in leaf, root and fruit, but scientists have lacked information regarding the proteomics of the vascular system where the bacterium resides.
To address this issue, Jessica Y. Franco and a group of researchers at the University of California, Davis, and in Texas performed proteomic analysis of plant bark samples from the sweet orange variety Washington navel inoculated with CLas. The analysis revealed upregulation of proteins important for pathogen recognition and plant defense response. The researchers also compared and found variability in peroxidase enzymatic activity among different citrus species. Serine protease and hydrolase activity also changed dynamically during CLas infection. These findings indicate genetics and environmental conditions influence the host defense response.
Overall, this study, published recently in the journal Molecular & Cellular Proteomics, showed that the Washington navel orange had a 51% change in global proteome during CLas infection. Future investigation to assess plant host response in different genotype and environmental conditions will provide a better understanding of the disease.
A key to inflammation in liver disease
Mallory–Denk bodies, or MDBs, are cytoplasmic aggregates of misfolded proteins commonly found in hepatocytes of patients with liver disease such as hepatocellular carcinoma, hepatitis B and C, and alcoholic and nonalcoholic steatohepatitis. Abnormal protein aggregation, a common hallmark of several neurodegenerative diseases, leads to the transcription factor nuclear factor–kappa B, or NF-kB, activation. This activation initiates an inflammatory cascade. However, researchers have not yet identified the mechanistic link between protein aggregation and NF-kB activation.
In hepatocytes, the inhibitor of NF-kB, or IκB, family of proteins inhibits NF-kB activation by masking its nuclear localization signal, leading to cytoplasmic retention of NF-kB in an inactive state. In a recent article published in the journal Molecular & Cellular Proteomics, Yi Liu at the University of California, San Francisco, and an international team of researchers write that they've found induction of MDB production leads to sequestration of two proteins, IκBa and IκBb, into insoluble aggregates in the cytoplasm. As a result, NF-kB can travel freely to the nucleus and initiate an inflammatory cascade. Using state-of-the-art proteomics analysis, the researchers also identified 10 proteins, including nucleoporins Nup153 and Nup358/RanBP2, in these aggregates, which interact with IκBa upon MDB induction and prevent its nuclear entry and its consequent termination of NF-kB-activation. These findings provide new therapeutic targets to study protein aggregation related to inflammation in liver disease and possible in neurodegenerative diseases.
A proteomics study of mGluR signaling
The metabotropic glutamate receptors, or mGluRs, are G protein–coupled receptors important for synaptic transmission and neuronal excitability. Activation of mGluR signaling is implicated in behavior, learning and memory. Its disruption is associated with neurological diseases such as autism spectrum disorder and fragile X syndrome.
Group I mGluRs (mGluR1 and mGluR5) are well known for inducing long-term depression, or LTD, which involves an acute wave of new protein synthesis. These newly synthesized LTD proteins are important for endocytosis or internalization of the surface alpha-amino-3-hydroxy-5-methyl-4-isoxazolepropionic acid receptors, or AMPARs. However, researchers have not yet identified the complete molecular signature downstream of mGluR signal activation.
In a recent study published in the journal Molecular & Cellular Proteomics, Charlotte AGH van Gelder, Renske Penning and a team of researchers in the Netherlands report that they have found novel regulators of the mGluR signaling pathway. The team first stimulated the cultured hippocampal neurons with the agonist (S)-3,5-dihydroxyphenylglycin to induce mGluR activation. Next, using high-resolution proteomics and bioinformatic studies, they found several important and previously unknown modulators of mGluR signaling that provide a rich resource for future studies. Most notably, they found that AMPAR internalization was mediated by intersectin-1, an adaptor protein involved in endocytic trafficking.
Join the ASBMB Today mailing list
Sign up to get updates on articles, interviews and events.
Latest in Science
Science highlights or most popular articles