News
Targeting two-faced nuclear receptors to fight cancer
For small-molecule cancer drugs, context is everything. No one is more aware of this than Stephen Safe, who designs such drugs in his molecular and cellular oncology lab at Texas A&M University. Many of the drugs his team synthesizes target nuclear receptors, which can exhibit either pro- or anti-cancer activity depending on the tissue type.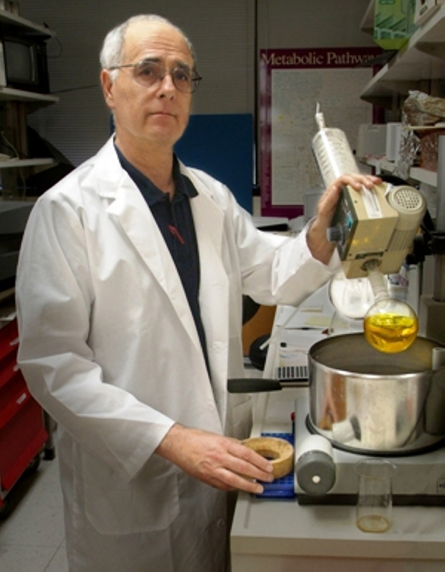 Courtesy of Stephen Safe
Stephen Safe, in his lab at Texas A&M University, uses a rotary evaporator, or rotovap,
to remove solvent gently from a sample.
A native of Canada, Safe initially studied geology at Queens University. After a harrowing experience with a summer job in a uranium mine, he decided to switch fields. "It was easy to get killed by someone blowing you up with dynamite or rocks falling on you," he said, "so I thought it was time to change, and I went into chemistry."
Safe's work as a chemist led him to a biological target that is now the focus of his lab, the aryl hydrocarbon receptor. He and his colleagues initially became interested in how organochlorine compounds such as dichlorodiphenyltrichloroethane, better known as DDT, and polychlorinated biphenyls, or PCBs, affect the environment. They synthesized derivatives of the compounds to identify how different parts of the molecular structure contribute to organochlorine toxicity. For one such chemical, dioxin, Safe said, "It turned out that the toxicity was related to binding affinity to this new receptor called the aryl hydrocarbon receptor."
Physiologically, the aryl hydrocarbon receptor, or AhR, senses nutrient byproducts to regulate cell growth and response to inflammation. Safe and his team determined that although ligands of the AhR can be toxic, some could wipe out tumors in a rat model of breast cancer. They began to develop what Safe refers to as "selective receptor modulators," compounds that bind the receptor and inhibit tumor growth but are relatively nontoxic.
Designing these compounds is not straightforward. Transcription factors often have different functions in different tissues, so developing safe and effective drugs can be tricky. Safe's favorite example of this is tamoxifen, a drug that binds the estrogen receptor. In breast tumors, tamoxifen blocks estrogen receptors and significantly reduces cancer development. After using the drug for decades, researchers found that it caused a small but meaningful increase in the risk for endometrial cancer. This is because in the uterus, tamoxifen stimulates estrogen receptors, which promotes cancer. According to Safe, the potential for antagonistic functions of small-molecule drugs in different tissues is something "you don't know offhand and you can't predict."
Much like the estrogen receptor, designing selective receptor modulators for the AhR can feel like trying to hit a moving target. Depending on the context, AhR receptor activity can help or hurt cancerous cells. In head and neck tumors, the receptor is pro-cancer, while in gastrointestinal tumors, it's anti-cancer. Safe sees the dual nature of the AhR as a challenge but also an opportunity. "The beauty of it is you can design selective AhR modulators as agonists or antagonists," he said. "So, if the AhR is a good thing you treat with an agonist, and if the AhR is a bad thing, you treat with an antagonist."
In a 2019 paper, Safe's lab characterized the role of the aryl hydrocarbon receptor in glioblastoma as anti-cancer, disproving a previous Nature paper. The lab didn't set out to disprove the original finding. Safe's team was helping Sharon Michelhaugh and Sandeep Mittal, glioblastoma researchers at the Karmanos Cancer Center in Detroit, who were interested in the natural AhR ligand kynurenine but were having a hard time getting their invasion assay to work. When Safe's lab looked into it for them, they could not replicate the published results demonstrating that kynurenine and its action on AhR were pro-invasion in glioblastoma. In fact, their comprehensive study yielded the opposite conclusion. Knocking out the AhR increased invasion, suggesting the receptor exhibits anti-cancer activity.
Safe and his team of scientists repeated the experiment countless times. "We just didn't believe it," he said. The Nature paper had characterized the AhR as pro-cancer in glioblastoma. Safe said his lab "had some trouble getting (our) paper published because we were disproving a Nature paper by a good group."
After characterizing the AhR knockout in many models at both functional and genomic levels, bolstered by their finding that one of their AhR agonists inhibited glioblastoma invasion, Safe was sure they were right. Neither his lab nor the authors of the original paper have been able to reconcile the apparent contradiction in their results.
In addition to their AhR research, Safe's lab designs small-molecule cancer drugs that target other nuclear receptors, oncogenic long noncoding RNAs and the PDL-1 immune checkpoint inhibitor. They also have started to identify over-the-counter drugs with AhR receptor binding activity. Safe's group hopes that these drugs, which are already FDA-approved, could be used as cancer therapeutics.
"The one we've used the most for glioblastoma is Prilosec, the proton pump inhibitor," Safe said. In July, he and his collaborators published a study showing that Prilosec inhibits glioblastoma cell invasion and tumor growth by promoting aryl hydrocarbon receptor activity.
The lab has expanded its molecular targets, led always by their work with AhR. "Every time you go to an AhR conference, enormous new things come out," Safe said. "It's an amazing receptor."
Enjoy reading ASBMB Today?
Become a member to receive the print edition monthly and the digital edition weekly.
Learn more
Get the latest from ASBMB Today
Enter your email address, and we'll send you a weekly email with recent articles, interviews and more.
Latest in Science
Science highlights or most popular articles