Journal News
A new way to target mosquito-borne viruses
Dengue and Zika are two mosquito-borne viruses that have evaded effective vaccine development for decades. Affecting approximately 400 million people annually, they are members of the Flaviviridae family, a group of RNA viruses that are closely related in structure.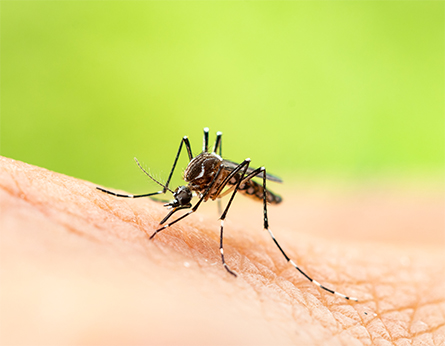 While a handful of approved vaccines exist for certain flaviviruses in humans, including the dengue vaccine Dengvaxia, there is still significant room to improve the safety and efficacy of these vaccines, most of which show poor efficacy in animal studies and waning immunity in humans. The traditional approach uses a live-attenuated, or weakened, form of the virus that causes a disease to make the corresponding vaccine. Replication production has been a major challenge in vaccine development for flaviviruses, as live-attenuated virus vaccines have difficulty replicating evenly.
Thanh Phan and Matthew Hvasta, Ph.D. students in Brian Kuhlman's lab at the University of North Carolina at Chapel Hill, set out to improve dengue and Zika vaccines. Instead of the traditional live-attenuated virus approach, they used small sections, or subunits, of the virus as a way for the vaccine to recognize and target the virus. In a recent paper in the Journal of Biological Chemistry, the team writes about the development of this subunit vaccine, which Phan and Hvasta describe as "putting two Tetris pieces together and having them fit as tightly as possible."
Their research has led the two to use a soluble version of the envelope proteins, or sE, on the surface of the dengue and Zika viruses as candidates for vaccine antigens. For sE proteins to be a viable subunit vaccine, they must be easy to produce and maintain stability in the correct conformation.
Previous work in the Kuhlman lab also took this divergent vaccine approach by identifying specific dengue mutations to stabilize sE proteins for dengue serotype DENV2, which significantly raised expression yields. Phan and Hvasta used this information to test the same mutations of Zika and the remaining dengue serotypes (DENV1, 3 and 4) by searching for and mutating similar residues as those mutated for DENV2. They found increased stability as well as a fourfold to 250-fold increase in production yields.
Creating a stable, high-expression sE protein opens the door for improved dengue and Zika vaccines as well as the potential to target other viruses in the Flaviviridae family, such as yellow fever. The next steps for this project are to perform mouse studies and measure the immune response to these sE proteins.
"Our goal is to develop a safe vaccine for dengue viruses, which will directly affect countries in the (sub)tropical areas of the world where dengue is endemic," Phan and Hvasta wrote in an email. "A safe dengue vaccine will allow these nations to reallocate funds from what would usually be used to treat dengue to hopefully being able to treat other health care necessities."
Enjoy reading ASBMB Today?
Become a member to receive the print edition monthly and the digital edition weekly.
Learn more
Get the latest from ASBMB Today
Enter your email address, and we'll send you a weekly email with recent articles, interviews and more.
Latest in Science
Science highlights or most popular articles