Journal News
From the journals: JBC
Trapping TGF-beta to target tumors. Breaking down meat in the microbiome. Managing manganese with bile. We offer a selection of papers on these and other topics recently published in the Journal of Biological Chemistry.
Trapping TGF-beta to target tumors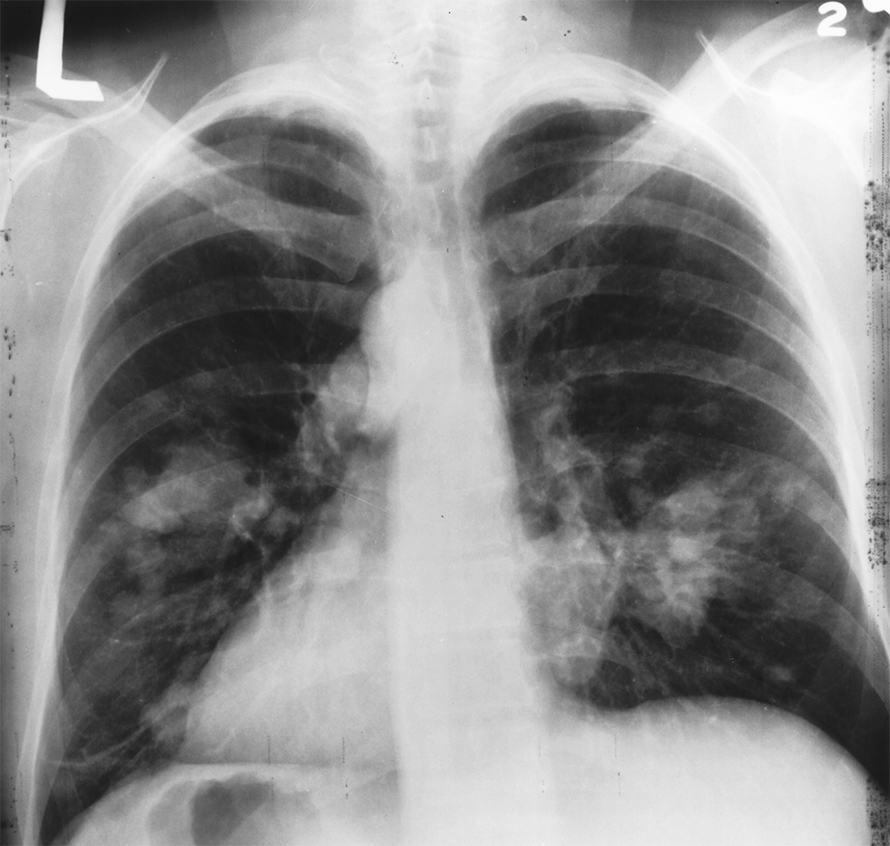 National Cancer Institute
This X-ray image of a chest shows both sides of the lungs, with a growth on the left lung that could be lung cancer.
A number of growth factors and cytokines in the tumor microenvironment control tumor metastasis. Transforming growth factor–beta, or TGF-beta, promotes the invasive metastatic properties of cancer cells and tumor angiogenesis. Chimeric proteins comprised of the ligand-interacting ectodomains of receptors fused with the fragment crystallizable portion of immunoglobulin often are used by scientists to trap TGF-beta and reduce its oncogenic signaling. However, researchers recently have found evidence indicating that the gold-standard approach of using the TGF-beta receptor 2 domain traps certain subtypes of TGF-beta — such as TGF-beta 1 and TGF-beta 3 — more effectively than TGF-beta 2, whose expression is elevated in multiple forms of cancer.
In recent work published in the Journal of Biological Chemistry, Kazuki Takahashi of Tokyo Medical and Dental University and a team of collaborators in Japan write that they have developed a chimeric TGF-beta receptor that effectively traps all TGF-beta isoforms. The authors found that the receptor, which contained the domains from both TGF-beta receptor 1 and TGF-beta receptor 2, reduced oncogenic TGF-beta signaling in oral cancer cells. Use of this new chimeric protein also halted the cancer cells' epithelial-to-mesenchymal transition, which allowed shed cell–cell adhesions to become migratory and invasive, a property that existing TGF-beta ligand traps do not demonstrate. Furthermore, the researchers found that their chimeric receptor suppressed tumor growth and angiogenesis more effectively than alternative methods in a cancer model where tumor cells are transplanted in the abdominal walls of immunodeficient nude mice.
Taken together, the researchers' data suggest that this strategy, which effectively inhibits oncogenic TGF-beta signaling, tumor growth and angiogenesis, may be a promising tool for suppressing oncogenic tumor microenvironment signaling.
Meat, methyl and the microbiome
The intestinal microbe-mediated metabolic breakdown of carnitine, a molecule found in red meat, produces trimethylamine, or TMA, a chemical linked to the artery-clogging condition atherosclerosis. One produced, TMA enters the bloodstream and lands in the liver, where it can cause deleterious physiological effects.
In a recent paper published in the Journal of Biological Chemistry, Duncan Kountz and colleagues at Ohio State University discovered that the human gut bacterium Eubacterium limosum processes carnitine in a manner that circumvents the production of TMA. The researchers ascribe this desirable feature to the activity of the trimethylamine methyltransferase family protein they designate as MtcB, an enzyme that catalyzes the removal of methyl groups from compounds to help bacterial survival. In the study, the scientists provided E. limosum cultures with a variety of potential compounds, including L-carnitine. The bacteria formed MtcB specifically in response to L-carnitine to cleave L-carnitine's methyl group. This finding suggested to the authors that MtcB is part of the bacteria's built-in system to consume the substance.
These findings suggest that a healthy gut microbiome containing E. limosum could lessen the occurrence of damaging cardiovascular events associated with red meat consumption.
Proteins stay negative to avoid shedding
A group of specialized proteases called sheddases cleave and release the ectodomain of membrane proteins, regulating their function and abundance. While researchers have identified hundreds of sheddase substrates, the mechanisms that control shedding activity are defined incompletely.
Ryo Iwagishi of Ritsumeikan University and collaborators in Japan report that substrates containing negatively charged amino acids in their membrane-proximal juxtadomain are resistant to hydrolysis by some sheddases.
Their findings, published in a recent study in the Journal of Biological Chemistry, provide new insights into sheddase activity and may aid in the development of sheddase-directed inhibitors that could have therapeutic applications, such as preventing tumor cell proliferation.
Phosphorylation alters GABA receptor accumulation
Receptor trafficking is crucial for the regulation and adaptation of cell–cell communication in the brain. Gamma-aminobutyric acid type A receptors, or GABAARs, regulate inhibitory signaling in the central nervous system and are trafficked to functionally diverse synapses. However, the details surrounding GABAAR trafficking are unclear.
In a recent paper published in the Journal of Biological Chemistry, Yasuko Nakamura of the University of Bristol and collaborators at the Tufts University School of Medicine showed that protein kinase A, or PKA, referees GABAAR density at synapses. Using mass spectrometry and biochemical assays, the scientists demonstrated that PKA-mediated phosphorylation on the serine 359 residue of the alpha 2 GABAAR subunit decreases the receptor's binding to scaffolding proteins and reduces its synaptic density.
This indicates that PKA activity influences the accumulation of GABAAR at inhibitory synapses, tuning the strength of synaptic inhibition to ensure normal neural network activity and preventing pathologic hyperexcitability.
Managing manganese by way of bile
The composition of bile acids, or BAs, can influence metabolic health. In Type 2 diabetes and scenarios of insulin resistance, the rate of synthesis of 12-alpha-hydroxylated BAs, or 12HBAs, is increased, but researchers do not understand completely the consequences of 12HBA abundance.
Manganese, an essential element obtained primarily through food and water, is critical for the synthesis and activation of enzymes, metabolism, endocrine regulation, protein synthesis and immune function. Using organoids formed from the small intestines of mice, Tiara Ahmad of Columbia University and colleagues found that BA pools low in 12HBAs promoted the expression of solute carrier family 30 member 10, better known as Slc30a10, a protein critical for maintaining manganese levels. Administration of lithocholic acid or vitamin D also increased Slc30a10 expression in mouse small intestine cells and increased expression-induced excretion of cellular manganese.
These findings, published in a recent study in the Journal of Biological Chemistry, show that BA pool induction of Slc30a10 expression occurs through a vitamin D–mediated pathway, uncovering a previously unknown role of BAs in intestinal regulation of manganese levels.
Enjoy reading ASBMB Today?
Become a member to receive the print edition monthly and the digital edition weekly.
Learn more
Get the latest from ASBMB Today
Enter your email address, and we'll send you a weekly email with recent articles, interviews and more.
Latest in Science
Science highlights or most popular articles