Journal News
From the journals: JLR
The role of Myc and lipids in lung cancer, how accessible cholesterol contributes to spread of listeriosis and a new, improved way to study lipid rafts. Read about recent papers on these topics in the Journal of Lipid Research.

A new connection in lung cancer research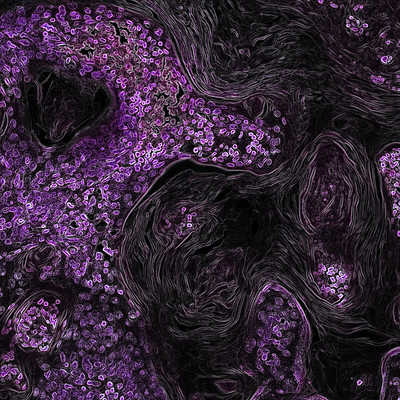 National Institutes of Health /Flickr
In this image from a genetically engineered mouse model, lung cancer driven
by the Kras oncogene shows up in purple. As a key driver in many types
of cancer, the Kras gene makes a promising target for new cancer therapies.
Non–small cell lung cancer, or NSCLC, is the most common subtype of lung cancer. Over 30% of lung cancers have mutations of Kras and elevated expression of Myc, proto-oncogenes important for the cell cycle and cell growth. Previous studies indicated a potential link between Myc expression and increased lipid synthesis, another marker of cancer. However, the details of this relationship remained uncertain, especially in the context of lung cancer.
A recent paper in the Journal of Lipid Research by Zoe Hall and colleagues at the University of Cambridge and Imperial College London describes their efforts to gain a better understanding of Myc and cholesterol homeostasis. Using a mouse model of lung cancer with reversible activation of Myc, the researchers discovered that activating Myc in lung cells enriched activity in several cellular pathways, including lipid metabolism and transport. Global lipid profiling of tumors then showed an increase in bound cholesterol that was elevated further when Myc was deactivated.
Myc-activated tumors also showed an increase in lipid droplets that store cholesterol, though the authors indicate that this may not result solely from increased lipid storage. The researchers also found that Myc activation generated increased cholesterol influx in tumors, while deactivation of Myc promoted cholesterol efflux. The results showed decreased expression of cholesterol efflux transporters and regulators with Myc activation.
The team then looked to human NSCLC data sets to determine the extent to which their findings are observed in human cancer. Data analysis supported the alteration of key cholesterol transport and storage factors that was associated with a significantly lower five-year survival rate for lung cancer patients. Overall, this novel discovery in cancer research points to the dysregulation of cholesterol transport and storage in lung tumors and provides further understanding of the link between cholesterol homeostasis and Myc.
A cholesterol's role in listeriosis spread
Listeriosis is a foodborne disease resulting from the spread of Listeria monocytogenes.This bacterium moves from one cell to another through plasma membrane protrusions from the host cell. Previous studies have implicated what researchers call accessible cholesterol in the formation of these protrusions and the spread of L. monocytogenes infection. Accessible cholesterol is a part of the plasma membrane, independent of other lipids and proteins, that is involved in cellular signaling and homeostasis.
In a study published in the Journal of Lipid Research, Michael E. Abrams and Kristen A. Johnson of the University of Texas Southwestern Medical Center and colleagues used a toxin-based biosensor of accessible cholesterol, or ALOD4, to determine its role in L. monocytogenes cell-to-cell transmission. Results indicated that ALOD4 binds to intestinal epithelial cells infected with L. monocytogenes. Further, they observed increased ALOD4 expression on bacterial membrane protrusions surrounding an L. monocytogenespositioned for transmission. These findings support the theory that accessible cholesterol is involved in the formation of plasma membrane protrusions and put forth a model that may be useful for future research on accessible cholesterol in cellular signaling.
A superior method for studying lipid rafts
On cellular membranes exist lipid microdomains called lipid rafts that are important for cell functions such as membrane fluidity and protein trafficking. Researchers think lipid rafts also are involved directly in activating T cells, an important immune system component. Studying the protein composition of lipid rafts presents many challenges due to methodological limitations in isolating the lipid microdomain without altering its membrane properties.
To address this issue, Cerina Chhuon of the Institut Mondor de Recherche Biomédicale and the Necker Proteomics Platform used a new sample preparation method called suspension-trap (S-Trap). This approach uses suspension-trapping filters to wash out contaminants from lipid isolation and better maintain the raft protein profile. Results published in the Journal of Lipid Research report the successful elimination of contaminants from raft samples. For the first time, the new approach allowed researchers to conduct protein analysis on rafts before and after T-cell activation, yielding an established database of 894 T-cell raft proteins. These efforts demonstrate an improved sample preparation procedure for raft protein composition and provide further understanding of their role in T-cell activation.
Enjoy reading ASBMB Today?
Become a member to receive the print edition monthly and the digital edition weekly.
Learn more
Get the latest from ASBMB Today
Enter your email address, and we'll send you a weekly email with recent articles, interviews and more.
Latest in Science
Science highlights or most popular articles