Annual Meeting
Out with the old, in with the nucleus
Learn about the Discover BMB 2024 symposium on signaling mechanisms in the nucleus
Are you tired of binging reruns on Netflix? Maybe you need a break from reality TV but you're not sure where to turn for high-quality entertainment? Look no further — the nucleus has it all. There's mystery, murder, machines of extraordinary complexity and visually stunning landscapes.
Stories in nuclear signaling are unraveling at an unprecedented pace thanks to technological and conceptual advances in chemistry, biochemistry and cell biology. Our speakers will address long-standing questions about organism development, cellular identity and the genetic basis for disease.
Submit an abstract
Abstract submission begins Sept. 14. If you submit by Oct. 12, you'll get a decision by Nov. 1. The regular submission deadline is Nov. 30. See the categories.
You will hear about how cutting-edge interdisciplinary approaches are being used to uncover new regulatory mechanisms underlying transcription, genome structure, and other phenomena in the nucleus. We will also discuss how rapid progress in the field is inspiring new therapeutic approaches for diseases related to dysfunctional nuclear processes.
You don't want to miss this — even the cytosol junkies will be on the edge of their seats.
Keywords: Enzyme mechanism, genetics and disease, chemical probes, transcription regulation, chromatin modifications, genome structure.
Who should attend: You. Our speakers span a wide breadth of biological phenomena, scientific disciplines and technologies. We have something for everyone. Current projections: standing room only.
Your session's theme song: "Journey to the Island" by John Williams
This song is about the most important genetics experiment ever performed.
This session is powered by "hot, nasty, bad-*ss speed." — Eleanor Roosevelt, Talladega Nights
Signaling mechanisms in the nucleus
Chemical strategies to study nuclear processes
Chair: Aaron Johnson
Anna Mapp, University of Michigan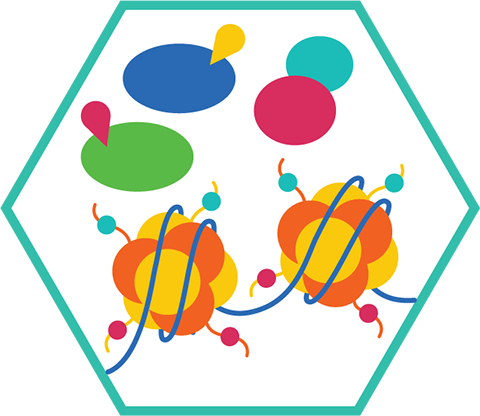 Glen Liszczak, University of Texas Southwestern Medical Center
Oliver Bell, University of Southern California Kerk School of Medicine
Minkui Luo, Memorial Sloan Kettering Cancer Center
Chromatin organization, replication and repair
Chair: Katharine Diehl
Aaron Streets, University of California, Berkeley
Aaron Johnson, University of Colorado Anschutz Medical Campus
Carl Wu, Johns Hopkins University
Serena Sanulli, Stanford University
Chromatin modifications in the nucleus
Chair: Glen Liszczak
Alex Ruthenberg, University of Chicago
Katharine Diehl, University of Utah
Tim Stasevich, Colorado State University
Phil Cole, Harvard University
Enjoy reading ASBMB Today?
Become a member to receive the print edition monthly and the digital edition weekly.
Learn more
Get the latest from ASBMB Today
Enter your email address, and we'll send you a weekly email with recent articles, interviews and more.
Latest in Science
Science highlights or most popular articles