Annual Meeting
Biochemistry of the multitudes
Learn about the Discover BMB 2024 symposium on microbial signaling, communication and metabolism
Bacteria have thrived for eons in a wide range of environments, showcasing their remarkable evolutionary success. The survival of these ancient microbes requires a variety of molecular mechanisms, some shared with humans and others singular to bacteria. Bacteria in natural settings and host environments impact health, agriculture and environmental science. Significant advances have been made recently in understanding signaling pathways, metabolism, macromolecular biosynthesis processes and community behavior of these microbes.
Our symposium at Discover BMB aims to create a collaborative synergy between biologists studying various aspects of microbiology and those conducting mechanistic studies in the fields of molecular biology and biochemistry.
Submit an abstract
Abstract submission begins Sept. 14. If you submit by Oct. 12, you'll get a decision by Nov. 1. The regular submission deadline is Nov. 30. See the categories.
Our focus centers on three significant themes that have substantially advanced in mechanistic understanding in recent years. In the first, we explore how bacteria make, break and listen to small molecules that allow them to communicate and respond to each other and the environment. In the second, we investigate how macromolecular machines operate in bacteria, coordinating massively complex regulatory and responsive strategies. Finally, we highlight the vast web of interactions among bacteria, their viruses, the host cells they infect and their fellow bacteria, as we come to appreciate the communities of living systems that are present around us.
Keywords: Bacteria, signaling, nucleotide, regulation, interaction, community, macromolecular complexes, structure, microbes, environment.
Who should attend: Those intrigued by the realm of microbes.
Theme song: "We're spending most of lives living in a microbe's paradise" (based on Coolio)
This session is powered by the overwhelming number of bacteria compared to us.
Microbial signaling, communication and metabolism
Signaling nucleotides in microbes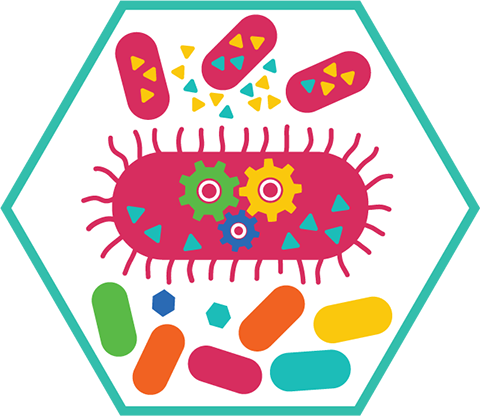 Jade Wang (chair), University of Wisconsin–Madison
Vincent T. Lee, University of Maryland, College Park
Ming Chen Hammond, University of Utah
Emily E. Weinert, Pennsylvania State University
Microbial machines
Peter Chien (chair), University of Massachusetts Amherst
Erin Goley, Johns Hopkins University
Monica Guo, University of Washington
Briana Burton, University of Wisconsin–Madison
Microbial communities
Chair: Erin Goley
Stavroula Hatzios, Yale University
John Whitney, McMaster University
Christopher S. Hayes, University of California, Santa Barbara
Ami S. Bhatt, Stanford University
Enjoy reading ASBMB Today?
Become a member to receive the print edition monthly and the digital edition weekly.
Learn more
Get the latest from ASBMB Today
Enter your email address, and we'll send you a weekly email with recent articles, interviews and more.
Latest in Science
Science highlights or most popular articles