Journal News
From the journals: JLR
A metabolic role for lipid droplet–mitochondria coupling. A new way to study atherosclerosis in mice. A novel function of a damage response protein. Read about papers on these topics recently published in the Journal of Lipid Research.
A metabolic role for lipid droplet–mitochondria coupling
Lipid droplets, or LDs, are dynamic organelles found in eukaryotic cells where fatty acids are stored temporarily in the form of triglycerides — the most common type of fat in our bodies. The phospholipid monolayer of LDs hosts Perilipin 5 protein. This protein, known as PLIN5, is highly expressed in oxidative tissues including skeletal muscle, liver and heart.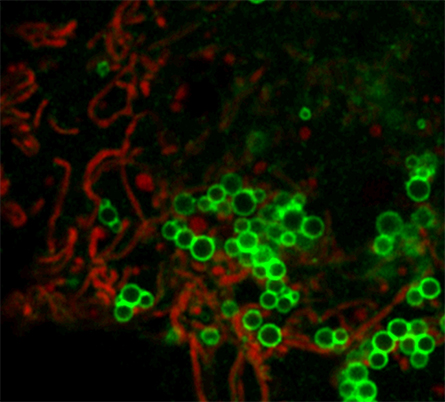 NICHD/T. Balla
Mitochondria (red) and lipid droplets (green) in a mammalian cell loaded
with oleic acid.
PLIN5 plays an important role in regulating intracellular lipid homeostasis, disruption of which can cause mitochondrial dysfunction and lipotoxicity — damage caused by accumulation of free fatty acids. PLIN5 tightly anchors mitochondria to the LD membrane via its last 20 C-terminal amino acids; this is commonly known as LD-mitochondria coupling or LDMC. Researchers have not established the role of LDMC in intracellular lipid metabolism.
In a recent article in the Journal of Lipid Research, Benedikt Kien at the University of Graz Institute of Molecular Biosciences in Austria and a team of researchers describe determining the specific role of PLIN5-mediated LDMC in intracellular lipid metabolism by overexpressing a mutant PLIN5 that disrupts LDMC. This mutant PLIN5 lacks the last three C-terminal amino acids.
The mutant PLIN5 did not alter intracellular lipid homeostasis significantly compared with the cells overexpressing the wild-type PLIN5. Various cell lines overexpressing PLIN5 mutant showed a moderate reduction of mitochondrial beta-oxidation compared to wild-type PLIN5. This signifies that LDMC has a very moderate impact on mitochondrial fatty acid oxidation.
The researchers' study showed that LDMC improves mitochondrial respiration, a process that requires oxygen to produce cellular energy. Also, PLIN5-mediated LDMC protects cells from lipotoxic damage by increasing the rate of fatty acid storage and slowing lipid breakdown in the event of increased cellular fatty acid uptake. LDMC may help mitochondria adapt to an increased demand for this uptake and oxidation as well. The study suggests that LDMC plays a vital role in preserving mitochondrial function, and cell lines overexpressing PLIN5 mutant can be used as models to investigate the effect of LDMC on other cellular functions.
A new way to study atherosclerosis in mice
Gene-editing technology can generate low-density lipoprotein receptor–deficient mice that are used widely for atherosclerosis research. However, such genetically modified mice require rigorous breeding to study atherosclerosis of complex systems. Anti-sense oligonucleotide against low-density lipoprotein receptor, or Ldlr-ASO, can generate complex genetic models to study hypercholesterolemic atherosclerosis in animals without time-consuming breeding procedures. ASOs are single-stranded small oligonucleotides (less than 50 nucleotides) that specifically bind to a complementary mRNA sequence and inhibit the translation of protein corresponding to the ASO-bound mRNA sequence.
In a recent article in the Journal of Lipid Research, Diego Gomes at the University of Washington and a team of researchers describe their parallel studies of this form of atherosclerosis in two groups of mice; one group was genetically deficient in Ldlr protein, while the other group had sufficient Ldlr and received Ldlr-ASO. The researchers compared the plasma cholesterol levels, size of the atherosclerotic lesion and the extent of hepatic inflammation between the two groups.
In plasma samples, cholesterol levels in the genetically deficient mice were twice as high as those in the Ldlr-ASO treated mice. Also, male mice from both groups had higher plasma cholesterol than female mice. The genetically deficient mice developed more advanced atherosclerosis as evidenced by larger lesion areas compared to their Ldlr-ASO counterparts. However, mice treated with Ldlr-ASO showed increased hepatic inflammation. Nonetheless, Ldlr-ASO is an effective and efficient strategy to study the early stages of atherosclerotic lesions and complex genetic models of atherosclerosis.
A novel function of a damage response protein
Cytochrome P450 enzymes, or P450s, are a superfamily of heme-containing proteins involved in cellular functions such as biosynthesis of steroid hormones, drug metabolism, cholesterol synthesis and breakdown of xenobiotic compounds. The damage response protein, or Dap1, is a heme-binding protein known to interact with several P450s and regulate P450s involved in ergosterol biosynthesis of yeast. Ergosterol is a steroid alcohol found in the cell membranes of fungi; it functions like cholesterol in animals and is a precursor for vitamin D synthesis. Researchers have found that Dap1 alters the production of ergosterol in yeasts.
In a recent article in the Journal of Lipid Research, Ana-Maria Gonzalez and Maximiliano Venegas at the Universidad de Chile and a team of researchers found a new role of Dap1 in carotenoid biosynthesis in the yeast Xanthophyllomyces dendrorhous. This yeast produces astaxanthin, a carotenoid that causes pink-red pigmentation in animals such as salmon, red trout and flamingos. Fisheries use astaxanthin as a dietary supplement and color additive in fish foods.
In this study, the researchers deleted a DAP1 gene in X. dendrorhous, which changed the yeast pigmentation, decreasing astaxanthin and reducing the proportion of ergosterol. This suggests that Dap1 regulates the biosynthesis of astaxanthin and ergosterol in the yeast. By showing the interaction of Dap1 with the P450s involved in the biosynthesis of astaxanthin and ergosterol, the study reveals a new role of Dap1 — the regulation of carotenogenesis. This means Dap1 might be used to enhance the production of astaxanthin in this yeast.
Enjoy reading ASBMB Today?
Become a member to receive the print edition monthly and the digital edition weekly.
Learn more
Get the latest from ASBMB Today
Enter your email address, and we'll send you a weekly email with recent articles, interviews and more.
Latest in Science
Science highlights or most popular articles