Journal News
From the journals: MCP
Linking phosphorylation and synaptic vesicles recycling. How kinase responses affect plant development. Identifying protein interactions in prostate cancer. Read about papers on these topics recently published in the journal Molecular & Cellular Proteomics.
Linking phosphorylation and synaptic vesicles recycling
In the nervous system, signals are transmitted through cellular junctions known as synapses from presynaptic neurons to postsynaptic neurons. When an action potential arrives at the nerve terminal, the presynaptic neuron depolarizes and releases an influx of calcium ions through channels in the active zone. This connects the presynaptic neuron to the postsynaptic membrane. These fused synaptic vesicles, or SVs, need to be retrieved and recycled to sustain continuous neurotransmitter release and to maintain the structure and composition of the plasma membrane. Defects in these processes can cause neurological disorders.
Scientists have many hypotheses about the exact mechanism of this endocytosis and vesicle recycling. An increasing body of data points toward phosphorylation and dephosphorylation of proteins involved in the SV recycling as actions regulating this process. While some studies show an indirect relation between the two, changes in protein conformation that accompany assembly and disassembly of protein complexes during SV recycling may affect access to phosphorylation sites. Therefore, we cannot determine the effect of phosphorylation on SV recycling directly.
In a recent study published in the journal Molecular & Cellular Proteomics, Ivan Silbern and colleagues at the Max Planck Institute for Biological Chemistry, Germany, used botulinum neurotoxins, or BoNT, to differentiate between calcium-induced changes and phosphorylation events that are linked to SV recycling. By conducting a quantitative phosphoproteomic analysis using synaptosomes as a functional model for a synapse, they identified 1,500 sites that are affected by BoNT treatment, implying a direct connection to SV recycling. They also identified SV-cycling–dependent phosphorylation sites on syntaxin 1a, synaptobrevin and cannabinoid receptor 1.
This study demonstrates that the phosphorylation of these sites on the synaptosome can have a pronounced effect on exocytosis and endocytosis in cultured hippocampal neurons, establishing a firmer link between phosphorylation/dephosphorylation and SV recycling.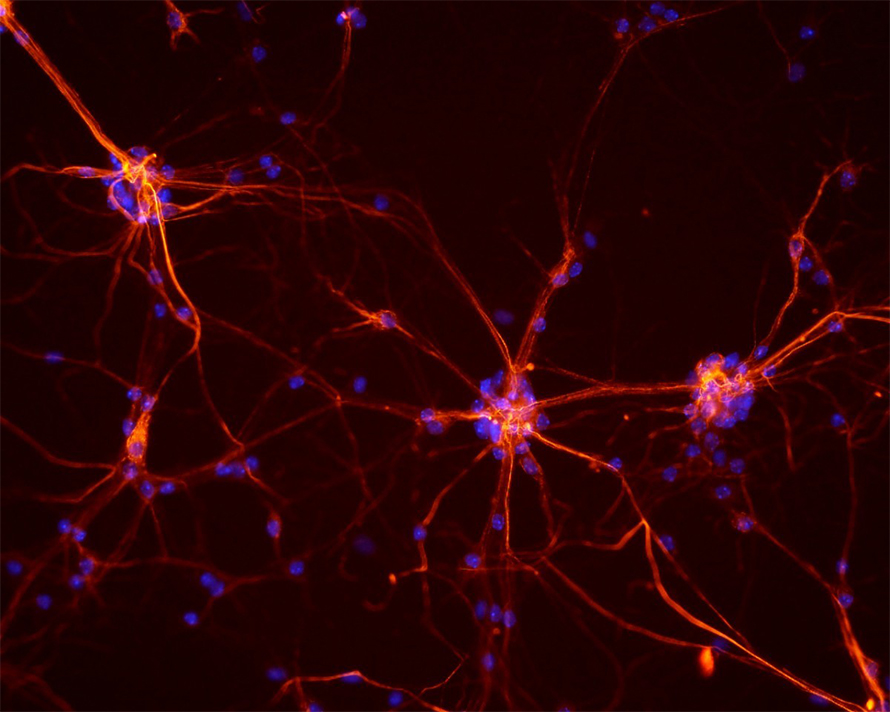 S. Jeong/Eunice Kennedy Shriver National Institute of Child Health and Human Development, NIH
In mice with a mutation that causes the progressive neurodegenerative disease amyotrophic lateral sclerosis, a hyperactive enzyme called Cdk5 normally kills spinal cord neurons such as those pictured here.
How kinase responses affect plant development
Protein phosphorylation is an important mechanism that responds to environmental stimuli, especially in eukaryotes. Nearly 4% of the proteins encoded in Arabidopsis plants are protein kinases, suggesting a strong link to protein regulation. In plants, a serine/threonine protein kinase known as the Mut9-like kinase, or MLK, is linked to light, circadian and abiotic stress signaling. Previous studies have shown that MLKs provide a link between light and circadian signaling, which in turn affects plant growth and development. Researchers aim to identify roles of such kinases that use environmental inputs such as light and abiotic stress to generate altered developmental outputs.
In a recent paper in the journal Molecular & Cellular Proteomics, Margaret Wilson and colleagues at the Donald Danforth Plant Science Center describe using quantitative phosphoproteomics and global proteomic analysis to investigate the role of MLKs in daily protein dynamics. This study shows that in the absence of MLK, many proteins involved in light, circadian and hormone signaling as well as chromatin-modifying enzymes and DNA damage response factors have altered phosphorylation levels. Using several analytic methods, the authors showed that MLKs may help alleviate DNA damage through the regulation of multiple response pathways. They also observed higher levels of glucosinolate accumulation in MLK mutant plants, which could be related to the sensitivity to DNA-damaging agents. This is pivotal in understanding the role of MLK in multiple metabolic pathways that are regulated by this kinase in common.
Identifying protein interactions in prostate cancer
One in nine men are diagnosed with prostate cancer at some point in their lives. The growth and initiation of prostate cancer is caused by the androgen receptor, or AR, NR3C4, a steroid receptor. The AR acts as a transcriptional factor, regulating target genes involved in cell proliferation, survival and growth. While ARs are known to be regulated by several proteins affecting transcriptional location and ligand binding, researchers don't know the extent of this regulation and aim to identify the AR protein interaction networks to understand better how prostate cancer starts and spreads.
In a recent paper in the journal Molecular & Cellular Proteomics, Lauriane Vélot and colleagues at the Centre de recherche sur le cancer de l'Université Laval, Quebec, write that they used BioID proximity labeling proteomics, which fuse a mutant biotin ligase with a protein of interest to deduce AR interactions. By applying this in androgen-dependent LAPC4 cells expressing wild-type AR, they were able to indicate precisely a network of 267 proteins, 213 of which had not been reported previously. The authors also identify Kruppel-like factor 4, or KLF4, as a new AR-associated protein that represses KLK3, commonly known as the prostate-specific antigen, without regulating AR expression. The authors speculate that by establishing high confidence interaction networks, they could learn about prostrate cancer's complexity.
Join the ASBMB Today mailing list
Sign up to get updates on articles, interviews and events.
Latest in Science
Science highlights or most popular articles