News
How to catch and kill a coronavirus
on a doorknob
More than two months after the World Health Organization declared the outbreak of the new coronavirus a global pandemic, we lather and scrub our hands — singing Happy Birthday, twice, or maybe the chorus to Mr. Brightside — to wash away the possibility that we'll bring the virus into our mouths and lungs from a contaminated handrail or doorknob. To cut off these routes of indirect transmission, researchers at Miami University in Ohio are developing polymer coatings for public surfaces that have the potential to capture and inactivate SARS-CoV-2, the virus that causes COVID-19.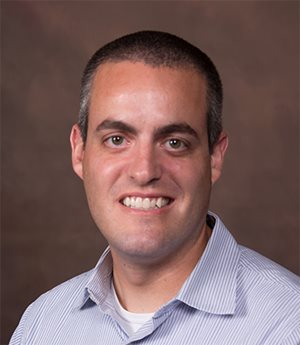 Jeff Sabo/University of Miami Ohio
Rick Page
Rick Page and Dominik Konkolewicz, who specialize in protein biochemistry and polymer chemistry, respectively, recently received $181,849 from the National Science Foundation for this work. They plan to develop protein–polymer materials that can use peptides to either capture the virus by grabbing onto its spike proteins or inactivate the virus by disrupting its outer lipid layer, or do both.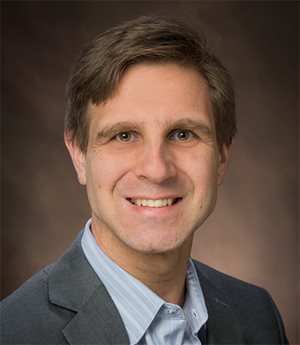 Jeff Sabo/University of Miami Ohio
Dominik Konkolewicz
"We're taking two reasonably different areas of chemistry and putting them together to make advances on both sides," Page said. "Neither of us would be able to do this on our own."
Page and Konkolewicz have been collaborating for more than six years and have worked on applying functional groups that can disrupt vesicles and other lipid layers to polymer coatings. They investigate both how synthetic macromolecules behave in contact with biological species and how biological membranes interact with the polymers, as sticking macromolecules to a synthetic surface can cause changes in the combined 3-D net-like structure that affect the performance of both materials.
"We can change how closely we pack the net elements and where we place different groups," Konkolewicz said. "If we change the structure in a systematic fashion, how does that impact the material's performance?"
The researchers also intend to evaluate the overall durability of the polymer–protein coatings once they've been applied to a surface; a coating that rubs off the first time someone touches it would be of little practical use.
"We can put the peptides (right) on surfaces … but there's very little chance that the peptide would stay on the surface for the length of time that we want it to. So if we're looking at a doorknob, and you touch the doorknob, the peptide's gone," Konkolewicz said. "On the other extreme, we can make purely synthetic materials that have an incredibly long lifetime but don't have any biological function."
According to Page, another challenge will be ensuring that functional groups remain active in the environment where the materials are tested.
"We typically think of them acting in water, but we're going to be putting them on a surface where they may very well be getting dried," he said. "(We're) trying to figure out how much of these we need to put on the surface and if we can keep the groups functional so they are still able to sequester a virion."
Like researchers at most universities, Page and Konkolewicz have had their labs — which are around 1,400 square feet each — closed since mid-March. However, they recently received approval to begin working on their NSF-funded project in June, which will entail researchers working in shifts and maintaining appropriate distance from one another.
"I think it's going to start off with a few graduate students coming back," Page said. "We're doing all of the intro work that we can (for the COVID-19 project) at home … to try to get things ready to go so that come June 1, we can hit the ground running."
Enjoy reading ASBMB Today?
Become a member to receive the print edition monthly and the digital edition weekly.
Learn more
Get the latest from ASBMB Today
Enter your email address, and we'll send you a weekly email with recent articles, interviews and more.
Latest in Science
Science highlights or most popular articles