Journal News
From the journals: JBC
Enzyme flexibility for bioenergy. A sulfur trafficking pathway in plants. Blocking germination of a crop parasite. Read about articles on these topics recently published in the Journal of Biological Chemistry.
Enzyme flexibility for bioenergy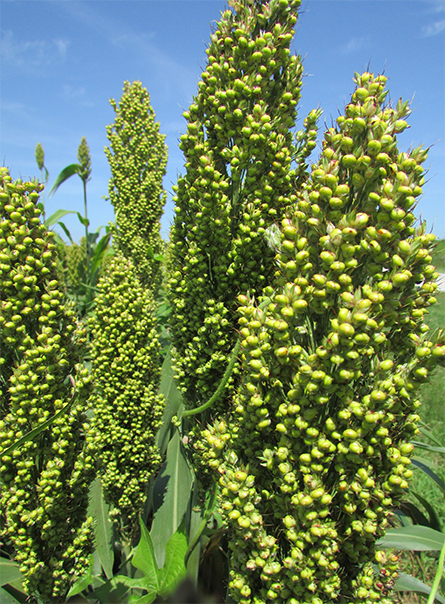 Sorghum, like this growing in Jasper County, Indiana, is already used as a dedicated
bioenergy source, but there are concerns about reducing its lignin content.
Lignin is one of the most abundant polymers, and converting it to fuels is quite a challenging process due to its heterogeneous composition and recalcitrance to extraction. Modifying lignin structure to facilitate this conversion in plant feed stocks has long been a goal for bioenergy production.
The cereal grass sorghum is used as a dedicated bioenergy source because its water and fertilizer requirements are lower than other grasses such as corn. There is, however, a concern about reducing lignin content and its effects on plant fitness. A clearer understanding of the enzymes involved in lignin biosynthesis, including plant nicotinamide adenine dinucleotide phosphate– dependent cytochrome P450 reductase, or CPR, can improve the tailoring of cell wall composition.
CPR is a multidomain enzyme that donates electrons for hydroxylation reactions catalyzed by the Class II cytochrome P450 monooxygenases. CPR is involved in synthesis of lignol monomers, and alterations in its activity could change lignin composition.
To better understand the structure and function of the three CPR subunits from sorghum, Bixia Zhang and collaborators from Washington State University in Pullman describe in a recent Journal of Biological Chemistry article how they expressed three recombinant subunits, or SbCPR2s, and performed X-ray crystallography and kinetic assays to achieve this goal.
The authors determined that all three SbCPR2s supported oxidation reactions by two sorghum cytochrome p450 enzymes. They then compared the structure of one subunit, SbCPR2b, to mammalian counterparts and identified important amino acid residues. The researchers found that the interaction between CPR and a partner P450 enzyme requires a conformational change, from a closed to an open state, which is essential for electron transfer.
The authors concluded that SbCPR2's hinge region within the connecting domain is a potential target to alter biomass composition for bioenergy and forage sorghums through protein engineering.
A sulfur trafficking pathway in plants
Sulfur is an essential nutrient for plant development, present in the amino acids cysteine and methionine and in many molecules including lipids, vitamins and cofactors. Both the cysteine desulfurase, or CD, and rhodanese, or Rhd, domain-containing protein families participate in the trafficking of sulfur for various metabolic pathways in bacteria and humans; however, researchers still do not fully understand their connection in plants.
In a recent Journal of Biological Chemistry article, Benjamin Selles, Anna Moseler, Damien Caubrière and collaborators in France and Germany report the biochemical relationships between an Rhd domain–containing protein, the sulfurtransferase 18, or STR18, and a CD isoform referred to as ABA3, from Arabidopsis thaliana.
Using in vitro assays and mass spectrometry, the authors determined that STR18 stimulates the CD activity of ABA3 by reducing the intermediate persulfide on its catalytic cysteine, thereby accelerating the overall transfer reaction. The researchers showed that both proteins interact in plants and form an efficient sulfur relay system whereby STR18 catalyzes transpersulfidation reactions from ABA3 to the model acceptor protein roGFP2. The authors conclude that ABA3-STR18 belongs to a novel yet uncharacterized pathway of sulfur trafficking in plant cells.
Blocking germination of a crop parasite
Parasitic weeds cause considerable economic loss and threaten food security in Africa. In particular, the plant parasite striga, or witchweed, infests a broad range of crops. Striga germinates only in the presence of a host plant; it senses the small molecule strigolactone, or SL, secreted by the host roots. While researchers know of several SL receptors, their functions are hard to determine because these parasites are difficult to grow under laboratory conditions. Furthermore, many striga species are not amenable to genetic analysis.
In a recent Journal of Biological Chemistry article, Amir Arellano–Saab and collaborators at the universities of Toronto and Sydney combined phenotypic screening, structural information and drug discovery methods to identify a potential inhibitor, dormirazine.
The authors found that dormirazine blocks the hormone's access to its receptor, and it reduces protein–protein interaction flexibility that affects downstream signaling. They determined that timing of the application of this inhibitor during host seed germination is critical to potentially preventing infection. In addition to revealing the novel function of a strigalactone receptor in seed conditioning, the authors state, this information could help growers prevent future striga infestations and determine timing of antagonist application to prevent parasitic plant invasions.
Enjoy reading ASBMB Today?
Become a member to receive the print edition monthly and the digital edition weekly.
Learn more
Get the latest from ASBMB Today
Enter your email address, and we'll send you a weekly email with recent articles, interviews and more.
Latest in Science
Science highlights or most popular articles