Journal News
From the journals: MCP
Finding biomarkers in preserved tumor tissue. Detecting protein–protein interactions in the brain. A new tool to study a transporter. Read about these papers recently published in the journal Molecular & Cellular Proteomics.
Finding biomarkers in preserved tumor tissue
The National Cancer Institute defines a biomarker as "a biological molecule found in blood, other body fluids, or tissues that is a sign of a normal or abnormal process, or of a condition or disease." Clinicians use cancer biomarkers in diagnosis, predicting disease course, selecting therapies, and monitoring cancer during and after treatment.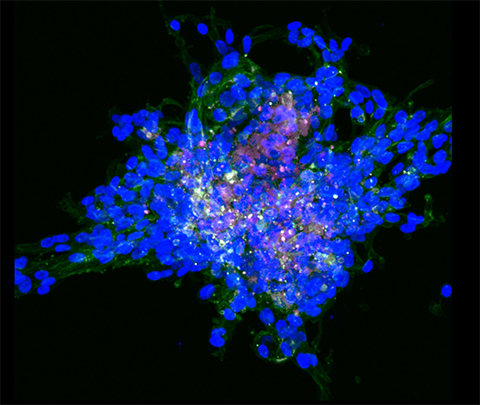 This fluorescent microscopy image shows an invasive breast tumor derived from breast cancer cells in a matrix that mimics human breast tissue. The nucleus is blue, F-actin is green, and vimentin is white and pink.
Because cancer is multifactorial, finding clinically relevant biomarkers poses a challenge. One way to tackle this problem is to identify protein-based biomarkers in tumor samples using formalin-fixed paraffin-embedded, or FFPE, tissues. However, accurately measuring proteins in FFPE samples is difficult.
In a recent article in the journal Molecular & Cellular Proteomics, Carine Steiner at Geneva University Hospitals and colleagues describe how they addressed this problem by coupling liquid chromatography with multiple reaction monitoring mass spectrometry to identify biomarkers from FFPE tissues. With this method, called LC-MRM/MS, they were able to simultaneously quantify multiple peptides extracted from FFPE samples of triple-negative breast cancer, or TNBC. This aggressive breast cancer subtype has a poor prognosis and lacks a generally accepted diagnostic biomarker.
Using LC-MRM/MS, the authors obtained quantitative data for 185 biomarker proteins from the FFPE tissues. They selected proteins that are associated with TNBC and other known markers of breast cancer such as HER2, EGFR and Ki-67. The authors included several quality checks to ensure they accurately measured relative changes in protein expression across sample groups. They also compared these results to work published by other groups and literature of proteins associated with TNBC.
The researchers concluded that LC-MRM/MS is a powerful tool for finding clinically relevant biomarkers through the relative quantification of proteins in FFPE tissue samples.
Detecting protein–protein interactions in the brain
Proteins are workhorse biomolecules that form complexes to perform a vast array of cellular functions. Protein–protein interactions, or PPIs, are networks of proteins that serve as hubs for specific functions such as transport across the cellular membrane. Researchers can identify PPIs using proximity labeling, or PL, a highly sensitive technique that, unlike other methods that detect only stable PPIs, can detect both transient and stable PPIs in cells and whole organisms. In this method, the chimeric protein probes are designed specifically to detect proteins that are near each other.
In a recent review article in the journal Molecular & Cellular Proteomics, Boby Matthew, Shveta Bathla and a team at Yale University focus on how PL identifies PPIs in the brain. The authors describe common PL methods: biotin ligase–based approaches, such as proximity-dependent biotin identification or BioID and TurboID; peroxidase-based approaches, such as ascorbate peroxidase and horseradish peroxidase; and the split approach. They also provide an overview of the mass spectrometry analysis used to identify specific protein components of PPIs and applications of PL to capture PPI networks in the brains of whole living organisms.
The authors conclude that identifying PPIs in different brain cell types can provide insights into the complexity of the central nervous system and will contribute to understanding neuronal function and neurological disorders.
A new tool to study a transporter
Nucleocytoplasmic transport is the movement of molecules between the nucleus and cytoplasm of a cell. This process allows for the regulated exchange of information and materials needed for normal cellular function. The protein importin beta-1 regulates both cytoplasmic and nucleocytoplasmic transport, so researchers are interested in characterizing all its subcellular interactions. The transient nature of these interactions with their cargoes and overlapping specificities of importins makes this work a challenge, and existing methods to study importin interactomes, such as the proximity ligation assay BioID, have limited efficiency.
In their recent article in Molecular & Cellular Proteomics, Didi-Andreas Song, Stefanie Alber and Ella Doron–Mandel at the Weizmann Institute of Science and colleagues describe how they generated a new, highly specific anti-importin β1 monoclonal antibody so they could characterize importin β1 interactomes using biotinylation by antibody recognition, or BAR. This method targets a unique region of importin β1 and has a high degree of specificity for its cytoplasmic form.
The researchers write that this new antibody-based tool will provide insights into importin β1 function by identifying its interactome and will elucidate the role of importin β1 in nucleocytoplasmic transport-related and non–transport-related cellular roles.
Enjoy reading ASBMB Today?
Become a member to receive the print edition monthly and the digital edition weekly.
Learn more
Get the latest from ASBMB Today
Enter your email address, and we'll send you a weekly email with recent articles, interviews and more.
Latest in Science
Science highlights or most popular articles