Journal News
How spider venom could help relieve pain
Modified tarantula toxins can become effective pain treatments.
Pain is a public health problem that often is not adequately addressed by current therapies. About 100 million adults in the United States suffer from chronic pain, and those who don't will experience pain at some point in their lives, whether it be a scraped knee or surgery.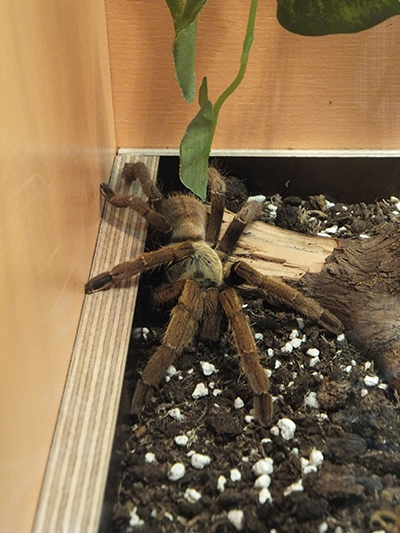 Syrio/Wikimedia Commons
This photo was taken at the "Spiders" exhibition at the Museo di storia
naturale Giacomo Doria in 2016.
There is a need for pain treatments that are safe, effective and not addictive. This is partially due to increased awareness of the highly addictive nature of many available pain medications. A recent article in the Journal of Biological Chemistry aims to meet these treatment needs using an unlikely source — spider venom.
Spider venoms are complex mixtures with a wide array of biologically active compounds that have one function: to subdue the spiders' prey. Lead author Robert Neff and the Janssen Research and Development Neuroscience Drug Discovery Team focused on a peptide molecule called huwentoxin-IV found in the venom of a tarantula species called the Chinese bird spider.
This toxin is known to block a specific protein involved in pain signaling called Nav1.7. This protein is a sodium channel that amplifies pain signals to ensure they reach the brain. Neff said the researchers targeted Nav1.7 because previous research has shown that people who don't have functioning Nav1.7 can't feel pain despite being otherwise normal.
"Unfortunately, Nav1.7 is not an easy target," Neff said. "Many other groups have tried to identify small molecules that block its activity, and to date none of these efforts have resulted in a marketed drug."
As an added challenge, huwentoxin-IV is known to block other proteins in the sodium channel family that are important for normal nervous system function. Yet Neff and his team were not discouraged. They worked systematically to make small changes to huwentoxin-IV that would optimize its interaction with Nav1.7 and decrease its ability to block other sodium channel family members.
When they identified changes that had favorable effects, they combined them to make a molecule more effective at blocking pain signaling without disrupting the rest of the nervous system. However, combining single changes together did not always yield a molecule more effective than the single changes themselves, which was surprising, Neff said.
"This was a good reminder that small changes can have wide-ranging and unpredictable repercussions throughout the molecule."
Although the work is still in preliminary stages, there is reason to believe we could see spider-derived pain treatments down the line. A tarantula toxin previously identified by the group in a parallel study in 2017 has been tested in preclinical studies. While their current designer molecules are not yet in preclinical trials, Neff and his team have produced a large library of subtly different toxins and cataloged their activities in their more recent study, which should be useful for the pain research community at large.
"We hope that other interested investigators will be able to use these datasets to further their research," Neff said. "We want to help accelerate the discovery of a new, safe, and nonaddictive pain medication."
Enjoy reading ASBMB Today?
Become a member to receive the print edition monthly and the digital edition weekly.
Learn more
Get the latest from ASBMB Today
Enter your email address, and we'll send you a weekly email with recent articles, interviews and more.
Latest in Science
Science highlights or most popular articles